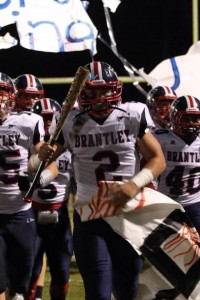 The 2013 Duke defense got better today, as the Blue Devils secured a verbal commitment from 6'2″ 240 pound LB Dominic Zanca-McDonald from Lake Brantley High School in Altamonte Springs, Florida. The top LB prospect had committed to Tennessee back in April before a disappointing season in Knoxville resulted in a complete coaching staff change. After an official visit to Durham and a conversation with new Volunteer Head Coach Butch Jones, the play-making linebacker switched his pledge to the Blue Devils. After a standout senior season where he racked up 17 tackles for loss and 9 sacks, Zanca had scholarship offers from Duke, Purdue, and Tennessee, along with interest from a number of top ACC and SEC schools.
"I'm a Blue Devil!" Zanca told BDN earlier today. His relationship with Duke's LB Coach Jim Collins and Head Coach David Cutcliffe played a big role in his decision. "I told them about it yesterday and they were really pumped," he said, "I just feel like I fit in with the staff from Duke better than the new staff [at Tennessee]. I love everything about my visit and I'm excited to be there in the spring."
Dominic will graduate from Lake Brantley this month and enroll at Duke in January. He asked BDN to pass along the following to Duke fans: "Get ready to see some head-banging when I get to Duke!"
BDN caught up with the newest Blue Devil shortly after his official visit.
Check out his highlights here.
Welcome to Duke, Dominic!