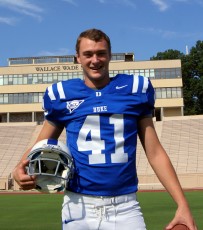 DURHAM, N.C. - Several years ago a sugary pop group named the Carpenters had a big hit on the charts called "Rainy Days and Mondays."  The lyrics went like this:  "Rainy Days and Mondays always get me down."  There was a time when that type of gloominess and despair applied to Duke's kicking game, but Will Monday has changed all that.
A couple of weeks ago, Monday, Duke's freshman punter, was in class when a friend messaged him on Facebook telling him he'd been selected to the All-ACC team. Monday was elated at the news. "It's something that has definitely been one of my goals and to win it as a freshman, and it means a lot to me and has helped me achieve one of my goals," he said. But Monday had to admit that he actually was not surprised; in fact, he expected the honor.
That's one of the things I learned about the ACC's best punter during our recent conversation. Monday places very high expectations on himself, and does not consider failure to be an option. To him, being the top punter in the ACC is just a start. What he really wants is to be the best in the entire nation. And it's that kind of confidence in his abilities plus his desire to improve further that should drive him towards his goal of being named 1st team All-American.
The youthful Monday, son of Bedford and Judy Monday, hails from Flowery Branch, Georgia. And when asked who congratulated him first on the all-ACC selection, Monday said, "Well, my parents were very happy for me. They were so excited knowing this is something I had been wanting, to be able to be named the best at your position in my freshman year, and so they were proud of how much I have worked to get this. I got texts from my coaches and high school teammates as well."
Monday was a known commodity coming out of high school, ranked as the best schoolboy punter in most of the recruiting ratings. The expectations that come with those rankings are something he learned to deal with early on, so it was no surprise that he was cool under the pressure of big-time college football, right out of the gate. "I felt pressure in high school. I felt pressure in camps and I felt pressure when I got here. But it is not something I am not used to and I have always put expectations on myself to succeed and be the best I can at every opportunity. So while it is challenging, you have to keep your head up and move on to the next play."
Standing 6'4" and weighing in at 210 pounds, Monday is not likely the butt of kicker jokes. In fact, he played baseball, basketball and soccer before trying out as a kicker for his high school football team as a freshman. So we're talking about an athlete here. "I started kicking in my freshman year in high school and did really well," said Monday. "After my sophomore season in high school I really figured out the punting thing, and I have a better frame to be a punter than a kicker. So I went with it, started going to a bunch of camps and started to get recognition. I quickly saw I had an opportunity to get a scholarship in this sport, and it worked out for me with concern to both education and football."
Monday was recruited by pretty much everybody, and could practically name his school. But he bought into what Duke Coach David Cutcliffe and his staff were selling. "I always liked Duke growing up and the school has always intrigued me. I was a basketball fan when I was little and living in Charlotte. When an opportunity came available, I met with the coaches and liked what they had going on in Durham. They seemed like they were looking out for you and they told us you would grow as a man in our program. I was able to use football to get to a great school, one that without football I would not have been able to go to, and at Duke I think I have really maxed my opportunities in both education and football."
Patience does not come easily to a confident young man, especially when he's accustomed to being a star on the athletic field. But before Monday sent his first punt booming in Wallace Wade Stadium, he had to sit out a year as a redshirt. It was not easy sitting behind Duke punter Alex King, who transferred to Texas for his senior season, as he knew Monday was gaining on him quickly. But the redshirt used that extra year to learn from the sidelines, getting stronger every day, and thus the wait -- while difficult -- proved worth it in the end.
"It was definitely tough (to redshirt) always being a starter throughout high school, and having to come here and sit on the bench. But it was an experience I'm glad I got to be a part of, and I learned a lot giving me time to figure out the coaches and how they did things at Duke. And it allowed me to get stronger and better at what I do," Monday said.
When Duke heads to the Belk Bowl in Charlotte, a lot of people will analyze how exactly they got there. When doing so it's going to be hard not to notice the big improvement in the Blue Devils' kicking game. Monday's teammate, placekicker Ross Martin, has been earning honors of his own of late, and the two freshmen have stimulated high hopes for a bright future in Durham. "Ross (Martin) and I met each other while at summer camps, so we knew each other. And when he came here, I knew right away that we would have a bond that would carry us through our four years and we would flourish together. Ross is a good guy with his head on straight and from a good family, so we meshed right away."
It's been 18 years since Duke last played in a bowl game, and had the Blue Devils not solidified their kicking game it wouldn't have happened this year either. The days of chip shot field goals being botched as time elapses or a key punt being shanked are over for the foreseeable future. And if the rest of the team commits to perfecting their game in the same way that Will Monday has, then the best of Blue Devil football is yet to come.