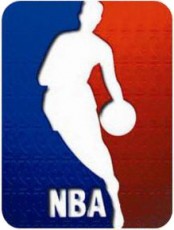 Now that the Blue Devils schedule is relaxing a bit – there are only five games scheduled for the entire month of December – it gives us here at BDN a chance to catch up on some things.  One is to check in with Duke alums in the NBA.  Here's what's going on to this point in the NBA season for former Blue Devils.
Last year's NBA Rookie of the Year, point guard Kyrie Irving, broke his finger on November 17 in a game against Dallas, and is not expected back until mid-to-late December.  This on the heels of his having suffered a broken hand in the off-season.  The Cavaliers' future All-Star was off to a strong start before the finger injury, averaging 23 points (up from 19.2 ppg last year) and 5.6 assists (although with 4.1 turnovers) per game in 10 games.
Kyle Singler, in a surprise to some, has emerged as a solid starter – in the backcourt – with the Detroit Pistons, after spending last season playing in Spain.  In 19 games, Singler is averaging 10 points in 27 minutes, on over 50% shooting, including 45% on 3-pointers.  The Pistons started 0-8, but since Singler started and played 40 minutes on November 14 against the Sixers, Detroit is 6-5, with Kyle getting 32 minutes per game and scoring right at 12.
Singler's Detroit teammate Corey Maggette is getting 15 minutes per game in a reserve role.  Hard to believe he's 33 years old already.  The career 16 ppg swingman is now playing for his sixth NBA team.  Maggette, who missed Detroit's first eight games with a calf injury, is averaging 5.5 ppg for the Pistons this year.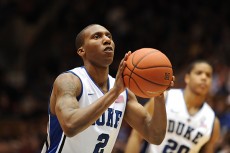 Kyrie and Kyle's Blue Devil teammate Nolan Smith is having a tough go of it in Portland.  He's only played in 11 games, and has been inactive for many others.  In the games he's played in, he's averaging 7.5 minutes, and that includes a game in which he played 14 and Friday night's 17 minutes against Boston – and he shot 0 for 5 in that game with just one assist.  On the bright side, despite that poor game, he still received double digit minutes in the next two, and the Blazers won both.  But with so few opportunities, Nolan has no significant stats to speak of.  His problem is that Portland drafted Damian Lillard in the first round in this past year's draft, and the speedy guard from Weber State has been terrific.  The Blazers have declined to pick up Nolan's option for next year, so it's looking like his best opportunity going forward is likely going to come with another team.
The other member of the 2010 national championship team that is in the NBA is Lance Thomas.  The defensive-minded forward has played in 11 of the Hornets' 16 games, but that includes the last eight in a row (since Anthony Davis hurt his ankle), in which he has averaged 14 minutes with a high of 22 against the Knicks on November 20.  Lance is averaging four points and 2.5 rebounds per game.  The Hornets have a lot of young forwards on the roster, including Davis, Ryan Anderson, Al-Farouq Aminu, and Darius Miller, so Lance is going to have to continue to fight for minutes.
Lance's Hornets teammate Austin Rivers, while having typical rookie growing pains, is nevertheless contributing to this team, which has lost 9 of 11 after winning three of its first five.  With Eric Gordon hurt again this year, Rivers was the opening night starter, but now is coming off the bench and splitting time at the 2-guard with Roger Mason, Jr.  Austin is averaging 6.4 ppg in 27 minutes, but his shooting has been poor; he's at 29.6% right now and 67% from the line.
Austin's fellow first-rounder in the 2012 draft was Miles Plumlee, chosen by the Pacers.  Miles wasn't expected to be an impact player as a rookie, and he isn't.  He's only gotten into four games, for limited minutes, so has no numbers of note.  He's been inactive for some games and has been sent to the D-league as well.  It's just going to be that kind of year for Plumlee.  He knows he's got a lot to learn, and with his excellent attitude, the Pacers want to give him an opportunity to improve and show that he belongs.  David West is the starter at power forward for Indiana; the young guys seeking to back him up are Miles, Tyler Hansbrough, and Jeff Pendergraph, formerly of Arizona State.
Former Pacer and Indiana native Josh McRoberts has moved from the Lakers to the Magic this year.  The power forward is getting 16 minutes per game, averaging four points and four rebounds, and is shooting 46%.  Big Baby Davis is the starter for Orlando at the 4, and the others competing for time there are Andrew Nicholson, Gustavo Ayon, and Kyle O'Quinn.  None of those guys are exactly the second coming of Karl Malone, so there is opportunity there for Josh if he can seize it.
The longest-tenured member of the Magic is J.J. Redick, now in his seventh campaign.  There are a lot more shots available in Orlando this year, as there is no Dwight Howard in the middle.  J.J.'s scoring has improved; the 8.8 ppg career scorer is up above 14 so far this season on 44.5% shooting, and 36% from 3-point land.  He's also dishing five assists per night.  The best thing for J.J. is that he's getting minutes, to the tune of 30 per game, despite the fact that he's still coming off the bench as Orlando starts Aaron Afflalo, who was the best player they got in the Howard trade.
Former Magic guard Chris Duhon is now a backup with the Lakers.  With both Steve Nash and his primary backup Steve Blake injured, the 30 year-old Duhon and former Michigan guard Darius Morris have been splitting time at the point.  Chris is only averaging three points on 42% shooting in 19 minutes per game, but his role is not to be a scorer.  Not when he's sharing the floor with Kobe, Dwight Howard, Pau Gasol, Antawn Jamison, and others.  Take care of the ball, distribute it, and play good pressure D.  Nuthin' fancy.  That's what he's doing with the opportunities he receives, and why the former second round pick has survived in the league into this, his ninth season.
Duhon's former Duke teammate Mike Dunleavy, Jr., now in his 11th NBA season, is averaging 11 points and 5 boards on 45% shooting – right about his career averages – coming off the bench for the Milwaukee Bucks, who surprisingly are at .500 as I write this.  The Bucks are starting Tobias Harris at small forward, but Dun usually ends up getting more minutes – he's averaging about 27 a night.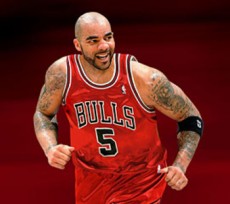 That 2000-2001 National Championship team of course featured Carlos Boozer down low.  'Los is now in his third year with the Bulls, who are just trying to hang on until Derrick Rose returns.  The former second round pick, who has averaged 17 ppg over the course of his career, is down to 13.7 this year, though he is still grabbing his customary 10 boards per game.  What is surprising is that his shooting – usually excellent, as he is a career 53.5% shooter, is down to 45% this season.  He has exceeded 20 points only three times in 15 games, while posting games of two, four (twice) and six.
If I'm not mistaken, the only Duke alum in the NBA who has won an NBA Championship is Shane Battier, who of course also won one as part of that Boozer-Dunleavy-Duhon team in 2000-01.  (I know, Jason Williams was kinda important to that team too.  Sidetrack.)  Shane hit so many key three-pointers for the Heat last season in their title run, and provided such solid defense against many of  Miami's top opponents that they just fell in love with him in Miami.  As a pro, Shane has never been a big numbers guy.  He's a defensive stopper, a spot-up 3-point shooter, and a great glue guy.  I'm not sure if K was talking about Shane when he uttered the classic "What position does he play?  He plays winner" quote, but he might as well have been.  Shane is a starter for the Heat, averaging 7 ppg, but nailing 3-pointers at a 45% clip, by far the best of his career.  Unfortunately, Shane sprained a knee 10 days ago against Cleveland.  He's missed the Heat's last three games, and will probably miss a few more, at least.
Dahntay Jones was also a member of that 2000-01 championship team, but he was sitting out that year as a transfer from Rutgers.  The athletic Jones has survived 10 years in the NBA, and this year is with Dallas, his fifth team, having been traded to the Mavs with Darren Collison.  Dahntay is getting about 11 minutes per game off the bench as a reserve swingman, and his numbers aren't much, as he's shot the ball poorly this year.
Getting more time off the Dallas bench is Elton Brand.  The former Duke great and overall #1 draft pick is nowhere near the player he once was.  The career 18 ppg, 9 rebound guy now gives the Mavs 7 points and 6 boards in 22 minutes as a sometimes-starter, sometimes-top reserve big man.  Kind of a shame that such a talented player and overall good guy had to waste his best years toiling for bottom-feeding Bulls and Clippers teams for most of the decade of the 2000's, but such was his fate.  The Mavs aren't going anywhere; it would be great to see Elton get to finish his career with a winner.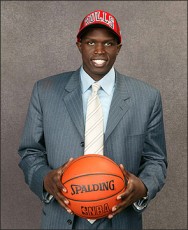 Luol Deng, now in his ninth season in Chicago, is having his typically stellar year for the Bulls.  While Boozer has struggled a bit in the absence of Derrick Rose, Luol has stepped it up, and is averaging a near-career high of 18.1 ppg and a career high 7.4 boards.  He's also logging heavy minutes -- 40.7 per game, the highest of his career, including games of 45, 46, and 47 minutes.  Deng is also hitting his free throws at an 82% clip, up about 5% from his career average.
Gerald Henderson just made his return on Monday night for the Bobcats after having missed the last month with a sprained foot.  Though Gerald had started the first two games of the year prior to the injury, he came off the bench for 15 minutes of action against the Blazers.  The Bobcats, who got off to a shocking 7-5 start after last year's horror show, have now lost their last three.  Henderson was one of the few bright spots last season, bumping his scoring up to 15 ppg, and it is hoped that his re-insertion into the lineup will return the Bobcats to respectabiliy.
The Old Man River of the NBA is all-around good guy and all-time Duke great Grant Hill, now in his 18th year in the NBA.  Simply amazing in this day and age, especially considering the injuries he's fought back from.  Grant signed on with the Clippers, but has yet to take the floor due to a bone bruise in his knee.  He's going to make an exciting team even better, and will definitely provide additional maturity and leadership to a  talented group.  Getting PT is going to be tough, though, as the Clips are loaded at small forward, boasting not only starter Caron Butler, but also Matt Barnes and Lamar Odom at that position.  But still, he's Grant Hill, right?
Hope you enjoyed this look around at Dukies in the League.  If I missed anyone, let me know!