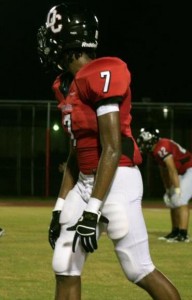 National Signing Day is fast approaching! Head Coach David Cutcliffe and the Duke staff are excited about their 18 verbal commitments in the class of 2013, but are still looking to add a couple more signatures on February 6th.  To that end, the Blue Devils will host 8 official visitors this weekend in Durham. On Friday night, the program also will celebrate the 2012 season, its most successful campaign since 1994, as host the annual Duke Football banquet.
The list of official visitors starts with 4 Blue Devil commitments. Terrence Alls, a 6'0" 180 pound receiver from Dade Christian HS in Miami, is among the top prospects in the class. With well over a dozen scholarship offers, Alls was highly coveted prior to his commitment in August.
Duke continues its pipeline of talented athletes from Monroe, North Carolina, as they will add WR Quay Chambers to their class of 2013. Chambers will join fellow Monroe natives Jamison Crowder and Issac Blakeney on the Blue Devil roster in 2013, and will also make his official visit this weekend.
The Blue Devils will return their entire defensive line from 2012 next year, but will also bring in big Georgia 6'3" 270 pound DT prospect Mike Ramsay. Ramsay will make the trip to Durham this weekend from the Walker School in Marietta, where he helped the program to its first undefeated season.
Duke added their most recent commitment over the New Year, as California safety Phillip Carter switched his commitment from San Jose State to the Blue Devils. Carter and his family will make the trip across the country from Folsom, California. BDN recently caught up with Carter, who says he is 100% committed to the Blue Devils.
Four uncommitted prospects will also be in Durham for their official visits this weekend. Safety Deondre Singleton, a 6'1" 185 pound prospect from Archer High School in Georgia, will check out the Blue Devils. His recruitment has been led by Coach Jones and Knowles, who had an in-home visit last weekend. He holds over a dozen scholarship offers, and has already taken official visits to Appalachian State and Penn State.
Joining Carter on cross-country trips this weekend will be two prospects from the state of Nevada. The Blue Devils were among the first to offer 6'6" 240 pound OL Elijah George and will finally get to host the big prospect on an official visit this weekend. George, from Arbor View High School in Las Vegas, is one of the top remaining uncommitted offensive linemen, and has offers from the likes of Colorado, Colorado State, Oregon State, and SMU, among others. WR Ryan Smith, from Bishop Gorman High School in Las Vegas, will also make the trip to Durham. Smith committed to New Mexico in December, where his father has served as running backs coach, and holds offers from Colorado State and Utah State. BDN spoke with Smith on Tuesday, and he confirmed that he has picked up a scholarship offer from Duke and has the Blue Devils at the top of his list heading into his official visit.
Rounding out this weekend's visitors will be 5'6" 165 pound ATH Kylen Towner from Alabama powerhouse St. Paul's in Mobile. Among the school's notable alumni are A.J. McCarron and Mark Barron, and is also home to 2014 Blue Devil LB commit Zavier Carmichael. Towner has offers from UAB and Western Kentucky, and saw time at cornerback, kick return, wide receiver, and running back in his senior year.
In other recruiting news, Virginia and Texas Tech have made late pushes for Duke OL commit Sterling Korona. While he has been in contact with other schools, sources indicate that Korona is loyal to his Duke commitment. He will host Coach Cutcliffe for an in-home visit next week.
Stay tuned to BDN for all the latest on #dukegang2013 as National Signing Day approaches.