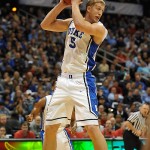 There was a sense of relief for all involved with Duke Basketball after the team dismantled a big and physical Maryland team on Saturday. The Blue Devils are unaccustomed to dealing with bad losses on the whole, so getting back on the court was the only thing that would cure the blues that enveloped the team in South Florida.
In response to one of my questions in his post-game press conference, Coach Kryzewski took the time to go back and discuss the Miami game. He simply stated that Duke ran into a perfect storm -- a hurricane in this case. He mentioned the same thing I did in a previous article -- that the Blue Devils just needed to see the ball go in the hoop.
Anyone could tell that the team came prepared for battle against the Terrapins. They squelched any attempt at a run made by the Terps, as Duke remained focused and maintained their mental toughness. That was the difference, and that's what it will take moving forward while they await the return of Ryan Kelly.
From an x's and o's standpoint, it was important for this team to finally adjust to the new Kelly-less lineup. Going into the Maryland game, many were wondering where the offense would come from. As it turned out, it came in the form of freshman Rasheed Sulaimon, who fought off his recent inconsistency to hit for a career-high 25 points.
But Duke will not always be able to depend on Sulaimon having monster games. So it will be important for other players to step up as well individually, and for the team to continue to find its chemistry in the absence of Kelly. Chemistry was what put the Blue Devils on top of the polls for most of the season, and it is the only thing that will return them there by season's end.
That said, it is not easy for a team to suddenly revamp its lineup in mid-season without losing that delicate chemistry. Duke pretty much had to tear down the way they were doing things and rebuild, and that rebuilding is rarely smooth. Hence, a little doubt inevitably snuck in.
In short, Duke had to find their mental toughness first and foremost. Once that confidence is established, success in other areas of the game can follow. It's analogous to when a player is in a shooting slump; he has to play hard in other aspects of the game until he can get that easy shot to get himself rolling again. Hopefully now, the Blue Devils can start to roll again.
This year's version of the Blue Devils is surely talented, and with Kelly they were a wily veteran team led by three seniors. But without Kelly, they are once again quite young, starting two freshman. No surprise that the Kelly-less Blue Devils' two ACC losses came to two of the older teams in the league in Miami and N.C. State.
Duke is expected to get the services of Ryan Kelly back in time. But the important thing right now is for the team to take the momentum from the win over Maryland to Winston-Salem on Wednesday night. It is notable that for whatever reason, Kelly has had monster games against the Deacons when other Blue Devils struggled. He won't be there obviously this time. So it will be interesting: who will step up in his place?
We'll learn a lot more about this team between the Wake Forest game and the next road game on the horizon at Florida State. The rematch with a hot N.C. State team will follow. Duke can ill afford to let up against anybody, much less come up with an effort like they did down in Coral Gables. It seems as if they've made some real adjustments to their post-Kelly world, and have developed a newfound chemistry. Whether or not he returns, the team will likely have benefitted from the struggle.