Ah, Duke's annual trip to College Park. The energy, the tradition, the post-game riots. With Maryland leaving for the Big 10 the year after next, this might be the very last such trip for Duke, the last installment in the not-our-rivalry.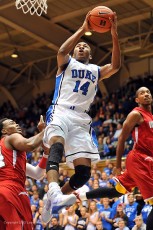 The often crass and vulgar Terrapin faithful had a lot to cheer about when Maryland won four of six home games against Duke from 2002 to 2007. But Duke has taken four of the last five games in College Park and third year coach Mark Turgeon has yet to beat the Blue Devils. Duke clobbered the Terps 84-64, three weeks ago in Durham.
Since that game on January 26, Maryland has beaten Wake Forest and Virginia Tech and lost to Florida State and Virginia. The Terps' rotation has looked a bit different lately than it did against Duke, as 6'8" senior James Padgett has replaced 6'9" freshman behemoth Shaquille Clear in the starting lineup. Clear started against Duke and played 16 minutes, but in Maryland's last couple games he's been the 9th or 10th man, playing only 3 minutes against Virginia Tech on February 7. Also, 6'3" junior Pe'Shon Howard has appeared to drop to eighth in the rotation (averaging fewer than 14 mpg in the last three games, and now has been suspended and will not play against Duke) after playing 21 minutes in the first Duke/Maryland game. You never know, though. Padgett only played 6 minutes against UVa after averaging 27+ mpg in the three games before that.
With either Padgett or Clear in the lineup, however, Maryland is huge. Led by 7'1 sophomore center Alex Len, the Terps' starters include 6'8" freshman Jake Layman, 6'6" sophomore Nick Faust, and 6'5" sophomore Dez Wells. Meaning Duke will give up 4 or more inches at all three perimeter spots. The terps go 10 deep, with either Clear or Padgett subbing in the frontcourt, as well as 6'8" widebody freshman Charles Mitchell, and with Howard, 6'1" frosh Seth Allen, and 6'3" graduate student (transfer from Albany) Logan Aronhalt shoring up the perimeter.
Maryland is rated #61 in the country by Pomeroy, #73 in the RPI, and #53 by Sagarin. Pomeroy likes their defense (#50) better than their offense (#96).
As one might guess with all that height and girth, Maryland is the top rebounding team in the ACC, ripping down 42.2 boards a game. Their specialty is offensive rebounding, as their offensive rebounding percentage is tops in the conference. Duke's defensive rebounding is an area of weakness (9th in the ACC), so this is a critical thing to watch on Saturday. Based on rebounding percentages, Maryland's top glass cleaners are Mitchell (24.0 def reb %; 16.0 off reb %) and Len (18.4 def reb%; 13.5 off reb %). Padgett and Clear are also more than adequate.
The Terps shoot the ball pretty well overall at 47.2% (tied with Duke for 2nd in the conference), but don't shoot many threes (their percentage of three point shots out of overall shots is 10th in the conference) and don't get to the free throw line very much (8th in the conference in free throw rate). When they do launch an outside shot or a freebie, they don't make so many (8th in the ACC in three-point pct and 9th in FT%). But their biggest weakness is turnovers, where they rate worst in the ACC, coughing up the ball more than 15 times a game. They also rate 2nd to last in the league in getting steals on defense.
In contrast, Duke has the most efficient offense in the ACC. In addition to being tied (with Maryland) for 2nd in the league in overall FG%, the Devils lead the conference in three-point percentage (40.8%) and FT% (71.7%). And Duke exploits its three-point strength, taking the 3rd highest percentage of threes in the conference. Duke's assist rate is similar to Maryland's (Maryland is 3rd in the ACC and Duke is 4th), but unlike the Terps Duke takes care of the ball. The Blue Devils' 1.36 assist to turnover ratio is tops in the league and the team only gives the ball away 11.2 times a game (2nd in the conference).
Maryland has only two double-figure scorers. Dez Wells scores 12.0 points per game, along with 4.7 rebounds and 3.0 assists. Len puts in 12.5 ppg and rips down 8.0 rpg, as well as 2.0 blocks. Howard is the Terps' top assist guy with 4.2 apg.
In the January 26 game at Cameron, Dez Wells scored 13 and nabbed 8 boards, but only managed a single assist against 3 turnovers. Mason Plumlee outscored Alex Len 19 to 8, although Len's 10 boards topped Mason's 7. Mason also had 3 assists and only 1 turnover. Nick Faust scored 9, along with 4 rebounds and 3 assists (4 to's), and Charles Mitchell put up 13 and 7 in only 13 minutes of play.
On Duke's side, Quinn scored 11, with 5 rebounds and 9 assists against only 2 turnovers. In recent games Quinn has been looking for his own shot and hasn't been distributing as much, but hopefully he can do both tomorrow. Rasheed Sulaimon had the highest scoring game of his young career against Maryland, netting 25 points on 9 for 13 shooting (6 for 8 from three). Amile Jefferson battled the bigger Terps for 9 rebounds to go with 11 points and 3 blocks.
One side note -- there have been some internet reports that Mason Plumlee is nursing a sore ankle but expects to play. Duke hasn't reported anything about this, so it might just be internet chatter. If Mason's ankle does hinder him, however, it could be critical, as Duke needs his size and strong play against Maryland's huge front line.
Another note: Pe'Shon Howard has been suspended and will miss the Duke game.
Ultimately, this game shapes up as a contest of size vs. skills. The Terps' superior height on the perimeter didn't bother the Devils' ballhandling (18 assist against only 4 turnovers) or shooting (52.4% from the field; 50% from three on 11 for 22 long distance shooting) in the last matchup. If Duke can can replicate that success and moderate Maryland's success on the boards, there's a pretty good probability of a Blue Devil victory. If Maryland can bother the Duke outside shooters and continue to hammer the offensive boards (17 in the last game out of 43 rebounds overall), they might have a chance at an upset in front of the rabid Maryland fans.