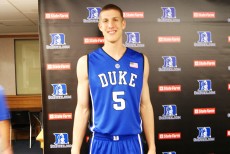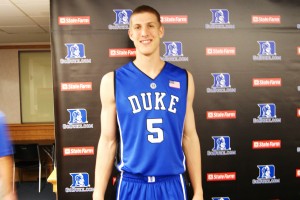 It wasn't easy.  It wasn't a thing of beauty.  But the Blue Devils, riding a monster 32 point, 9 rebound performance from Mason Plumlee, finally shook off a game Wake Forest squad and beat the Demon Deacons 75-70 Wednesday night in Winston-Salem.  The win pushed Duke to 18-2 on the season, and 5-2 in the ACC, good for second place in the league behind undefeated Miami.
Wake wasn't just game.  They were pretty darned good.  This is a very young team, playing its highest profile opponent of the season, with a chance to make a real statement:  that the win over NC State wasn't a fluke, and that they are making real progress towards reclaiming their place in the upper echelon of the ACC, after a lengthy absence.  And they almost pulled it off.
The much-maligned Jeff Bzdelik tried a defensive game plan against Duke that few, if any, have dared this year.  For most of this game, they did not double down on Mason Plumlee, opting instead to stay home on Duke's shooters and see if Mason could beat them by himself.  Well, he didn't do it by himself, but the big guy just dominated inside.  His 32 points were scored on 12-of-15 shooting, and 8-of-10 from the line.  Plumlee's performance recalled the glory days of, say, November, when he seemed unstoppable.  Wake certainly could not stop him with one defender.  In case anyone still hangs onto the "Duke is not athletic" or "Duke can't develop big men" nonsense, here was Wake big man Devin Thomas' post-game assessment of Plumlee's game:  "He just got all the moves that you would want as a big man - a quick spin, a right- (and) left-handed hook, athletic. ... We wanted to foul him to put him on the line, but he was making his free throws, so it was just a lose-lose situation for us."  Mr. Gottlieb, your table is ready.
Seth Curry added 21 despite his three-point shot being off, as he hit only 1 of 6 from beyond the arc.  But that one was a big one, a dagger with just over three minutes to play that gave Duke a three point lead, a lead the Devils never relinquished.
But Bzdelik's strategy largely worked.  Duke's three point shooters were stymied, making a season-low two shots from beyond the arc.  Result: despite Plumlee's heroics, this game was nip and tuck the entire way.  The first half was a see-saw battle, with neither team leading by more than six, and it ended at 40 apiece.  Other than Plumlee (who had 19), Curry, and Quinn Cook, the rest of the Blue Devils only scored two hoops total in the half.  Duke took an eight point lead early in the second half, raising hopes that the Devils would continue to create separation and win going away.  Didn't happen that way.  Wake battled back and re-took the lead at the eight minute mark on a C.J. Harris jumper.  By this point, Bzdelik had started to send a second defender at Plumlee, and therefore Duke's shooters got a little more room in which to operate, and some better looks, but the going was still tough.  Duke regained the lead on three made free throws by Curry, and held it for most of the rest of the night, but just couldn't pull away at all, as the game remained within a couple of points the whole rest of the way.  When it came to "winning time," though, it was Duke who made it happen.  The key plays down the stretch were Curry's cold-blooded three pointer at the three minute mark and then in the final minute, Rasheed Sulaimon hit a big J to put Duke up 5, and then at the other end Josh Hairston, who otherwise had a pretty forgettable night, hustled and made a diving save of a ball that Mason had blocked from heading out of bounds, effectively icing the game.  Survive and advance.
You wouldn't know it from Wake's points scored totals, but Duke's defense did not have a great night.  Mason Plumlee picked up three offensive fouls in the game, and had to back off of playing aggressive defense in the post, as with Ryan Kelly out, Duke has no reliable big man depth.  Result: Thomas had a terrific game on the inside, scoring 15 points on 7 of 10 shooting.  Mason also took some risks that were unwise. But it was more than just that. Amile Jefferson committed a couple of silly fouls, and he and Josh Hairston had difficulty staying with their men.  Duke's defense was also hurt in a big way by Rasheed Sulaimon picking up some early fouls and having to sit 13 minutes in the first half.  The defense was made to look worse by the fact that Wake was shooting lights out early.  In the first 13 minutes of the game, they shot 70%.  And while they cooled down as the game wore on, they were at 54% at the half and they finished at 48%.
This was the Blue Devils' first true road win of the season after the losses to NC State and Miami, and it has got to help the team's confidence as they head to Tallahassee this weekend to face the Noles.  It would be a big one if the Devils could get out of there with a W, for as Mason Plumlee stated in the post-game, "We need wins on the road because we don't play the NCAA Tournament in Cameron."  True that.