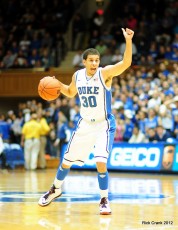 OK so on Thursday night Duke tries to bounce back from a tough two point loss at Maryland on Sunday as they travel to Blacksburg to face the Hokies of Virginia Tech.
So first things first:  what the heck is a Hokie anyway?  Well, actually, it's . . . nothing.  It's not an animal, a vegetable, a mineral.  Not a person, place, or thing.  It's nothing.  It's a made-up word.  Not that there's anything wrong with that.  The word was coined by yell leader O.M. Stull, class of 1896, who as part of a contest, created a new cheer and included "hoki" in it, just for fun I guess.   Oh, that ol' O.M.!  Here's how it went -- sing along if you already know it:
Hoki, Hoki, Hoki, Hy
Techs, Techs, V.P.I.
Sola-Rex, Sola-Rah
Polytechs-Vir-gin-ia
Rae, Ri, V.P.I.
It was another time, folks.
It's also a new day in Virginia Tech basketball this season, as the always complaining, always sweating, paranoid, inferiority complex-having Seth Greenberg was fired after last year and replaced by James Johnson, who two weeks prior had left Greenberg's staff to take an assistant's job with Clemson, only to scurry back to Blacksburg when the top job opened up.  Doesn't Greenberg strike you as the heavy-set kid who was always the last one picked for the team on the schoolyard, lost all self-esteem, and has been overcompensating ever since, and thinks he's a lot more clever and a lot funnier than he is?  I digress.
In any event, whether the change turns out to be positive for Virginia Tech basketball in the long run remains to be seen.  Greenberg, though he was under .500 last year, had won more than 20 games in four of the previous five seasons, averaging just shy of 22 wins per year during that stretch, though due to some really lame scheduling, he only received one NCAA bid.  ("Oh, the hu-MAN-ity!")
Johnson's initial campaign has been a rocky one, as his team sits at 11-14 overall, and dead last at 2-10 in the conference.  They've lost eight in a row coming into Thursday night's contest, and while I haven't researched it, I'm quite sure it's been a veeeery long time since a team broke an eight game losing streak with a win over Duke.  But in addition to a nice win over Oklahoma State earlier in the year, the Hokies have at least been in a lot of games in which they've fallen short.  They lost by only 9 to Miami, took Carolina to OT on the road, lost by 5 to Maryland, and in their last outing took State to OT, also on the road.  Along with some stinkers, too, don't get me wrong.
This year's edition of the Hokies is currently #164 in the RPI.  Their numbers are equally bad on the offensive and defensive sides of the ball.  They're fourth in the ACC in scoring, but 11th (that's next to last) in FG% and 10th in 3 point shooting.  They're last in the league in scoring defense, at 73.7 ppg, and 9th in FG% defense.  They're 11th in rebound margin, last in assists, last in steals, 11th in turnover margin, and 10th in assist-to-turnover ratio. The only major statistic that they're in the top four in the league in is offensive rebounds.  Probably because they provide themselves so many opportunities, if you know what I mean.
What Virginia Tech does have going for them, primarily, is star scoring guard Erick Green.  The 6'3" senior out of Winchester, VA is leading the nation -- not just the conference, but the whole country -- in scoring at 25.3 ppg.  That's an increase of almost 9 ppg over last year.   Though Green is, by necessity on this team, a high volume shooter, he still is an efficient scorer, with a O Rating of 121.  He does this primarily by shooting 47.3%, and a lot of his shots are tough, contested ones, as the Hokies don't have all that many other options, so defenses focus primarily on Green.  Green drives it strong to the hole, and he often scores or gets fouled.  Or he finds open guys on the perimeter, as he's a good passer too.  He's also nails from the line at 81%, which is very important because he gets to the line a ton -- between eight and nine times per ballgame.  Another great thing about his scoring:  he's consistent.  Green has scored over 20 points in 23 of Va Tech's 25 games, falling short only at BYU and at Carolina.  Green does it all for Va Tech -- he not only leads the ACC in minutes played, but he also is the leading assist man on the team, and sixth in the ACC, dishing out over four per game, and is fifth in the league in assist-to-turnover.
Virginia Tech's next best player is  junior forward Jarrell Eddie, who averages 13 ppg and 6 boards, both second best on the squad.  The 6'7" junior struggles with his shot, however, as he's hitting only 40% from the field.  He is prone to long stretches of poor play, too.  While he had 17 points in the Hokies' loss to State on Saturday, in the three games previous to that, he shot 1 of 8, 0 for 6, and 1 for 7, totaling 2 for 21.  With a total of 11 rebounds in those three games.  Not good.
The team's leading rebounder is rugged 6'9" junior Cadarian Raines at 6.8 boards per game, including 3.1 off the offensive glass; he only scores 7 ppg though.  No offensive game, really.  The other two starters are lanky 6'5" soph Robert Brown, who scores 9 ppg on lousy 32% shooting, including a truly unsightly 22% from 3 point land, and 6'8" soph C.J. Barksdale, who is just not an impact player in any particular area. Five other guys are averaging at least ten minutes per game for Coach Johnson, and though none of them score much, many of them are decent rebounders, contributing to the Hokies' overall adequacy in that department.
Because the Hokies do not have a wealth of talent on the offensive end, they try to push the tempo when they can.  This also enables them to play to Green's strengths.  They have some pretty good athletes on the team, so when they do go to the glass, it provides them an opportunity to then get out and run.  Duke's going to have to watch its defensive transition, and not get caught backpedalling while Green is ramming it down their throats.  Make them play halfcourt.
As far as Green goes, you can't stop him.  You can only hope to contain him.  I know: groan.  Seriously, though, the guy always gets his points.  You've got to make him work for them, though.  Nothing easy in transition, no open looks on the perimeter.  When he drives it into the lane, help!  It's not like the other guys are likely going to kill you if the ball gets swung to them.  They can't shoot!  When they run screening action for Green, we have to effectively hedge, and we have to play solid help and recover.  If we don't hustle on those plays, Green will turn the corner every time, and make a lot of Duke fans very uncomfortable.  I would expect Tyler Thornton to spend some significant minutes in Erick Green's shirt, as a change of pace from Rasheed's longer-armed, athletic defensive presence against the Hokies star.
Defensively, again, Va Tech is fairly long and rangy, and athletic.  As has been well documented, some Blue Devils struggle against length and athleticism.  Mason Plumlee has (though the Hokies are not particularly tall, per se) and Seth Curry has.  Josh Hairston too.  But while they're lousy on the defensive boards, Duke is unfortunately only rarely able to take advantage of that weakness.  Also, as they were under Greenberg, Va Tech plays physical.  Everyone seems to think now that muscling Mason is the way to go defensively, so as to make him play through contact, make him finish plays.  Plumlee had better be ready for a physical game.  But he's not the only one.  Their perimeter guys are going to bump Seth and Quinn and Rasheed around the screens, grab and hold when they can get away with it, all that kind of stuff.  Better be ready for it both mentally and physically, guys.
The guy everyone will be looking for to bounce back from the Maryland game, of course, is Mason Plumlee.  I don't know if he was tired -- wait, yes I do.  He was. -- or if he had a sore ankle, or if he just had a bad game like college kids (or any other basketball player in the world) do sometimes.  I'm sure nobody feels worse about it than he does.  Don't expect to see "fire in his eyes" or an "angry Mason."  That's not who he is, on the outside.  What I do expect is a determined, committed Mason, one who knows he's the best big man on the floor, by a lot, and one who makes up his mind that he's going to establish solid position in the post, demand the ball, and turn and score with authority.  He's not going to have to defend an A+ big man at the other end, so that may free him to play more loosely overall, and more confidently.  When he does that, everyone benefits.
The reality is that even if Mason doesn't have a great game on Thursday night, Duke can still win.  And should.  Duke has many more weapons than do the Hokies.  Still, Virginia Tech is an ACC team who has an impressive win this year and some very close calls, and the top scoring guard in the nation.  And it's on the road.  Duke will be focused, as they always are in particular after a loss, so I think the regaining of their legs, the determination they'll have post-Maryland, and the fact that they have just a much stronger team will seal the deal, and Hoki, Hoki, Hoki Hy will have to wait for another day.