Duke has now played nine games since Ryan Kelly went down during the Clemson game on January 8. Without Kelly the team has a very different feel, both on offense and defense, but perhaps the most important consequence of Ryan's absence is our missing his experience.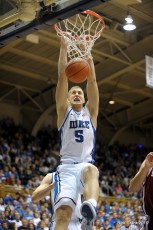 With three senior starters and two junior bench players, Duke during its first 15 games had the look of a veteran team that could adapt to any situation, calm and unruffled, a team that knew how to win and was confident it would do so, regardless of the impediments in its path. Substituting a freshman (Amile Jefferson) for a senior has disturbed that unruffled calm and made Duke vulnerable to stress and the unknown. We've seen this multiple times in the past month and once again in last night's rivalry matchup against North Carolina.
One of Duke's great strengths year in and year out has been game preparation. Coach K knows how to use practice time effectively, allowing our players to be ready for each game and to know exactly how to anticipate and combat each opponent's actions. It is perhaps a testament to Duke's strength, even without Kelly, that most of our recent opponents have felt the need to attempt to undermine that, to force our suddently younger team to deal with things for which it hadn't prepared. Can't blame them, though, can we? Because for the most part it's worked, at least at first.
| | | |
| --- | --- | --- |
| Game | Surprise? | Result |
| 1/12, @NCSU | Just a few days after Kelly's injury, the team has precious little time to prepare for life without Ryan | Duke looks lost on both sides of the ball and loses by 8 |
| 1/17, Ga Tech | No real surprises | Duke wins convincingly by 16 |
| 1/23, @Miami | Reggie Johnson goes all Willis Reed on us, throwing our game plan out the window. | Duke gets blown away by the Hurricanes, losing by 27 |
| 1/26, Maryland | No real surprises | Duke wins convincingly by 20 |
| 1/30, @Wake Forest | Wake surprisingly decides to single-cover National POTY candidate Mason Plumlee in an attempt to stop our three point shooting. | Duke has trouble adapting, beating an outmanned Wake team by just 5 |
| 2/2, @FSU | No real surprises | Duke wins convincingly by 19 |
| 2/7, NCSU | No real surprises | Duke jumps off to a 20+ point lead before coasting to a 13 pt win |
| 2/10, @BC | Snow forces Duke to fly in just hours before the game, severely disrupting Duke's pre-game routine and preparation. Then BC triple-teams Mason every time he touches the ball. | Duke has difficulty adapting and only edges an inferior BC team by 1. |
| 2/13, UNC | Roy Williams unveils a new starting lineup for the first time. | Duke struggles early, but manages to surge past the Tar Heels by 5. |
See the trend here? When the players can work from their game preparation Duke has won handily. When they've gone through the stress of being confronted with the unexpected, they've struggled. A pattern often seen with inexperience. To Duke's credit, after a couple stumbles the team has managed to still win its last three such challenges, including yesterday evening's game against the bad guys from Chapel Hill.
Last night's Carolina curve was perhaps the least predictable of the lot. Roy Williams had started two bigs and brought PJ Hairston off the bench every single game this season. Just a few days ago he was quoted as saying it would stay that way for the forseeable future. One of his hallmarks at North Carolina has been a determination to always go 10 or 11 deep (this year, 10 UNC players average 10+ minutes a game and an 11th guy averages 8+), no matter how many UNC fans scream at him to shorten his rotation. In anticipation of these trends continuing, Coach K started Josh Hairston alongside Mason Plumlee.
But when UNC's lineup was announced, lo and behold, it was the 6'6" PJ Hairston trotting out there, giving Carolina four guards alongside forward James Michael McAdoo. Two minutes later, Amile Jefferson subbed in for Josh Hairston, and twenty five seconds after that UNC had a five point lead.
"They did a good job of kind of throwing us off a little bit in the first half," senior co-captain Seth Curry said. "We finally found a way to adjust."
Duke struggled on both offense and defense against UNC's small lineup, but managed to keep the Heels within shouting distance. The first half seemed like a ping pong match -- Duke pulled within three, 9-6, then UNC pulled ahead 17-10; Duke got it back to three again, 17-14, but then Carolina jumped to its largest lead of the game, 28-18; Duke went on a mini-run, capped by a big three by Tyler Thornton, dropping the margin to five (30-25). The half ended with Carolina holding a four point edge, 33 to 29.
The game was marred by foul trouble. Plumlee, Quinn Cook, and Seth Curry all had two at halftime. Plumlee's first half fouls were both on offense, and he picked up a third foul 28 seconds into the second half. With a minute gone in the half, McAdoo drove in and Plumlee backed away so quickly McAdoo practically airballed the layup in his surprise. A minute and half later, instead of going inside Mason launched a tentative long jumpshot, and Coach K pulled him almost before the shot clanked off the rim, with UNC enjoying a seven point lead, 38-31.
With Mason on the bench, Duke went small to match UNC's new preferred lineup. Tyler Thornton stepped up again with another huge three with 16:18 to play, and when Seth Curry hit his first three of the game two minutes later, Duke took its first lead of the night, 42-41.
Even after Mason checked back in, Duke stayed small, employing a four guard lineup for much of the second half. Duke finally felt comfortable, and it showed. Three more threes, one by Rasheed Sulaimon and another each from Thornton and Curry, gave Duke its biggest lead of the night, 59-51, with five minutes to play. After Mason Plumlee stuck a short jumper with 3:48 remaining, UNC went into foul mode and Duke held on by scoring its last 12 points from the line on 12 for 12 shooting. PJ Hairston's meaningless dunk at the buzzer made the final score 73-68.
Plumlee, Sulaimon, Curry, and Cook all ended with four fouls. Josh Hairston had two fouls in nine minutes of play. For UNC, Bullock had four and the other four starters had three each. Ironically, Amile Jefferson and Tyler Thornton, both of whom average almost five fouls per 40 minutes, only got whistled for two each in 20 and 28 minutes of playing time.
Quinn Cook has said Coach K asked him to be more aggressive looking for his own offense, and it showed as Cook scored 18 points and has averaged 16.5 points in his last four games. Unfortunately, the young point guard's scoring has come at the expense of his facilitating. Against UNC, Cook only managed a season-low two assists against five turnovers, coming on the heels (pun intended) of a three assist, four turnover game against BC. For the game, Duke turned it over 17 times against Carolina, although only six of those came in the second half.
Despite his foul trouble and his looking a bit sluggish at the outset, Mason Plumlee hit his season averages of 18 points and 11 rebounds. Mason went four for four from the line during the end game, and is 33 for 44 (75%) on free throws in his last five games. Amile Jefferson had 8 rebounds in his twenty minutes. Tyler Thornton's 9 points represented by far his highest total in ACC play (and 3rd highest of the entire season). He also added 3 rebounds as most of our guards rebounded well (Cook chipped in with 6 boards and Curry had 5). Rasheed Sulaimon was the high assist man for either team, with 5, to go along with his 13 points. Seth Curry also scored in double figures, with 11. Cook led both teams with 4 steals.
UNC hammered the offensive boards, coming away with 20, but only managed 18 defensive rebounds as Duke outrebounded the Heels, 39 to 38. PJ Hairston had a career high 23 points to go with 8 rebounds (7 offensive!), a UNC game high 3 assists, as well as 2 blocks and a steal. Reggie Bullock had 15 points and 8 boards, but did most of his damage in the first half, shooting 3 for 3 on threes in the first half but only 1 for 4 from long distance in the second half. Nobody else from UNC did much from the bonusphere, however. PJ Hairston and Leslie McDonald, both averaging near 40% from three for the season, shot 1 for 7 and 0 for 2, respectively, from behind the arc.
James Michael McAdoo also amassed most of his stats in the first half, scoring 6 of his 9 overall points and garnering 6 of his 8 overall rebounds in the opening stanza. His four baskets included three dunks and one rebound-putback. He missed all eight of his shots from more than an inch from the basket and shot 1 for 5 from the free throw line. Bullock also shot poorly from the charity stripe (1 for 4), and UNC probably could have used some of those misses. Overall, UNC hit only 13 of 23 freebies (and only 5 of 18 from three-point range), although the rest of the team besides McAdoo and Bullock hit a respectable 11 of 14 free throws.
Rookie point guard Marcus Paige played 30 minutes but only contributed 4 points and 1 assist (plus 5 rebounds). Leslie McDonald scored just 2 points in 20 minutes. 6'10", 260 pound freshman Joel James sat out the game with an injury, although since he's 9th on UNC's team in minutes per game, his absence was probably not a big factor.
Continuing on the theme of surprises, Roy Williams essentially played a six man rotation. Other than McDonald, the four players on the UNC bench combined for just 12 minutes. It will be interesting to see if Coach Williams continues with the small lineup and short rotation. The Tar Heels played better than they have for most of the season, and this might just be the jump start Carolina needs to finish the season strong and make the NCAA tournament.
As for the Blue Devils, the win over their arch-rival brings the #2 team in the country's record up to 22-2 (9-2 in ACC play), going into Saturday's contest at Maryland. For now, we'll just have to wait and see what surprises, if any, Mark Turgeon dreams up.