It was just two weeks ago that Duke braved three feet of snow to battle Boston College at their Chestnut Hill, MA home. Forced to fly to Boston the day of the game (instead of the usual day before) and to miss their game day shootaround, the Blue Devils started off a bit discombobulated and never really shook it off, edging the underdog home team by a mere point, 62-61, on a Mason Plumlee free throw with 24 seconds remaining. Boston College's return trip to Cameron comes this Sunday at 2pm.
The Eagles sprung a surprise defensive scheme on Duke, triple-teaming Mason Plumlee pretty much every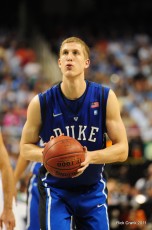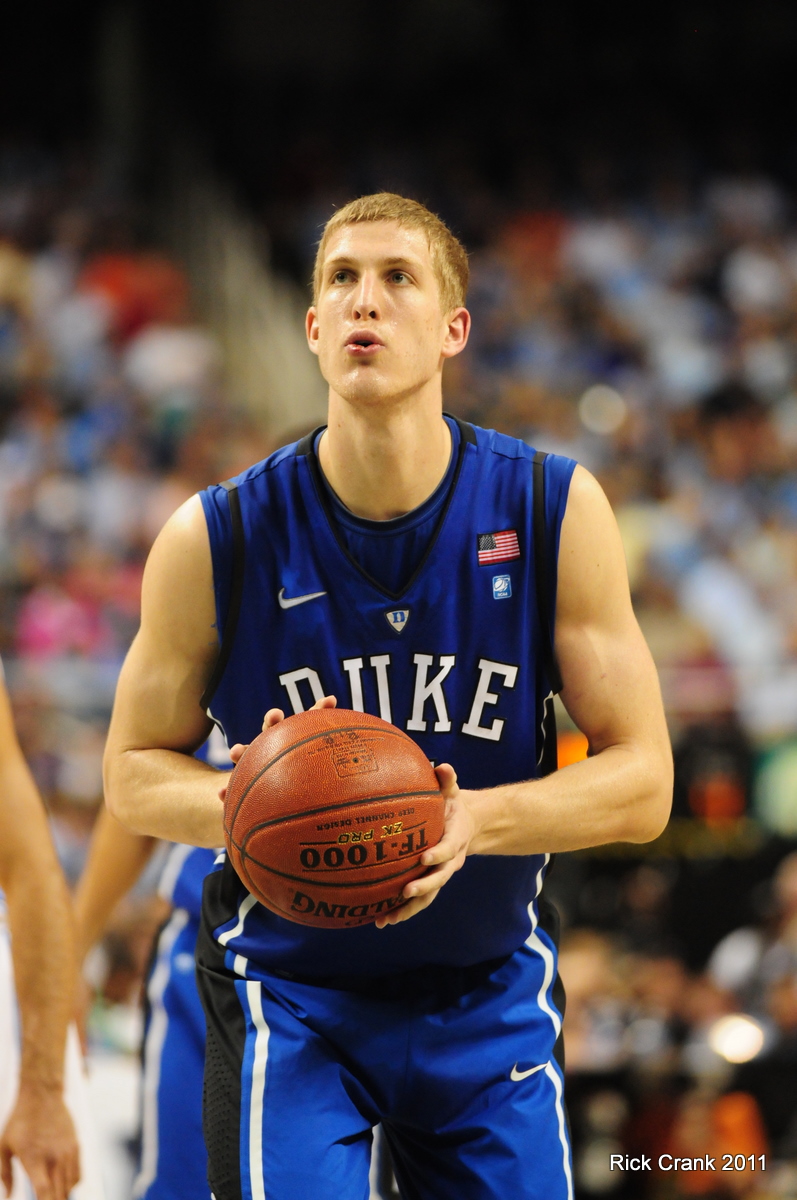 time he touched the ball, and it seemed to throw Duke out of its offensive comfort zone. Still, Mason scored 19 points and ripped down 10 boards, hitting 7 of 10 free throws, including 3 of 4 in the last minute to bring Duke from down 2 to up 1. Seth Curry was the only other Duke player in double-figures, scoring 18. Quinn Cook had 9 points on 3 for 5 shooting from behind the arc, including a huge three-pointer with less than two minutes to play to cut a Duke deficit from 61-56 to 61-59, setting the stage for Mason's charity stripe heroics. However, Boston College also harassed Cook into 4 turnovers against only 3 assists.
For BC, the top performers were the team's best two players: 6'8" sophomore Ryan Anderson scored 17 and pulled 6 rebounds, and 6'4" freshman Olivier Hanlan scored 20 points, including 11 of 12 from the free throw line. For the season, Anderson averages 15.1 ppg and 8.4 rpg, while Hanlan scores 14.6 ppg, along with 4.1 rpg, 2.4 apg, and 1.2 steals. BC also gets 10.0 ppg from 6'2" freshman Joe Rahon and 9.8 ppg from 6'3" sophomore and long range bomber Lonnie Jackson. The rest of BC's rotation includes three more sophomores, 6'5" Patrick Heckman, 7'0" Dennis Clifford (who started against Duke), and 6'7" Eddie Odio (who had two monster dunks against Duke but didn't do much else), along with 6'10" grad student Andrew Van Nest and 6'6 junior Danny Rubin.
Since the Duke game at Chestnut Hill, Boston College has won two of three games, beating Wake Forest and Maryland at home and losing a close one at Florida State. BC's overall record is 12-14, with a 4-9 ACC record. Pomeroy rates them 108th in the country (55th on offense and 191st on defense); Sagarin has them 107th, and they're 149th in the RPI.
As is somewhat typical for such a young team, BC is a much better team at home than they are on the road. At home, Boston College has 3 wins against 4 losses, including three very close losses to upper echelon teams (they lost to Duke by 1, Miami by 1, and NC State by 5, as well as by 12 to UNC), which is pretty respectable for a team that's probably a year or two away from an NCAA bid. On the road it's a different story, however, as the Eagles are winless in six tries. Playing in Cameron Indoor will likely be a significant challenge for them.
Boston College's identity this season has more or less been defined by poor defense and shooting tons of threes, but they showed neither of these characteristics the first game against Duke. It's not clear which was more of a surprise two weeks ago, BC's smother-Mason strategy or their decision to attempt only 11 threes (making just two), instead of their usual 21 per game. Perhaps Duke played outstanding perimeter D, but Boston College scored less than 10% of its points from the bonusphere, when they usually get almost 32%. For the season, BC leads the ACC both in three-point attempts and in the percentage of their points from threes. It will be interesting to see whether they repeat their strategies or if they revert to their normal game this Sunday.
On the Duke side, the team is coming off a strong 32 point victory over Virginia Tech in Blacksburg. Mason Plumlee atoned for his pedestrian effort in a loss at Maryland by pulling down 12 rebounds to go with 13 points, a game-high 5 assists, and 3 blocks, along with the most inspired defense we've seen from him in weeks. Mason's first rebound against BC will give him 1000 for his career, to go with 1000+ points and 150+ blocks, joining Mike Gminski and Shelden Williams as the only Duke players to accomplish this feat (at least since they started keeping blocks as a statistic). Plumlee also made Academic All American for the 2nd consecutive season, joining Gminski and Jim Spanarkel as Duke players with that distinction.
Seth Curry is on a roll, having scored 25 against Maryland and 22 against Virginia Tech (19 in the first half). Rasheed Sulaimon scored 17 against the Hokies, and Josh Hairston scored 11 for the 2nd game in a row, and he plus Amile Jefferson (essentially Ryan Kelly's two-headed replacement), netted 15 and 8 in 38 minutes. Alex Murphy had 8 points in 11 minutes.
Quinn Cook got into early foul trouble against Virginia Tech and only had 7 points. It will be interesting to watch Quinn against BC (and beyond), because in some ways he seems to be the player most affected by Ryan Kelly's absence. Although in the first seven games without Kelly, Cook played his usual stellar floor game, dishing 43 assists against just 14 turnovers (a better than 3 to 1 ratio), in the last four games, starting with the first BC game, Quinn has been aggressively hunting his own shot more and finding his teammates less, getting only 12 assists against 16 turnovers for a subpar 0.75 a/to ratio.
After the taut, one-point game at Boston College, it's unlikely Duke will overlook the Eagles again. That plus BC's struggles on the road should add up to Duke being a strong favorite in this game.