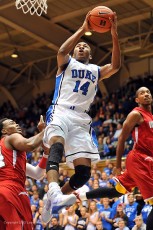 The Duke Blue Devils, taking advantage of both a four day break between games and the ACC's cellar-dweller, rode Seth Curry's 19 first half points and solid shooting from just about everyone else to roll to an easy 88-56 win over the Virginia Tech Hokies tonight in Blacksburg, VA.
Duke came out blazing, as before ESPN finished showing the obligatory Big East wrestling match, Duke had hit five of six 3-pointers, three of them by Curry, and had a 17-10 lead.  Those first three Curry 3's showcased the variety of ways in which this outstanding scorer can get it done.  One was an individual move, a step-back three with a defender in his face.  The second was a curl move around a baseline screen set by Amile Jefferson.  And the third was on a handoff, perfectly using Mason Plumlee's screen on that two-man play.  The Blue Devils never looked back, as they continued to blister the nets throughout the first half while Virginia Tech clanged jump shots and fumbled balls out of bounds.  The crowd was out of it early, as were the Hokies.  With about 6 1/2 minutes to go in the half, it was already a 15 point margin, and it never got closer than that again.
The Devils did it in a variety of ways offensively.  As already stated, Curry was on fire in the first half, nailing five of six from 3-point land.  The team was 8 of 9 in the half from distance, and 15 of 25 overall -- that's 60% shooting.   And they were 10 of 10 from the free throw line.  In the meantime, the Hokies hit only 10 of 26 in the first half, none of them three's.  So in the first half, the score on three pointers was 24 to 0.
Mason Plumlee came back strong from his off game on Sunday in College Park.  He was clearly more rested and more energized at both ends.  He made several strong moves in the post, and not all of them the same.  He backed his man down for his best shot, the righty jump hook, several times.  In the first half he got caught in an awkward position down low, but instead of forcing it up or charging or turning it over he re-gathered, and patiently pivoted around to the other side of the hoop for the score.  It was a very mature play.  And he hit his free throws in the first half.  Mason was strong on the boards, too, finishing with 12 to go along with his 13 points, and he was credited with three blocks, though it should've been four.  He was very, very good in this game.
Josh Hairston was excellent in the first half, and really the whole game, as well.  The junior forward really seems like a much more confident player than he was even a month ago.  It seems like the game has slowed down for him, and he has slowed down and started to channel all that energy he's got into more positive action on the floor.  What I see in Josh now is a more mature player than I've ever seen before.  He threw in a lefty half-hook (!), banged home a 17 foot J, and hit two free throws in the first half alone, on his way to 11 points in 21 minutes.  And he took a charge -- though that call, in all honesty, was not a good one.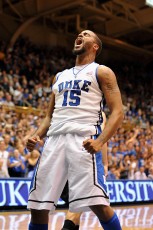 Amile Jefferson had a nice drive from the corner that he finished, and also hit a couple of free throws in the first half. So that means that in that first half, three of our shakier FT shooters -- Mason, Amile, and Josh -- all nailed a pair.  It was that kind of shooting night.
Defensively, it quickly became apparent that Virginia Tech is essentially a one-man team.  Erick Green, the nation's leading scorer, is simply terrific.  But the Hokies don't have anything else.  Duke alternated Rasheed Sulaimon's length and lateral quickness with Tyler Thornton's tenacity on Green in an effort to make him work for everything he got.  And they did.  Duke did pretty well hedging against the ball screens Va Tech set for him too.  My favorite play came with about two minutes to play in the half.  Green had it on the top with Amile Jefferson having had to switch onto him.  But Duke had two defenders lurking, one on either side of Amile, because they knew Green was going to take it past Jefferson and into the lane if he could.  He tried, but Sulaimon stepped up and poked it away, leading to a runout dunk for Rasheed himself.
Green's going to get his, though, and he did.  He hit a number of contested J's and got to the line when he drove.  He's very fast with the ball, and has a quick release on his pullup.  He is a willing passer as well, and a good one, despite the fact that most of his teammates don't know what to do with it when he gets it to them.  But what I really like about this kid is that even in the midst of being blown out on his home floor, in a nationally televised game, he didn't hang his head once.  He continued to play hard, and play clean -- and play well.  Kid like that can play on my team anytime.  He ended up with 22 points on 8 of 14 shooting.  He deserves better than this.
The second half was glorified garbage time, as Virginia Tech never threatened to tighten the game up.  They shot a little better, but not much, ending up at 43% to Duke's 54%, but still for the game hit only 1 of 16 three pointers.  Duke hit 12 of 17.  Game over.  Rasheed Sulaimon shouldered more of the offensive load in the second half, hitting 3's, driving to the hole, cutting to the hoop, converting inside, the whole kit and kaboodle. He also continued to D-up on Green.  Kid showed the whole package tonight, really.  Alex Murphy made a strong drive late in the game for a reverse layup and an and-one, followed by a challenged 3 pointer.  Tantalizing.
I know the competition was weak.  They're last in the ACC, I get it.  But it nevertheless is good to see Duke hitting on all cylinders and just blowing somebody out, especially on the road.  Seth Curry was rested and it showed, as he was essentially unstoppable in the first half (again), scoring 19 of his 22.  He's in the conversation for ACC Player of the Year, for real.  Mason Plumlee was rested too, and that obviously helped him as well.  He's just really difficult to fluster, as he came back so strong after the tough one at Maryland last weekend. Sulaimon played a beautiful all-court game, Hairston is settling into somewhat of a groove, and some of the reserves contributed meaningfully.  The team only turned the ball over five times and gave up almost nothing in transition to a team that prefers to push it.  Gotta believe the staff is pleased with this one.
Next up: rematch with BC on Sunday in Cameron.  Hold the blizzard.
Note: per the ESPN announcers, K is sounding more positive and upbeat about Ryan Kelly's return.   Kelly was seen in the arena tonight walking without crutches.  That appears to be some sort of tangible progress.  Hopefully the next steps on the path back to the court follow in quick(er) succession.