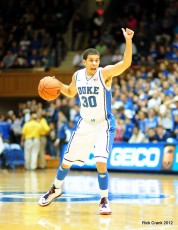 Duke scored the last six points of the game over the last 2:15 to stave off the challenge of a very game Boston College team, and escape Chestnut Hill with a 62-61 win over the ACC cellar dwellers. Mason Plumlee posted his 13th double-double of the season, scoring 19 points and grabbing 10 rebounds, and hitting three key free throws down the stretch as the Blue Devils moved to 21-2 overall and 8-2 in the league heading into the clash with North Carolina on Wednesday night.
This game was far from a thing of beauty. More like a slog, actually. Due to the giant blizzard that hit the northeast this weekend, Duke did not fly into Boston until Sunday morning, and missed its customary shootaround. Some will blame the Devils' slow start -- and that's being charitable -- on the altered travel plans and consequent break in routine, but I'm not so sure. Duke has had a lot of sluggish first halves this year in the absence of inclement weather. Considering the quality of the opponent, though, this one was as bad as any. Looking like they had their snowshoes on their feet and Gore-Tex gloves on their hands, it took Duke five minutes to get on the board, and at the 13 minute mark, the score was 6-2 in favor of BC.
The guys just couldn't do anything right on offense. Several things were going on. BC was doubling (or tripling) Mason Plumlee down low every time he touched it. The Blue Devils' All-American candidate had a lot of trouble finishing in traffic. Quinn Cook made a number of questionable decisions, including two poor ones attempting to throw alley-oops to Plumlee. One just wasn't there (it was intercepted) and the second Mason managed to catch but couldn't finish after bringing it down. Quinn also missed Mason having an obvious mismatch against a smaller defender, choosing instead to go one-on-one himself, and charged. And he lost it on another drive into the lane too. Seth Curry missed two open three pointers. Rasheed Sulaimon turned it over on a drive into the lane and was invisible for long stretches. Alex Murphy tried an alley oop to Mason too, but he telegraphed it and it was an easy pick for the Eagles. The Blue Devils only made one three-point shot in the entire first half, that by Tyler Thornton on a kickout from a triple teamed Plumlee to make the score 6-5. After almost 8 minutes of action. Duke looked absolutely nothing like a #1 team, and many viewers were doubtless ready to go back to the Weather Channel.
Fortunately, Duke was playing solid man-to-man, and the Eagles got nothing easy. Star forward Ryan Anderson's name was hardly called in the first eight minutes of the game, and his first hoop wasn't until nine minutes had elapsed. (He finished with 17 though.) BC doesn't have a lot of talent on offense, and Duke knew it. The Devils pretty much stayed home, didn't help off their men, didn't double. They just guarded, and did so pretty well. Hence, BC's total of 17 points in the first 13 minutes of the game.
Midway through the first half, it looked like maybe Duke was going to pull out of it and start to get things going. Mason slipped a screen and Seth hit him rolling to the hoop for an and-one. Sheed nailed a pull-up. Ty Thornton hustled and saved a ball going out of bounds, a play which led to Sulaimon taking a charge. Rasheed then found Amile Jefferson in the lane for a hoop. Duke was showing some life.
But things went south again. Curry missed another in-and-out 3 off a baseline screen; Amile flopped, I mean, he tried to sell a call down low, but when he didn't get the call he got up and fouled Dennis Clifford for an and-one. Mason was right there too, and would've blocked that one, so Amile didn't need to make that play. Thornton rifled an entry pass into Mason at warp speed; nobody could've caught that thing: turnover. Cook made another bad pass, this time on the break, for another turnover. Curry missed a wide open three in transition; Alex Murphy clanged a 3 too. Mason, trying to work against another double, got his footwork tangled up and ended up throwing something up as he was basically falling backwards onto his backside. That one will not be on the Wooden Award highlight reel. BC had busted out to a 21-14 lead. In this game, seven points loomed large.
But then Duke rallied again. Curry split a double team and hit a beautiful floater. Seth then curled off a baseline Plumlee screen and hit again. Duke ran off a BC turnover and Thornton converted in transition. Then, finally, with about a minute to play in the half, Quinn missed a jumper, Josh Hairston kept it alive, and it ended up with Mason. There was traffic there, but instead of hesitating and faking repeatedly, he just went up. He went right up, against a triple team, and scored and got fouled. That was more like it. And then he closed out the half with an emphatic dunk after rebounding Cook's missed 3. Yes, there was a lot of faking before going up on this one, but he used the faking effectively, maneuvering for space. Very strong finish to the half, which ended deadlocked at 27. Duke finished the half with just one made three pointer (the one by Thornton) and nine turnovers. This from a team that averages 11 per game.
To begin the second half, Coach K started Josh Hairston at the 4 in place of Jefferson. While Josh brought his usual energy to the floor, and he battled -- and he even hit a 16 foot J as well -- Amile hardly saw the court. Despite starting, he only got 11 minutes of action in the whole game. I did not understand this. Early on I saw Jefferson blocking out well, he was battling on the boards, he took the ball aggressively to the hole, even though his shot was not falling. He was forcing the action, in a good way. Yet when K played a 4-man at all in the second half, it was almost exclusively Hairston, who got 17 minutes. But what K really did in the second half was use a four guard lineup for significant stretches: Cook, Curry, Sulaimon, and Thornton, along with Plumlee. That is not something we have seen much of this year, but we sure saw it tonight.
One reason for it was that Ty Thornton was playing well. This team needed energy, and it needed fight. Those are Thornton's bread-and-butter. He saved balls going out of bounds, he scrapped for balls on the floor. On one play in the first half he made a nice crossover move to get into the lane and dished to Jefferson, leading to a BC foul. You don't often see Thornton putting pressure on the opposing defense, but he did it a little bit tonight.
So the second half was really more of the same. Curry hit an early three. But Quinn's shots continued to roll off the rim. Duke continued to move its feet well on D, challenging shots down low, and rarely giving up anything easy. At about the 15 minute mark, it looked like Duke might take control. Cook finally hit a 3 from the corner. After Anderson scored underneath in between three Devils defenders, Quinn missed a 3, but it bounced out to Curry, who banged home a 3 and got fouled, for a four-point play. Duke was up 5. But the Devils could never pull away. Back and forth they went. Plumlee went straight up against traffic and got fouled, hitting both throws. He poked away a pass on the perimeter and cruised in for a dunk. Seth with another and-one from the left side. But BC kept answering, primarily with drives and short jumpers by freshman guard Olivier Hanlan -- who was excellent all night, leading BC with 20 points -- where he would either score or get fouled. The Eagles hung tough, and embarrassed Duke when Eddie Odio got free on an alley-oop off an inbounds play. Duke answered with an alley oop to Plumlee here, a 3 pointer by Cook there. And so it went. A slog, I say.
The momentum appeared to swing to BC, though, at about the 5:30 mark or so. Cook fouled Hanlan in the lane -- Quinn's fourth. Curry then got beaten backdoor for a layup and the Eagles had tied it. With the crowd into it, Thornton jacked up a 3 early in the clock. Not a great decision. BC scored at the other end; timeout Duke, as the Eagles had the lead. Nervous time.
Duke continued with the small lineup. Mason and four guards. With BC up three, Thornton made a strip, but then threw it away starting to lead a break. Timeout BC, up 3 with 2:30 to go. Hanlan then hit 2 free throws to put them up 5 with 2:15 to play. Very nervous time.
After a pretty miserable day offensively, Quinn Cook then came up big, nailing a 3-pointer from the corner to cut the lead to two. Anderson missed a 3 at the other end, and Cook came up with it to give Duke a chance to tie. After a timeout, he lobbed to Mason, who drew a foul on Anderson, and the big guy made two free throws to tie it. He didn't just make them. Swished them both. With Sulaimon running at him, BC freshman guard Joe Rahon then bonked a 12 footer from the corner off the top of the backboard, and Mason was fouled on the rebound. This time the big guy hit one of two to give Duke the lead. Last possession time for the Eagles. They ran a good play, and Hanlan got a great look at the basket from about 12 feet away on a stop and pop. Very makable, but he banged it off the backboard, and the game ended with a scrum as everyone went after the loose ball rebound on the floor.
Exhale. Hurry up, turn off the TV, and move on. Do something else and just make sure this game stays in the rear view mirror.
So what to take from a game like this? Well, at one level, it's just survive and advance. Six of the 10 teams in the Top 10 this week lost games, including four of the top 5. Only Duke got through unscathed. Barely, but they got through.
It's always good to win conference road games. That's Duke's third in a row on the road. It's also good to get a win when you're clearly not playing your best, especially on the road. Now there may not be a lot of ACC teams that Duke would've been able to beat tonight playing like they did at the offensive end, but the fact remains that it's good for the team's confidence to learn they can win even when they're having an off night in many respects. The Blue Devils ended up shooting 40% for the game, and 6 of 17, or 35% from 3-point land.
K continued to experiment with lineups. Much of the second half, and some of the first too, was spent with Cook and Thornton on the floor together. As I mentioned earlier, the four guard lineup was utilized extensively. Defensively, there was little of the switching that Duke customarily employs. Good to work some of that stuff out.
Alex Murphy got six minutes, and while he wasn't hurting the team much, he wasn't doing a heck of a lot to help it out of the offensive doldrums either. He was working hard on D, though, and that is why, I surmise, he was not subject to a quick hook. Marshall Plumlee did not play.
But you have to give some credit to BC too. This is an extremely young team, and one that has not had a lot of success this year. They played Duke very tough. They weren't intimidated at all, and they didn't get rattled when Duke would make a little run. The Eagles came hard at Mason Plumlee, and they caused him some real trouble, Mason's final numbers notwithstanding. They fought Duke to a draw on the boards, and they didn't turn it over much -- only 12 times. The Eagles didn't shoot the 3 well, but they never do. But they played smart basketball, and they were poised. Olivier Hanlan was the best player on the floor tonight not named Plumlee. Bottom line: they had an open 12 footer to win the game, and take out the #4 (or higher) team in the land. Had to play pretty well no matter how poorly Duke played. And while Duke did play poorly on offense, they didn't on D. Credit to BC for scaring the bejesus out of the Blue Devils tonight.