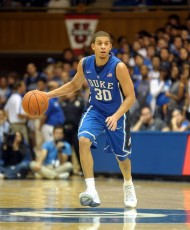 In what was likely the Blue Devils' last visit to the always lovely and charming College Park, Maryland weathered 26 turnovers and the spectacular shooting of Seth Curry, murdered Duke on the boards, and took advantage of an exhausted Mason Plumlee playing by far his worst game of the year to turn back Duke's late second half rally and beat the #2 ranked Blue Devils tonight, 83-81.  Barring an absolute collapse by undefeated Miami down the stretch, the loss, Duke's third in conference, effectively ends Duke's pursuit of the Hurricanes for the regular season ACC crown.
This was a game that had "danger" written all over it.  Duke was playing its fourth game in the last ten days, its third in the last seven.  Coach K had indicated after the tough win over Carolina on Wednesday night that the team was tired, that game having come on the heels of the difficult travel situation up at Boston College last weekend.  Bringing a physically and, perhaps, mentally tired team on the road to face a Maryland squad desperate for a significant, tournament committee eye-catching win, in front of a rabid home crowd even more jacked up than usual to face Duke for probably the last time at home?  It wasn't going to be easy.  Combine that with the facts that this Maryland team is huge, they are the best rebounding team in the ACC, and Duke has struggled all year to keep opponents off the boards, and you just had to wonder how in the world Duke was a 5 point favorite to win this game.
Maryland jumped out to a 5-0 lead, but that was the biggest advantage they enjoyed in a see-saw first half that ended with the Terps up a point.   Mason Plumlee had about a two footer roll off the rim on Duke's second possession -- a sign of things to come for the Duke big man.  Mason was thoroughly outplayed all day long by Maryland center Alex Len, who Mason had controlled in the matchup a few weeks ago in Cameron.  But tonight Mason just had no energy, no zip, no legs.  He was not posting up strong, and when he did get the ball his moves were slow and they were weak.  He has been playing heavy, heavy minutes this year out of necessity, especially since Ryan Kelly went down, and with this recent stretch of games, he just ran out of gas.  Now I do think the referees missed a couple of obvious calls against Len in the earlygoing, one on each end, and if those calls had been made, who knows how that would have affected the game, and Mason in particular?  But that's loser talk.  Len dominated the matchup, as he ended up with 19 points and 9 rebounds, to Plumlee's season-low 4 points and 3 rebounds.  Mason ended up fouling out as well.
In the first half, Seth Curry absolutely carried the Blue Devils.  He scored Duke's first two hoops on tough, but very smooth midrange jumpers, scored on a very athletic drive and one hander in the lane, hit several more J's against hand-in-the-face defense, and ended the half with 14 of Duke's 34 points.  This despite apparently injuring, or aggravating, a leg injury on one of his drives, where he came up limping and wincing and had to come out for a few minutes.  He came back strong though.  Tough kid.  Quinn Cook also continued his aggressive play at the offensive end, taking seven shots, but he only hit two of them, plus a couple of free throws.  But he was in attack mode.  Maryland was very effective, though, in keeping Duke off the three-point line.  Duke of course gets a lot of its points from beyond the arc, but today in the first half, the Devils only hit one of six, that one by Cook.  The real surprise in the first half, though, was Josh Hairston.  It became obvious very early that the big, bruising Maryland front line was going to be too much for the callow Amile Jefferson to handle.  Just not strong enough.  Coach K had to turn to Hairston, and he responded.  In his best offensive performance of the season, Josh finished on a very nice interior pass from Mason for a layup, converted two free throws, nailed a 15 foot J, and then converted on another pass from Mason for an and-one.  Who was that masked man?  Josh also banged as well as he could with the Maryland big men, despite giving up height and athleticism, like he usually does.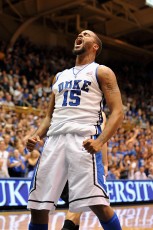 In the first four minutes of the second half, Maryland jumped out to an eight point advantage, 49-41, and soon pushed it to 10.  Plumlee picked up two quick fouls in the first two minutes of the half, and Len and Maryland big Shaquille Cleare were going to work inside.  Duke cut it to two, though, continuing to ride Curry.  Included here was a great poke by Seth, resulting in a runout where he ended up with the layup.  It always helps to get easy hoops when you're trying to make up a deficit. Cook's three was the shot that cut the lead to two.  The teams reached a stalemate midway through the second half, as there was only one hoop scored over a period of almost three minutes, before Alex Murphy's steal and driving dunk (!!) cut the lead back to two again.
Maryland was just killing itself with turnovers all day, though.  Just when it seemed that they were going to put Duke away, they would throw the ball away in the backcourt, make a lazy pass and allow Duke an easy steal, or lose their focus and give it away in transition when it was they who should've been going in for an easy hoop.  Really bad ballhandling and a real lack of concentration on the part of Maryland.  But though it seemed like Maryland was almost trying to give the game away, Duke just wasn't good enough today to take it.  The Devils would draw close, then Maryland would move it out again, often by virtue of Duke's porous defense having to foul to prevent easy buckets.  It was probably a good strategy, really, because when Maryland managed to avoid turning it over and avoid getting fouled by Duke, they shot the ball very well from the field -- try 60%.  Maryland kept going to the line as the second half continued.  From the 11 minute mark to the 2 1/2 minute mark, Maryland only made three field goals, but they were able to maintain and stretch their lead by hitting 13 of 17 free throws during that time span.  Here, for Duke, it was Cook and Rasheed Sulaimon keeping them in it offensively.  Rasheed, who had burned Maryland with 25 points a few weeks ago in Durham, got it going in the second half both on jump shots and drives to the bucket drawing fouls, and Quinn continued to hunt his shot as well.  Notably absent from much of the action during this stretch, however, where Duke was hanging on for dear life, were its two senior stars, Seth Curry and Mason Plumlee.  That did not bode well.  Things were going so badly for Mason that he was actually subbed out a number of times in favor of Hairston, despite it resulting in a very small Duke lineup.  More than once it was 6'8" Alex Murphy, 6'7" Hairston, plus some combination of guards Sulaimon, Curry, Cook, and Tyler Thornton, against the behemoths from Maryland.  Maybe Coach K thought that the only way we could compete was to go small and try to outrun or outshoot the troglodytes, or maybe it was just that Mason was just really hurting us at both ends, so how could Josh and Alex do any worse?  Every few minutes K would sub Mason out, and then when he would bring him back in, Duke fans would have their hopes raised that "ok, now Mason's going to get it going."  But he never did.  No legs.
Things seemed dire when Maryland went up 8 with two minutes to go, but two cold blooded three's by Curry, sandwiched of course around yet another Maryland turnover, cut the lead to two with a minute to play.  Maryland's Jake Layman hit one free throw to move the margin to three before Rasheed Sulaimon got himself fouled on a three pointer with 17 seconds to go.  The kid from Houston proved to have ice water in his veins, calmly swishing all three throws to tie the game.  Unfortunately, upon Maryland holding for the last shot, guard Seth Allen got past Cook and into the lane, there was no strong help there, and Quinn fouled him with 2.8 seconds left.  Allen hit the two free throws for the winning margin.
Maryland did some things really well in this game, so you have to hand it to them in that sense.  They shot 60% from the field, and they were very good from the line down the stretch, which is not like them -- they were 9th in the ACC in FT% coming into the game.  And they took full advantage of their size advantage and Mason Plumlee's ineffectivness, as they absolutely dominated the boards, 38-17.  More than doubled us up.  That's a "wow" stat.  Sulaimon led Duke with four rebounds.  Maryland had five different players with four or more.  And while Duke hit a few more three's in the second half, Maryland held the Devils to 6 of 19 -- that's 31% -- for the night on Duke's bread and butter.  That, folks, will not get it done.
Duke did not play a good game defensively.  Maryland turned the ball over 26 times and still scored 83 points.  I haven't looked it up, but I venture to guess that no team in Coach K's Duke career has ever turned the ball over 26 times and still beaten the Blue Devils.  As discussed above, Len owned Plumlee down low.  It wasn't only Mason, though, who did a poor job of help defense against penetration tonight.  Nobody did well in that area.  And the perimeter guys let that penetration happen too easily.  Was it fatigue?  Maybe.  But Maryland has exceeded 83 points only four times previously this season, and two of them were against Long Island and Maryland-Eastern Shore.  This was a lot of points for them, and a lot of them resulted from relatively easy shots.  Duke's defense is not nearly the same without Ryan Kelly -- that's obvious -- but we just can't use that as an excuse anymore.  We have to get better.  We're not going to have very many easy wins the rest of the way if we don't stop penetration better and we don't help better and we don't block out on the defensive board better.  And if you keep playing close game after close game, and they all go down to the wire, you're going to lose some of them.  Not the position you want to be in.
I would be remiss, though, if I did not re-emphasize what a heroic effort Seth Curry gave in defeat today.  This guy, as everyone knows, has been playing on a bum leg all season.  The pain is worse when he doesn't get rest, and is better when he has time between games.  This has been a rough patch of the schedule.  The whole team was tired.  The guy who supposedly can cope the least with games in quick succession is Curry.  Yet he put this team on his back in the first half and kept us in the game.  Add to this the fact that he hurt his leg, again, in that first half, and he still carried the team?  Just amazing.  He ended with 25 points on 11 of 17 shooting.  A lot of them were tough, tough shots, closely defended.  He also played good defense himself, moved his feet well, had two steals, and he was clearly Duke's leader out there today.  It's easy to pat guys on the back when we win.  But tonight, in defeat, everyone should acknowledge how lucky we are to have a guy as tough, and who plays with as much heart, as does this young man.
OK, so it's a two point loss, on the road, against a desperate team, when we were exhausted coming in, and Mason Plumlee played his worst game.  We had a last shot to win the game anyway, despite all the adversity.  Big picture:  not so terrible.  The guys have to pick themselves up, dust themselves off, and put it behind them.  Get some rest, and just realize just how tough these road games are in this league, because we have several more coming right up here, starting Thursday night in Blacksburg.