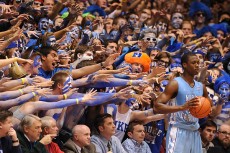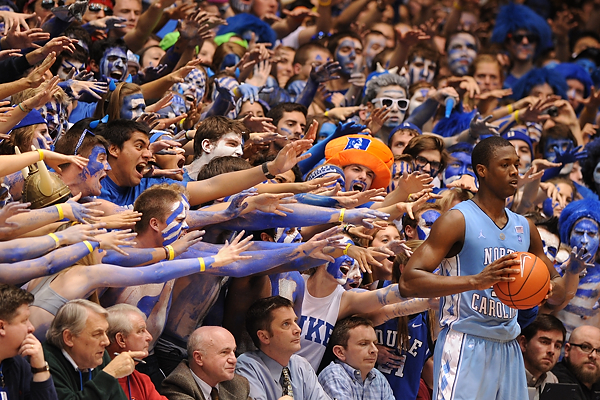 Wednesday night is one of the four dates that most Duke basketball fans circle on the calendar when the schedule comes out as being the days they look forward to most in the entire year.  Excluding birthdays, major life milestones, and the like, when it comes to basketball, I'd say that the two Carolina games, along with Selection Sunday and the day of the Final Four, probably are right at the top of the list.
This is an unusual, although far from unprecedented type of matchup.  Unusual in that UNC is clearly having a down year, currently tied for 4th place in the conference at 6-4, unranked nationally, and not having secured a berth in the NCAA tournament due to their 16-7 overall record, the absence of a Top 25 win, and only being 1-5 against the RPI top 50.  It hasn't helped that they've been blown out of the gym by the two best teams they've played this year, Indiana and Miami, and were also spanked by a very mediocre Texas team.
At the same time, Duke, playing the last eight of its ten ACC games without senior forward Ryan Kelly, sits a solid second in the league at 8-2, and is ranked #2 in the nation.  As David Kedson details in his piece currently up on BDN, there have been numerous instances over the years of Duke and Carolina matching up with one team ranked, including highly ranked, and the other being ranked much lower, or not at all.  Interesting reading, so check it out.
So what to make of this Carolina team? First, the numbers.  They're at #36 in the RPI and #46 in KenPom, having played a schedule ranked #36 by KenPom -- and the #178 out of conference strength of schedule.  They lead the ACC in scoring at 78.3 ppg, just ahead of Duke.  They're second in the league in rebound margin and lead it in offensive boards.  They lead the league in assists per game, and are second in assist-to-turnover ratio, behind Duke.  So far so good.  They're 6th in the league in shooting, hitting 44.5% from the field (Duke is second in the league at 47.3%) and fourth in the league in 3-point shooting percentage, at 36.7%, making about 7 per game.  (Duke leads at 41%) The defense?  Not so much.  They're 9th in the league in points allowed per game, though this is partially a function of the pace at which they prefer to play.  But they're 7th in FG% defense and 9th in 3-point FG% allowed.
The Heels have not been a smooth-running machine this year, and it seems to me there are several reasons for it.  As has been well-documented, Roy Williams's best teams have been spearheaded by savvy, experienced point guards who excel at pushing the tempo.  Ray Felton and Ty Lawson epitomized this style of play, and Kendall Marshall, while not nearly as fast as Felton and Lawson, had such superior court vision and was so crafty with the ball that he made Williams's attack work very well too.  Carolina has continued to push the pace this year -- they're sixth in the nation and #1 in the ACC in possessions per 40 minutes,  and they're fourth in the nation in KenPom's adjusted tempo ratings, with freshman point guard Marcus Paige at the helm.  Though Paige is talented and though he has had his moments, he has not proven ready to run a top-10 type of squad.  Carolina just hasn't been efficient, ranking only 55th in the nation in KenPom's offensive efficiency ratings. Paige is dishing 4.5 assists in 28 minutes per game, but the former McDonald's All-American is shooting just 32% from the field and only has an 89.4 offensive rating.  Paige moves OK defensively, but the 157 pounder struggles sometimes with the physicality of his opponents.
Perhaps UNC could've gotten by with Paige playing at this level had he been surrounded by a talented core of veterans playing smart and focused basketball at both ends all year long, but that hasn't been the case.  Junior Reggie Bullock and sophomore P.J. Hairston were supposed to be two major pieces of foundation, pieces that could really be counted on this year, and while they've been good, they have not been nearly good enough.  Bullock's overrall numbers aren't bad -- he's averaging 14 points and 5.6 boards, on 47.6% shooting, all up significantly over last year.  And his offensive efficiency numbers are very strong.  But he has not come up big in most of UNC's most important games this year.  5 of 13 in the loss to Butler; 2 of 9 against Indiana; 6 of 17 vs. Texas; 4 of 16 in the first (home) loss to Miami; 4 of 11 in the loss to State.  Another way to look at it, I suppose, is that Carolina is a lot more likely to win when Reggie Bullock plays well.  I think it's more accurate to say that Carolina perhaps could've beaten some of those upper echelon teams if Bullock had come up bigger in those games.
Hairston is a guy who a lot of Carolina fans would like to see play more.  He's coming off the bench and only getting 19 minutes per game.  In that time, he is managing to average 12 points, but despite the rep as a sharpshooter, he's actually hit only 41.7% of his field goals, though he has nailed 39% of his three-pointers.  His offensive efficiency numbers are pretty good too.  Hairston has scored in double figures in each of the Heels' last five games.
The player who has disappointed Heels fans the most, however, is soph forward James Michael McAdoo.  This is a kid who flirted with the idea of going pro after his freshman year and wisely decided against it.  Well, wisely if you consider that he clearly wasn't ready to play at that level.  Not so wisely if you consider that his draft stock has dropped like a rock this year.  McAdoo was supposed to be The Man this year, and he just hasn't been.  His numbers look OK -- 15 points and 8 boards, shooting 45%, decent offensive efficiency and rebounding percentages.  But he's just not anywhere close to a dominant player.  He floats in and out of games.  He doesn't have a go-to move.  His midrange jumper is hot-and-cold.  He does a lot of things pretty well, but nothing extremely well, and he just has not demonstrated the ability to take over a game.  He's exceeded 20 points only three times all year.
Dexter Strickland, now a senior, has also failed to live up to the lofty expectations heaped upon him upon his arrival in Chapel Hill.  He was supposed to be a pretty big time scorer coming out of high school, but got forced into playing point guard, which is not his natural position, and never really seemed to recover from that experience.  He gets 26 minutes, but they're usually pretty nondescript, as he scores 7 points and gets 4 assists per game.  He can drive the ball to the hoop sometimes, but his shot is streaky.  He's supposedly the defensive stopper in Carolina's backcourt, but the evidence as to that is, at best, mixed.
Carolina has been running a lot of guys into and out of the post this year, as none of them have grabbed the position and made it his own.  6'9' 220 pound Desmond Hubert has been the starter, but he has not made much of an impact.  Freshman wide body Joel James is, well, wide, but he's raw and has a lot to learn about how to play the game.  Defensively, he's not sure what he's doing, and so he's in foul trouble a lot.  And the news just came out today that he isn't playing on Wednesday night anyway due to a concussion.  6'7" Jackson Simmons may take some of his time.  6'9" freshman Brice Johnson is very skilled, but he's even skinnier than Hubert, and doesn't belong down low.  The absence of a low post game has been one of the Heels' glaring weaknesses this year.  Had any of these guys been able to provide a consistent threat down there, the shots available to Hairston, Bullock, Leslie McDonald, and the others would have been of higher quality, and more of them would've gone in.  As it is, between Paige's growing pains and the lack of a post-up threat, Carolina has to work a lot harder to get good shots than they are used to.
But remember, Carolina has actually been much stronger offensively than defensively this year.  Hubert and Johnson are too skinny inside, and James is not athletic enough to stay with skilled big men down low.  Paige, like I said, can be out-physicaled.  UNC has needed wing players Bullock, Hairston, McDonald, Strickland, and freshman J.P. Tokoto to commit to excellence on the defensive end, and they just haven't done it consistently.  They don't play the passing lanes aggressively, they don't stop penetration all that well, and they don't rebound particularly well.  Those kids are good athletes and should be good defenders, but they just don't seem to have bought into the necessity for defensive effort.  Not sporadic effort, but consistent effort, and the result has been some pretty bad defensive numbers and a lot more losses than the UNC faithful is used to.
Roy Williams has absorbed a fair amount of criticism this year from Carolina's own fans.  Among the complaints:  1) square peg/round hole, meaning trying to force this team to play at warp speed when he doesn't have the personnel -- especially the point guard -- to do so effectively; 2) not getting PJ Hairston enough burn, or enough shots; and 3) not settling on a defined, manageable rotation.  Not that the first two don't, but this last one is something that I think has real legs.  There's just too many guys whose roles are ill-defined.  McAdoo and Bullock each get 29 minutes per game, and Paige gets almost 28 at the point.  Fine.  But Dexter Strickland, who has not proven to be much of an impact player, is next at 26 minutes.  Why?  He gets more than PJ Hairston's 19, more than the 18 that Leslie McDonald -- shooting 41% from the 3 point line -- gets.  Why is that?  And what of the youngsters?  What exactly is Brice Johnson's role on this team?  What about J.P. Tokoto's?  They're both athletic and talented, and have really impacted a number of games in a positive way.  Johnson has scored in double figures 9 times this year.  Tokoto doesn't know what he's getting from game to game.  17-18-19 minutes, or 6 or 7.  What position is he even going to play when he's in there, and why?  It seems like there is a mass shuffling of players in and out, without much regard to how they're playing or how the game is going.  It has to be confusing and disconcerting to the kids, doesn't it?  Ten guys are averaging at least 11 minutes, plus Jackson Simmons at 8.  I just think that's too many.  Al McGuire used to say that anytime you go past the seventh man, it's "a Dunkirk."  Never question the wisdom of Al.
So what about this game then?  Duke first and foremost has a significant advantage in the post.  Mason Plumlee is significantly bigger, more skilled, and experienced than anyone UNC has down low.  And Carolina's post guys don't have the kind of offensive games necessary to challenge Mason and draw fouls on him.  Mason needs to just play simple, position defense, not reach, don't get caught on any bad hedges 35 feet from the basket, and stay in the game.  If he can do that, as he has in just about every game this year, he should be able to score 20+ points in this game, assuming our guards can get him the ball in good position.  Mason should be able to establish solid position against the likes of Hubert, Simmons, McAdoo, or Johnson, as again he's much bigger and has a more solid body than any of them.  Once he gets it where he likes it, he's just got to finish.
If Carolina doubles him (or triples as BC did) Mason has to make quick decisions.  If he's going to go up with it, go up quickly and with authority.  If he's going to pass it out, pass it back out quickly.  And then the perimeter guys need to make quick decisions:  shoot it, drive it, or swing it.  Carolina's defenders too often have lost interest as a possession deepens.  If our guys maintain their focus, maintain their patience, and wait for a good shot, we'll get one.  And we almost have to shoot better from the perimeter than we did against BC, don't we?  Quinn Cook also had a number of runners and other short shots roll off the rim against the Eagles.  Some of those are likely to fall on Wednesday night.  Bottom line offensively is that we're going to score a lot more than the 62 points we scored against BC.  The key will be to do so efficiently.
I wouldn't be surprised to see Josh Hairston get some decent run again at the four.  I know, my predictions are usually wrong.  But McAdoo, playing the 4 for UNC, is not a freak athlete, one who will easily jump over Josh.  He is, however, stronger than Amile Jefferson, and may be able to post him.  I would expect K to give Josh and Amile roughly equal playing time at this position, subject to change depending on who is bringing it best defensively.
The key for Duke defensively though, I think, will be on the perimeter.  Rasheed Sulaimon should be on Reggie Bullock, and Bullock has advantages in height, weight, and experience.  Rasheed is going to have to take on the challenge of not only playing the passing lanes to limit Bullock's touches in advantageous spots, but is going to have to bump and body this guy to make sure his shots are contested.  I would expect to see Seth Curry on Dexter Strickland to start off, and perhaps on PJ Hairston when he comes in.  Strickland is a guy who is just not going to kill you with either his shot or his drive, but Hairston can hurt you from range.  Seth can, and should, play him close, not let him get decent looks from the outside, and make him put the ball on the floor.  And Quin Cook has to play aggressively against the freshman Paige, don't allow him to get into any kind of rhythm or to get his teammates the ball where they want it.  The kid is making his first trip into Cameron.  Try to rattle him.
Duke is also going to have to be solid in its transition defense.  Carolina, like usual, likes to push the ball.  They're a good rebounding team.  They grab it off the defensive board and they want to run.  If there's a formula for giving UNC some confidence in this game, it probably would include letting them get easy hoops in transition.  Can't do that.
There is always a lot of emotion in this gynormous rivalry game, of course.  Duke has a better team this year, and they're at home in this game.  What Carolina has, in addition to a fair amount of untapped potential, is desperation.  They need a signature win, a win that the committee can grab onto and say "looky here.  This win shows they belong in the tournament."  They haven't had one of those yet, with their best win of the season being at home over UNLV in late December.  Though they know they'll get Duke at home in the last game of the regular season, they may not want to wait for that one, as who knows what will happen between now and then.  Carolina's vets are unlikely to be intimidated by Cameron, as they spanked Duke there in last year's regular season finale.  They're going to think they can do it again, even with a drastically different (and far less talented) roster.  Duke is going to have to match their intensity and focus, which really should not be a problem.  If they do so, and if the shots fall a little more frequently than they did in Chestnut Hill, the Blue Devils should send the Heels back to Chappa Heeya with their tails between their legs, their sixth loss in the last eight games against the Devils, and with their fifth conference loss in eleven games this season.  Which would be nice.