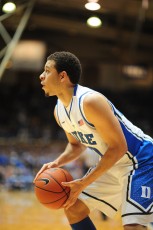 The Duke Blue Devils, led by Seth Curry's torrid first half shooting, roared out to a 14-0 lead tonight in Chapel Hill and never looked back, blasting archrival North Carolina 69-53 in the regular season finale, posting their best true road win of the season.  With the victory, Duke runs its overall record to 27-4, and a solid 14-4 in the ACC.
Before the Carolina faithful could even put down their Chardonnay, Duke was up two touchdowns, as Mason Plumlee hit a jump hook from the baseline, Tyler Thornton, who got the start over slumping freshman Rasheed Sulaimon, nailed a three pointer, Seth Curry hit a driving layup, Ryan Kelly hit a short jumper, and Curry hit a three and another J.  No misses by Duke up to that point.  In the meantime, Carolina bricked two jumpers and committed three turnovers.
Carolina never made any kind of run that made Duke sweat, as the Devils completely controlled all aspects of the game.  Curry's extraordinary shotmaking ability keyed Duke in the first half, as he hit his first seven shots, and was 8 of 10 at the break for 18 points as Duke led 42-24.  The rest of the team wasn't much worse, as the Blue Devils shot 69% in the first half, while UNC hit only 27%.  And the Heels didn't hit a single three pointer in the half.  Curry's half was remarkable as he demonstrated the variety of ways he can score.  He displayed the stop-and-go dribble drive; the step-back J; the fadeaway, the jab step and quick release J.  The whole arsenal.  And Carolina was powerless to do anything about it.
Duke's first half lead grew as high as 19, as the Devils just toyed with the Tar Heels.  Everything was working, not just Curry.  Quinn Cook played all 40 minutes and dominated Marcus Paige, and ended up with 12 points and 5 assists, while only turning it over twice.  Ty Thornton played his usual in-your-shirt D against a bigger opponent, this time Reggie Bullock.  Ryan Kelly picked up some early fouls and didn't end up having much of a scoring night, but his presence on the floor, as has been well documented, opened things up for Mason Plumlee in a huge way.  Teams can't double Mason anymore, and this was a huge problem for Carolina, as having to guard him one-on-one with 6'8" James Michael McAdoo just wasn't going to work.  Mason is way too big, strong, and skilled, and when he has room to operate, and just as importantly, time to operate, he's going to eat a guy like McAdoo up.
Much has been made of UNC's "small lineup" with P.J. Hairston having been inserted into the starting team, and the Heels had in fact been playing better since making the change.  But I'm not sure how Roy Williams thought that was a viable lineup or a viable strategy against Duke's personnel with Kelly.  It did fine in the teams' first meeting, because there was no Kelly; Duke played only one big and Carolina could be more aggressive in doubling him, which they were.  With Kelly and Duke's other shooters on the perimeter, you can't do that, and you're left with a much smaller guy on Duke's All-American center, without help. No sirree, not going to work.
As Curry dominated the first half, Plumlee did the second, controlling the paint and scoring the first ten points of the half.  And he did his damage in a variety of ways:  hook shots, drop steps, finishing on lobs, offensive rebounding (he had five) and putbacks.  The whole arsenal  And Carolina was powerless to do anything about it.  The senior center closed out the regular season with 23 and 13 on the big stage.  Man, if Duke only knew how to develop big men, huh?
Duke maintained a double digit lead for the entire second half.  Carolina never made a serious run.  Duke did have a dry spell midway through the half, where they didn't score a field goal for seven minutes.  At the five minute mark, UNC climbed to within 14, rousing their fans from slumber.  But Quinn Cook squelched the comeback bid, as on consecutive trips he drove the lane and hit tough runners, stretching the lead back to 18 at the 3:23 mark.  Say goodnight, Gracie.
The Blue Devils ended up shooting 55% from the field, and held Carolina to 34%.  The Heels only hit one of 14 three pointers on the night.  While Duke's defense was responsible for some of that poor shooting, it must be said that Carolina missed a number of very makeable shots, especially within 15 feet of the basket.  The Blue Devils also won the battle of the boards, 31-27.
One highlight play which does not show up on the stat sheet just has to be mentioned.  Around 13 minute remain.  The ball is out 35-40' from the basket, in front of the Carolina bench, and Tyler Thornton deflects a Paige pass intended for Reggie Bullock.  The ball is now heading out of bounds.  The Devils are up 18 and looking very strong at this point.  Instead of just letting it go, Thornton makes a run at it, dives head first for the ball as it's heading into the UNC bench and throws it back and off the shins of Bullock.  Duke ball.  Anyone still wondering why Thornton gets minutes on this team?  It's plays like that one.
With the win, the Blue Devils are now 18-0 with Ryan Kelly in the lineup.  More importantly than that, they continued to re-establish their identity as a mature, well-balanced, and efficient offensive team.  What is truly dangerous about Duke is that even when important players like Ryan Kelly or Rasheed Sulaimon are off their offensive games, the Blue Devils can still blitz a quality opponent like UNC, on the road, because the team has a number of other ways to beat you.  The team can survive a bad night by any one guy – that is very important, as winning six straight later in March is tough for any team that depends too heavily on one player, or even two.
So Duke now prepares for the ACC Tournament next weekend, where the Devils will be the #2 seed behind regular season champion Miami.  UNC is the #3 seed, so if both teams win their openers on Friday, meeting #3 looms between these two on Saturday.
In the bigger picture, Duke is now in solid position to get a #1 seed in the NCAA Tournament, and at this point are the likely overall #1 as well.  You never want to feel too down after a bad game or too high after a good one, but maybe, just maybe, this team is peaking at the right time.  That will be revealed over the next few weeks.  For tonight, it's time to simply enjoy a convincing victory over our archrival on their court, spoiling their Senior Night, completing a regular season sweep and solidifying our position for the postseason.  That's pretty good right there.