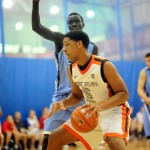 LOS ANGELES — After winning the Swish N Dish last weekend in Milwaukee, Jahlil Okafor was sidelined this weekend with a sprained ankle. The 6'10 Chicago native had a great year for his high school, Whitney Young, but fell short of the Super-Sectionals when his team lost to national powerhouse Simeon Wolverines. Even though he didn't play this weekend, Okafor could be seen clapping and cheering his team on the whole way.
I was able to catch up with Jahlil and ask him about his season, his recruitment, his teammate Jalen Brunson, and Jabari Parker's recruitment process.
BlueDevilNation: Is there a reason you didn't play this last game?
Jahlil Okafor: Oh I have a sprained ankle.
BDN: Will you be able to play this weekend at all?
JO: Oh no I'll be out the whole weekend.
BDN: Oh that's unfortunate. I hope you get better soon. You had a great season with Whitney Young this year, but, unfortunately, it came to an end against one of your good friends Jabari. How do you feel about your season?
JO: You know it was really a successful


Sorry, but you must become a premium subscriber to view the rest of this post.

Join now by visiting the PREMIUM MEMBERSHIP link at the top of the page, where you can learn more about the benefits of a Blue Devil Nation Premium membership.