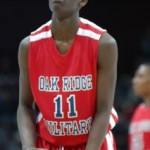 LOS ANGELES – Seventy miles from the Duke University campus is Wesleyan Christian Academy. Theo Pinson helped lead his Trojans to the NCHSAA 3A state championship as they beat Greensboro Day 59-49. The 6'6 swingman was also selected to the NCISAA 3A boys all-state team along with his teammate Harry Giles. Pinson is playing in his last season of AAU before he becomes a senior and ultimately matriculates to the school of his choice.
On Sunday, Pinson's team, CP3, beat a relentless Howard Pulley team 70-66. Howard Pulley, led by top point guard prospect Tyus Jones, was down 15 points with under 5 minutes to play and almost made the miraculous comeback. Pinson scored 16 points on 4 of 11 shooting. He also made key free throws down the stretch including a big offensive rebound to keep possession for his team.
BlueDevilNation was able to catch up with the swingman prospect and get his thoughts on his recruitment.
BlueDevilNation: What's your mindset going into this final AAU season? Any different than before?
Theo Pinson: Na, I mean all of the other years I wanted to win championships. We went to the final four last year so we're trying to finish this time.
BDN: What do you feel like you've improved on most this past season?
TP: Defensive wise I've just been pressuring up a little more cause you have to do it 


Sorry, but you must become a premium subscriber to view the rest of this post.

Join now by visiting the PREMIUM MEMBERSHIP link at the top of the page, where you can learn more about the benefits of a Blue Devil Nation Premium membership.