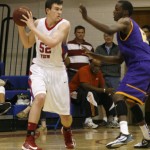 Rising senior Payton Dastrup has had a bevy of high-major hoop programs calling him over the past year. But on Tuesday the 6-foot-10 and 230-pound big man's camp finally heard from a program he's had a strong affinity for: Duke.
"Coach K is legend, maybe one of the best if not the best coach in history," the Mesa, Ariz. native said


Sorry, but you must become a premium subscriber to view the rest of this post.

Join now by visiting the PREMIUM MEMBERSHIP link at the top of the page, where you can learn more about the benefits of a Blue Devil Nation Premium membership.