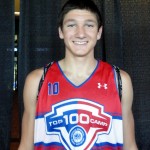 Grayson Allen has helped lead his Southern Stampede AAU team to seven straight wins where they'll advance to the EYBL Finals know as the Peach Jam this July in Augusta, South Carolina.  Most recently, Allen attended the NBAPA Top 100 Camp in Charlottesville, Virginia where he competed against some of the nation's top collegiate prospects.  Blue Devil Nation caught up to the future Dukie and he shared how the recruiting process went down in detail.  He also gave us his thoughts on his most recent camp experience and how it helps him moving forward, not to mention his rooming with another key Duke target Kavon Looney and what the staff has him working on.  What I learned about Allen was that he's athletic.  Standing around 6-3, he competed in an impromptu dunk contest and took off from the free throw line to flush one down.  He has a good and improving handle is unselfish despite his ability to score.  Anyhow, check out our latest interview from the NBA Top 100 Camp and join BDN Premium to read all of our past articles and the many to come.
What do you feel like you have learned or will take with you moving forward from this camp? 
That it's tough competition. Every time down the court you can't just make a play and shoot it yourself. You definitely have to get your teammates involved and there are really good post men down low so you have to feed them. But mostly, you learn how to be professional on and off the court and you focus on how to carry yourself.
Wow!  You rolled that right out and seem quite humble as well.
Yes sir. My parents instill in me to stay focused and humble.
Your tweets seem to reflect that you have a religious up bringing.
I was born and raised in a Christian home, so pretty much everything I see is what God has blessed me with. So I just perform on the platform given to me by him to show others Christ.
So when did Duke actually offer you and what was your reaction at the time to that?
Last summer, about April and then they saw me play in July. Coach Nate James came to my high school two or three times and watched me play and I stayed in contact with him after that. They called and set up an in home visit and I felt like we hit it off then.
How soon did you know after the offer you wanted to go to Duke?
When they scheduled the home visit I had a feeling that


Sorry, but you must become a premium subscriber to view the rest of this post.

Join now by visiting the PREMIUM MEMBERSHIP link at the top of the page, where you can learn more about the benefits of a Blue Devil Nation Premium membership.