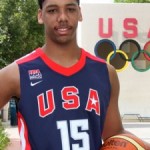 COLORADO SPRINGS, CO—Traditional, back-to-the-basket big men of elite caliber are becoming synonymous with rare across the basketball landscape. And that's precisely why Jahlil Okafor—the top-ranked player in the class of 2014 according to ESPN—is one of the more unique prospects to come through the prep ranks in recent years.
The Chicago product has been a known commodity for years, garnering high-major offers as an underclassman. The Duke coaching staff pulled the trigger abnormally early by extending him a scholarship during the fall of his sophomore year.
Increasing hype and media attention has been the norm since then, but for good reason. The Whitney Young High School superstar is a throwback center with a wide body, soft touch, impeccable footwork and a diverse arsenal of scoring moves on the low block. He possesses legitimate NBA size and power for the center position at 6-foot-11 and 270-pounds. To top it all off, he's an intelligent player who predicates his game on winning rather than individual achievement.
The Blue Devil coaching staff has swung and missed on a handful of its priority big men on the recruiting trail these past few years, which makes its chase for Okafor all that more important, as well as


Sorry, but you must become a premium subscriber to view the rest of this post.

Join now by visiting the PREMIUM MEMBERSHIP link at the top of the page, where you can learn more about the benefits of a Blue Devil Nation Premium membership.