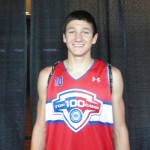 I caught up to Duke future baller Grayson Allen during the NBAPA Top 100 Camp in Charlottesville, Virginia today and here is what he had to say about the camp and verbally committing to Duke.


Sorry, but you must become a premium subscriber to view the rest of this post.

Join now by visiting the PREMIUM MEMBERSHIP link at the top of the page, where you can learn more about the benefits of a Blue Devil Nation Premium membership.