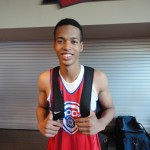 Skal Labissiere is a kid you will be hearing a lot more about. He's a 2015 center who has all the tools to be one of the best. I had him on a list of players to talk to and I asked a lot of talent scouts about him on Thursday not having seen him play before. The majority said he is a work in progress but when I viewed him I saw more than that. I saw an athletic kid who hustles, plays both ends of the floor and his ups are just that, ups. He has not been playing the game long but he clearly enjoys being out there and is humble off the court. I get the impression he is a bit unaware of the tradition of major schools. In an NBA Top 100 Camp first, Karl Towns came in a day late and was given his own press conference despite already having committed to Kentucky. But just before he came up top for that interview he was outplayed on the court below by Labissiere. For a kid


Sorry, but you must become a premium subscriber to view the rest of this post.

Join now by visiting the PREMIUM MEMBERSHIP link at the top of the page, where you can learn more about the benefits of a Blue Devil Nation Premium membership.