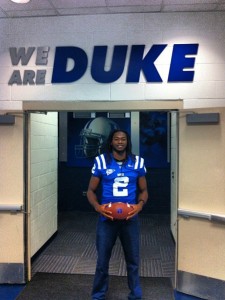 Coach Cutcliffe has quietly put together one of his best recruiting classes at Duke this offseason, but the Blue Devils made noise on Wednesday with the commitment from ESPN300 QB Nico Pierre. The Blue Devils had long been a favorite for the explosive South Florida quarterback, and sealed the deal on an unofficial visit that began Tuesday. The opportunity to learn under Coach Cutcliffe and Coach Roper proved to be a major selling point for the young quarterback, enough to beat out the likes of Georgia, Louisville, Mississippi State, Nebraska, and Wisconsin.
An explosive athlete, Pierre has already been compared by scouts to Heisman hopeful Teddy Bridgewater of Louisville. At 6'2" and 200 pounds, the Coral Reef HS star has true dual-threat ability. Along with fellow 2014 commit Johnathan Lloyd, Pierre is exactly the kind of explosive athlete the Blue Devils have long sought on the recruiting trail.
Good news travels fast, as the rest of the class of 2014 was quick to react to the commitment.
WR Chris Taylor
I'm fired up! Got the QB we needed...just wait...Nico and I are going to be one of the deadliest hook ups in the ACC. Just wait...
OL Zach Harmon
I think we just picked up a big play maker. I've seen his highlight tape, and he can definitely play ball. He is an explosive guy who is only going to make the team, and our recruiting class, stronger. I'm very happy about it! Go Duke!
LB Tinashe Bere
Nice addition! Our class is looking good!
OL Christian Harris
He's a solid pick up for the Duke gang and I know he has to be a great character and a great athlete with good grades or Coach Cut wouldn't have offered. I have already congratulated him on Twitter and can't wait to meet him in person to size him up and see what kind of QB I'm going to be blocking for and what kind of leader is going to head my offense for the next few years.
RB Kerrion Moore
I hope he is ready to work hard so we can win a national championship!
OL Jake Sanders
I think it's a big get for us. I look forward to meeting him in person and welcoming him to the Blue Devil family. This class just keeps on becoming the best class in the ACC. Go Blue Devils!
OL Trip McNeill
I haven't heard much about him, saw a little about him online and he seems like a good player. If the coaches think he's a good fit to be a Blue Devil, I cant wait to meet him!
And if you thought Coach Cutcliffe and the staff were done...
WR Trevon Lee (uncommitted)
I just found out! I think he's a great QB that made a great choice in the school he chose. He's awesome and Duke is obviously building something special. I'm honestly really liking what I'm seeing right now!
Stay tuned for more on the Duke class of 2014, and for full coverage of 2013 training camp, which opens next week!