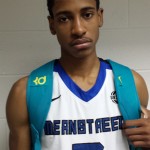 One of the hottest players in the class of 2015 is 6-5 shooting guard Charles Mathews and his play during the recent Nike Peach Jam did nothing to cool him off.  In fact, it was clear that Duke and Mike Kryzyzewski had started to recruit Matthews as he stood side by side with John Calipari to take in his game.  Kentucky offered Matthews in June ans since that time he's on his way to becoming a household name.  Matthews can swing to the point guard spot as well with his skill set and his active presence on the court is hard not to notice.  Matthews claims there are no early leaders and that he would not make a decision until his senior season.  Blue Devil Nation caught up to Matthews to get his thoughts on Coach K and the recruiting process to date.
What are you trying to accomplish while participating in the Peach Jam?
I'm just trying my hardest to come out here and win and gain experience while advancing in the tournament.
How would you describe your game in your own words?
I'm just a really versatile player who plays defense and can get to the basket as well.
Which schools have been the most aggressive of late in your recruitment?
Kansas, Kentucky, Duke, Ohio State, Michigan State and Providence.


Sorry, but you must become a premium subscriber to view the rest of this post.

Join now by visiting the PREMIUM MEMBERSHIP link at the top of the page, where you can learn more about the benefits of a Blue Devil Nation Premium membership.