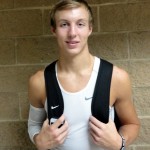 North Augusta, SC - Keep the name Luke Kennard in mind for you will be hearing more of the 2015 SG from Franklin, Ohio in the coming days.  Kennard is a major target for the Ohio State Buckeyes and he was recently offered by North Carolina and yes, it looks as if Duke will get involved as well.  Coach Mike Kryzewski joined Tom Izzo, Roy Williams and many other coaches just moments ago for his game and Blue Devil Nation caught up to the rising star and obtained this one on one interview with Kennard last evening.  So join BDN Premium and get to know a new prospect on the radar. 


Sorry, but you must become a premium subscriber to view the rest of this post.

Join now by visiting the PREMIUM MEMBERSHIP link at the top of the page, where you can learn more about the benefits of a Blue Devil Nation Premium membership.