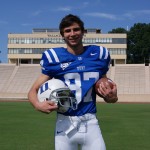 One of the key things to watch this pre-season is which wideouts step up to fill the void left by the departed Conner Vernon.  Blue Devil Nation spoke with Max McCaffrey about that earlier today as Duke Football opens practice for the coming season.
A lot of pre season buzz suggests you will have to step into Conner Vernon's role from a season ago. Are you prepared for that?
I feel prepared for it and there is no pressure. Conner was a good role model and he helped prepare me and I have been able to ease in having played last season.
How is your game different from Conner?
I think we are a lot different actually. Conner was a great player but I am just excited to go out and play. He was good at the deep ball and where he would use his speed to break off of the defenders, I use more of my body to do so.
You've had family members attend or that are familiar with Duke ...
I have had a lot of family members come to Duke and they've all been happy with my decision. My younger brother was a recruit here too, and my Dad and all are real supportive.
Do you deal with mental pressure in trying to fill roles open from a season ago?
I don't necessarily feel pressure but it is definitely another role and I feel like I need to produce now. So I need to imprint the guys below me and try to start becoming a leader for this years team.
You have caught balls from Sean Renfree and Boone.  How do the two differ?
Boone and Renfree are definitely two different quarterbacks. I think Boone can make plays that aren't necessarily there in the running game. I am used to passing with him in that he's the player I was paired with in practice a lot last season, so I am looking forward to see what will happen this year.