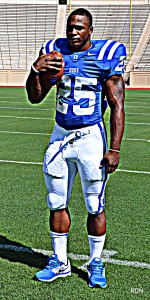 The 2013 Blue Devils kick off their season this Saturday at 4PM in Wallace Wade Stadium against NC Central in the Bull City Gridiron Classic. Led by reigning ACC Coach of the Year David Cutcliffe, this year's squad seeks to make Duke Football history, as they hope to earn the program's first ever back-to-back bowl bids.  Here's our quick numeric guide to the 2013 gridiron Blue Devils.
Offense
#7 QB Anthony Boone takes over for the departed Sean Renfree, and will run Offensive Coordinator Kurt Roper's new-look read-option offense. Can the redshirt-junior reproduce last year's effort against UVA, where he threw for over 200 yards and 4 touchdowns? In order for the Blue Devil scoring offense to remain in the top 5 in the ACC, Boone must improve his accuracy and establish himself as a dual-threat quarterback.
Duke returns 4 of 5 starters along the offensive line from 2012, and the unit totals 113 career starts, which ranks #3 in the country this season. That experience combined with the read-option system and a stable of talented backs should allow the Blue Devils to improve upon the #98 ranked rushing offense from a year ago. With new starters in QB Boone and #62 C Matt Skura, Duke will have to be sure to avoid costly false start penalties. Expected to be a strength for this year's offense, depth along the offensive line could become a concern as the season progresses, after Duke lost 2 projected back-ups to injury (OT Tanner Stone and OT Casey Blaser) this August.
A consistently effective running game will be crucial in the new read-option offense. Over the past 10 years, the Blue Devils' best team yards per carry for a season was 3.8; this year's unit should eclipse that number behind #25 RB Jela Duncan (5.1 ypc in 2012) and #9 Josh Snead (5.0 ypc in 2012). Senior #23 RB Juwan Thompson will slide into the hybrid role played by Brandon Connette a year ago.
#3 WR Jamison Crowder is expected to be Boone's favorite target, and the Blue Devils will need the All-ACC junior to provide the veteran consistency lost with the graduation of Conner Vernon and Desmond Scott. #17 WR Issac Blakeney, a fellow Monroe native, should have a breakout year, not unlike Crowder in 2012; his combination of size, speed, and chemistry with Boone, should all make him a difficult match-up for opposing defenders. Similarly, young newcomers #83 WR Anthony Nash, #4 WR Johnell Barnes, and #10 WR Ryan Smith all have game-changing ability and around 4.40 speed in the passing game.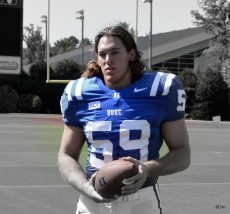 Defense
If you're looking for numbers to improve upon for the 2013 Blue Devils, the defense is a good place to start. Even in their bowl-eligible 2012 season, Duke ranked #12 in the ACC in scoring defense, and #101 in the country in rush defense. It all starts up front, and Duke returns their entire defensive line from a year ago. Health will be paramount to this year's success, as the veteran trio of #84 DE Kenny Anunike, #92 DE Justin Foxx, and #95 NG Jamal Wallace missed a combined 16 starts in 2012. A healthy Anunike could become a real threat for opposing quarterbacks as he looks to build upon his 9.0 career sacks in his final campaign.
Linebacker is another position to expect improvement, bolstered by the return of #59 LB Kelby Brown, who will see his first game action in 644 days. Even after that extended absence, Brown returns as the team's active #1 in tackles for loss, QB pressures, and fumble recoveries. The linebacking corps formed by Kelby, brother #56 LB Kyler Brown, veterans #54 LB C.J. France, #47 LB David Helton, #48 LB Deion Williams, and recently moved #90 Mario Sanders, will be one of the deepest and most experienced position groups.
Speaking of experience, the Blue Devils will have to replace a lot of it in the secondary in 2013. Fortunately, they do return #6 CB Ross Cockrell, last year's #1  in the ACC in interceptions, but will still have to replace Walt Canty, Jordon Byas, and Lee Butler, who totaled 223 tackles in 2012. After finishing +2 in turnover margin a year ago, Duke hopes to improve upon that mark with a number of new playmakers in the secondary. The 2013 2-deep features 6 freshmen in the secondary, but it all starts with redshirt-sophomore #16 S Jeremy Cash, who will see his first snaps as a Blue Devil after sitting out a year due to NCAA transfer rules. Others who will see their first game action include #27 CB DeVon Edwards, #31 CB Breon Borders, #33 CB Deondre Singleton and #32 S Chris Holmes. That's a lot of new faces, which may result in a lot of inconsistency.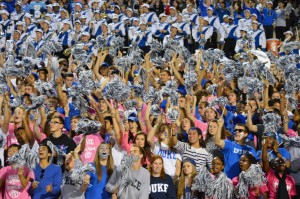 Special teams
Overall, special teams was a strength for the 2012 Blue Devils, and will be again in 2013. #41 P Will Monday finished #1 in the ACC in punting with an average of 44.64 yards, including a season-long 79 yard punt in the Belk Bowl. Not to be outdone, fellow first-year #35 K Ross Martin set a Duke all-time record with 106 points, and connected on an impressive 87% of his field goals. The duo of Martin and Monday will build upon their Freshman All-American campaigns and establish the Duke kicking game as one of the best in the country.
The return game is a key question mark for the 2013 squad. Led by the departed Lee Butler, Duke finished #6  in the country in punt returns, but struggled on kickoffs, where they were just #114. Duke has a number of veteran potential returners, including offensive stars Crowder and Duncan, but Coach Cutcliffe should not be afraid to run out speedy newcomers like DeVon Edwards and Ryan Smith, who have game-changing ability in the return game.
With the improvements in depth and team speed across the roster, kick coverage should develop into one of the 2013 Blue Devils' biggest strengths. Leaving the opponent with a long field may prove crucial for this year's defense.
The bottom line
Duke's 2013 schedule ranks #84 in the country in terms of opponent winning percentage, which represents the 2nd biggest change from a year ago, when the Blue Devils' schedule ranked #34. With a number of potential home wins on the schedule, the Blue Devils would get a boost from a full house of 33,941 Wade Wackos for their 7 home contests. In 2012, Duke finished 3-0 against in-state opponents; this year, they face 4 in-state rivals. Those match-ups, particularly the November games against NC State, Wake Forest, and North Carolina, will serve as the benchmark for the 2013 season. Prior to 2013, the Blue Devils have just 1 November win under Coach Cutcliffe. Consistency in all 3 phases of the game throughout all 3 months of the season will be critical if Duke expects to take advantage of their improved schedule and surpass last season's 6 win season to earn the program's 2nd consecutive postseason invitation.