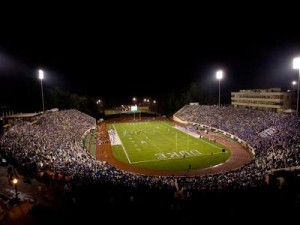 Following recruiting is a pastime enjoyed by many college sports enthusiast and while it can be a frustrating endeavor at times it brings great joy at other times. Obviously, the frustration is a result of a long sought after recruit deciding he would rather attend State U. with the joy coming when said recruit heads to Durham.
In college football, due to the propensity for coaches to redshirt as many recruits as possible, there can be a 18 month gap between a recruit signing his Letter of Intent on National Signing Day and taking the field to play their first game as a college player. Duke players currently designated as redshirt freshman on the 2013 roster who will step on the field in a live game for the first time on August 31, 2013 against North Carolina Central signed their LOIs back in February 2012.
With practice set to start on Monday, Duke has 13 redshirt freshmen on the roster so this week's edition of Football Friday will take a look at these players as a reminder of why their signing back in February 2012 brought such joy into our day.
Here is what Blue Devil Nation had to say at the time of their commitment. Clicking on the player's name will take you to a commitment day article or interview.
Dan Beilinson: With the impending graduation of Cooper Helfet and Danny Parker, Duke is looking to reload at the tight end position in the class of 2012. On Saturday, the Blue Devils did that, securing a commitment from top in-state TE Dan Beilinson. Beilinson is a 6'5" 220 pound prospect from Panther Creek HS in Cary. As a junior, Beilinson caught 37 passes for over 500 yards, helping Panther Creek to a conference title and the state regional playoffs. His performance earned him 1st Team Tri-Nine All-Conference, among many other accolades.
Casey Blaser: Head Coach David Cutcliffe and Offensive Line Coach Matt Luke continue to build the Blue Devil offensive line with the addition of Charlotte OL Casey Blaser to the class of 2012. Blaser informed the Duke coaching staff of his verbal pledge to the program on a busy Saturday in Durham. Duke wrapped up its summer camps on Saturday, closing two straight weeks of camps featuring hundreds of high school prospects hoping to impress the Duke coaches. The Duke coaching staff was impressed with Blaser earlier this spring and were the first ACC program to offer him a scholarship, joining ECU, Ball State, and Marshall. At 6'5″ and 261 pounds, Blaser is set to anchor the offensive line for South Mecklenburg HS this fall.
DeVon Edwards: Remarkably, there isn't an article in the archives on DeVon Edwards, which is ironic as he figures to play a key role at cornerback and punt return specialist this season. Edwards fielded punts during the Spring Game in April, but he was not able to showcase his running skills as all punts were required to be fair caught. Edwards will see plenty of action at cornerback as Duke is very young in the secondary.
Thomas Hennessy: Head Coach David Cutcliffe has placed an emphasis on the importance of winning the kicking game during his tenure at Duke, and has thus placed an emphasis on recruiting top special teams prospects. With redshirt-senior Jackson Anderson the lone long snapper on the roster, the Blue Devils filled a need by landing one of the top special teams prospects in the country, as 2012 LS Thomas Hennessy gave his pledge to Duke University over the weekend. Hennessy is a 6'3″ 205 pound prospect from Don Bosco High School in New Jersey. Ranked among the top 10 long snappers in the country, Hennessy will join fellow HS special teams standouts Will Monday and Ross Martin in Durham this fall.
Allen Jackson: Jackson is a 6'5" 225 pound defensive end prospect from Owings Mills, Maryland. Playing defensive end and tight end for McDonogh High School, Allen earned All-Conference honors as a junior, and had already received offers from Duke, Maryland, Rutgers, Vanderbilt, and West Virginia. Partnering with fellow defensive end Roman Braglio, Jackson forms one of the top pass-rushing duos in the mid-Atlantic region. In his junior season, Allen totaled 83 tackles and 9 sacks, numbers he'll look to top in his senior year as he hopes to lead McDonogh to a state championship.
Michael Mann: While not a freak athlete, Mann is physical and tenacious at the line of scrimmage. He's shown ability to be dominant both against the run and against the pass. A three-time Colorado HS state champion, his intangibles are off the charts. He has lots of room to grow as a pass rusher at the college level, but has the work ethic and the ability to become a solid ACC lineman. At 6'4″ and 220 pounds, Mann has room to grow into his frame, and will likely benefit from a year in the weight room before he's ready to contribute on the field. The Blue Devils are getting a good football player and a great addition to their program with the commitment from Mann.
Corbin McCarthy: McCarthy joins several other lightly-recruited Californians in Durham. The hard-hitting safety has had aspirations of playing ACC football and the Blue Devils were the first to offer him that opportunity. McCarthy will have work to do to become an ACC caliber defender, primarily in the weight room where he needs to get stronger and faster. He's another intelligent football player with good instincts, and that should help him adjust to the college game. Coach Cutcliffe has focused on bringing in better athletes to Durham, and though undersized, McCarthy fits that bill. Coach Knowles has developed a group of outstanding safeties in Durham, and McCarthy has the tools to continue that tradition.
Anthony Nash: Despite the recent success of Duke's All-ACC receivers Donovan Varner and Conner Vernon, the program has lacked a long, physical receiver to create match-up problems with opposing cornerbacks. On Sunday, the Blue Devils added exactly that type of player with the verbal commitment of 6'4" 180 pound wide receiver Anthony Nash. Nash had a standout junior year at Bayard Rustin HS in West Chester, finishing with 62 catches for over 1300 yards and 16 touchdowns. His efforts earned him 1st Team All-League and 2nd Team All-Area in Pennsylvania. After a slow start to his recruitment, Nash made a name for himself on the east coast summer camp circuit. The big receiver chose the Blue Devils over North Carolina, Boston College, Purdue, and Penn State.
Keilin Rayner: Rayner is a prolific run-stopper from either the LB or DE position. His size and speed likely translate best as an outside linebacker at the college level, but his versatility is one of his strengths. A tackling-machine, Rayner has a great nose for the football and the strength to wrap up ball-carriers. He has the instincts and athleticism to be a playmaker in the ACC, but must improve his coverage skills to earn early playing time on defense. His tackling ability and motor make him an excellent candidate to see early action on special teams.
Thomas Sirk: At 6'6" and 212 pounds, Sirk impressed the Duke coaching staff at camp earlier this month with his arm and athleticism, earning himself a coveted Duke offer. Remarkably, the Blue Devils' newest commitment has never played a full season at quarterback, but has been working with former Ole Miss and NFL QB David Morris this summer, and his recruitment has taken off. His recent highlight video has impressed coaches throughout the country, and Sirk was planning on camping at several ACC and SEC schools, but ultimately decided the opportunity at Duke was too good to pass up. The Duke coaching staff is thrilled to have a commitment from a player they believe will soon be leading the Blue Devils' offense in Wallace Wade Stadium.
Tanner Stone: One of the areas of greatest improvement within the Duke football program since the arrival of Head Coach David Cutcliffe has been the offensive line. This fall, Duke is expected to feature one of the strongest and deepest groups in the Atlantic Coast Conference. Offensive Line Coach Matt Luke has worked hard to build the position group with Duke's current players, while also working tirelessly on the recruiting trail. On Wednesday, his efforts resulted in the addition of another talented offensive lineman to the Duke program. Tanner Stone, a 6'6" 260 pound prospect from Highland Park HS in Dallas, Texas, has committed to the Blue Devils. As a junior, Stone helped lead the Scots to a 12-1 overall record and the Texas 4A state playoffs.
Michael Westray: On Saturday, Coach Cutcliffe received the good news from Michael Westray, a 6'2″ 185 pound safety prospect from Westlake HS in Waldorf, Maryland. Duke fans should be familiar with the Westlake program, as it is also the alma mater of freshman Duke LB Jon Woodruff. After playing primarily defensive line at Westlake, Woodruff is making the transition to linebacker at the college level. The newest Blue Devil, Westray, will make a similar move, as he slides over to safety after playing mostly cornerback in high school. Westray earned offers this summer from Duke and North Carolina State after impressive performances on the camp circuit, where he was clocked with a 4.4 second 40-yard dash. Prior to his commitment, Westray had also received interest from Maryland, Penn State, Pittsburgh, and Wake Forest.
A.J. Wolf: Wolf is clearly one of the most intriguing sleeper prospects in Duke's class of 2012. He's a tremendous athlete and comes from an extremely gifted family. A.J. has a good frame and will be able to add strength in a college weight program. In high school, he played all over the field for Hackley, a testament to his athleticism at 6'4″ and 245 pounds. He was recruited to play defensive end at Duke, though has the skill set to potentially slide inside to defensive tackle. Wolf didn't see a very high level of competition in high school, so it remains to be seen how he will fare against college competition. Being able to focus on one position will allow him to perfect his techniques, but he already possesses good instincts and tackling ability. In all likelihood, A.J. will benefit from a redshirt year under Coach Petri in Durham, but his athleticism and intelligence may make it hard to keep him off the field for long.
Duke will look to build off the momentum achieved in a successful 2012 season, which saw the Blue Devils beat arch rival North Carolina 33-30, break a 12 year losing streak to Wake Forest and play in a bowl game for the first time since January 1995. Coach Cutcliffe and the staff will look to the redshirt freshmen discussed above to be an integral part of a winning team in 2013.