Archives by date
You are browsing the site archives by date.
By Tom Rubinson on August 9, 2013
Myles Turner in some ways has been the forgotten man in the 2014 recruiting class.  The 6'11," 220 pound center out of Euless, Texas, while not ranked as highly as is Jahlil Okafor, is nevertheless a major, major talent in his own right, and is a guy who is wanted by elite programs across the […]
Posted in BDN Premium Articles, Duke Basketball, Duke Basketball Recruiting News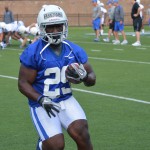 By Patrick Cacchio on August 8, 2013
DURHAM – Duke Head Coach David Cutcliffe addressed the media after day 3 of 2013 training camp. The Blue Devils donned shoulder pads for the first time this fall on Wednesday, and the young freshmen continued to impress their new coach. BDN was on hand for Coach Cutcliffe's comments shortly after practice.
Posted in Duke Football | Tagged Coach Cutcliffe pleased with freshmen
By Tom Rubinson on August 7, 2013
Coach K had a memorable quote a few years back when he was asked what position Kyle Singler played, at a time Kyle was being moved around all over the court to shore up some areas in which the Blue Devils needed some help.  K's response: "What position does he play?  He plays winner." Same […]
Posted in BDN Premium Articles, Duke Basketball, Duke Basketball Recruiting News
By Tom Rubinson on August 6, 2013
Everyone knows that Jahlil Okafor is an extremely high priority recruit for the Blue Devils, and his performance this past weekend at the Adidas Nations camp showed why.  If you've never seen him play before, the big man from Chicago really brings to the table everything you'd want in a low-post, power player.  He's 6'10″-6'11″ and […]
Posted in BDN Premium Articles, Duke Basketball Recruiting News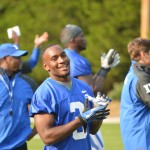 By Patrick Cacchio on August 6, 2013
DURHAM – The Blue Devils hit the field Monday night for the first practice of 2013 training camp. Both players and coaches were excited to be back on the gridiron as they prepare for the season opener against NCCU on August 31. They practiced with a quick tempo and a sense of purpose, and several […]
Posted in Duke Football | Tagged Duke First Practice 2013
By Tom Rubinson on August 5, 2013
Kevon Looney, the 6'9″ forward on everyone's Top 10 list for the Class of 2014, was part of a super team this weekend at the Adidas Nations camp in Long Beach, CA, where he joined fellow Duke recruits Jahlil Okafor and Justise Winslow to dominate the tournament.  For those of you who have not seen […]
Posted in BDN Premium Articles