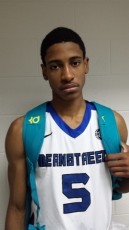 Charles Matthews is a talented 2015 wing out of Chicago. Duke has recently started recruiting him pretty hard, though no offer has been extended just yet. He's a reserved, quiet young man, but the kid can play. He's a shooter first and foremost, at least at this stage, but he's athletic and is also not afraid to put his nose in there and get after it. He has a tendency to float a bit, where you forget he's out there, but then all of a sudden he'll hit you with three quick hoops right when they're needed most. Matthews is also going to have to play with more defensive intensity on a regular basis.  But he's very young and he knows he has a lot to learn.  He's one to keep an eye on. Charles sat down with BDN recently to talk about his game and his recruitment, and here's the interview:


Sorry, but you must become a premium subscriber to view the rest of this post.

Join now by visiting the PREMIUM MEMBERSHIP link at the top of the page, where you can learn more about the benefits of a Blue Devil Nation Premium membership.

Charles Matthews