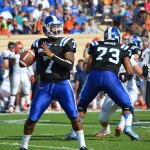 Duke at Memphis
4:30 PM ET
Saturday, September 7
The Liberty Bowl
Memphis, TN
TV: ESPN3
Radio: Blue Devil IMG Sports Network
Duke in 2013: 1-0 (Defeated NCCU 45-0)
Memphis in 2013: Season Opener
DUKE INJURIES
QUESTIONABLE – C.J. France, Jordan DeWalt Ondijo
OUT – Jared Boyd, Thomas Sirk, Casey Blaser, Britton Grier, Eric Adams, Jack Wise
OUT FOR SEASON – Tanner Stone
MEMPHIS INJURIES - Unavailable
HOW DUKE CAN WIN
Duke will look to improve to 2-0 on the season by winning the battle in the trenches resulting in sustained scoring drives on offense with three and outs or turnovers achieved by the defense.
On offense, Duke will look to establish the running game in order to set-up play action, successfully execute screen passes to place the ball in playmakers hands with room to operate, and force a fast tempo. Anthony Boone is responsible for orchestrating the pace and flow of the offense, but success starts with dominant offensive line play; however, Memphis has an experienced and talented defensive line, which is the strength of their team so the Blue Devils offensive lineman must execute blocking assignments with flawless precision in order to win a tough battle along the line of scrimmage.
On defense, successfully executing the blitz package to harass redshirt freshman quarterback Paxton Lynch, in his first college game, will be vital. Duke must force Paxton into making mistakes and then capitalize on those mistakes. Memphis has talented experience along the offensive line so it is imperative Duke's defensive line exerts maximum effort on every play in an attempt to dominate the line of scrimmage, which is the main prerequisite to achieving success with the blitz.
HOW DUKE CAN LOSE
The defense failing to execute on 3rd down could cause the Blue Devils issues. Duke must finish defensive sets with solid execution on 3rd down in order to keep their defense fresh while forcing the Tigers defense back onto the field with little rest. If Memphis achieves success early, by converting first downs into touchdown producing drives, Duke's defensive confidence could crack. And with a young secondary, maintaining and building upon confidence is crucial.
Two additional intangibles are turnovers and penalties. Duke must take care of the football while avoiding unforced errors. Duke turned it over against Memphis four times in 2012; however, this is an improved Memphis squad so turnovers on Saturday afternoon could prove fatal.
WHY DUKE WILL WIN
Duke is the more talented team. It has been a long path back, and the Blue Devils still have a long ways to go, but when the team takes the field against Memphis they will out talent the Tigers on both sides of the ball. Look for the Blue Devils to go deeper in the playbook this week, but still keep it basic the majority of sets focusing upon out executing the opponent with superior talent across all three phases of the game. Due to the talents of Will Monday, Ross Martin and Jamison Crowder, Duke will utilize special teams play to win the field position battle setting up both the offense and defense for success.
Like 2012, the Tigers will keep it close in the 1st half before Duke pulls away for a comfortable win to improve to 2-0 on the season.
Duke 31, Memphis 13