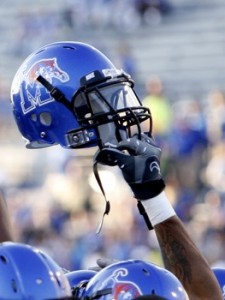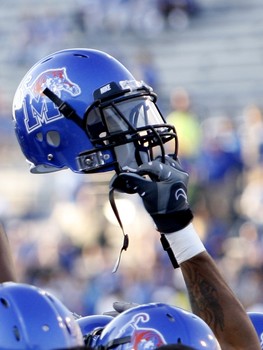 Duke travels to Memphis on Saturday, looking to open their season at 2-0 after a convincing 45-0 win in their season opener. The Tigers were idle last week, and host the Blue Devils in their season opener as they look to improve upon last season's 4-8 finish.
To give us a scouting report on the Tigers, BDN welcomes back Phil Stukenborg, Memphis football reporter for The Commercial Appeal, where he has worked since 1983. He has written about high school, college and professional sports in the Mid-South, spending time as the beat writer for Ole Miss, Arkansas and the University of Memphis athletics. He was honored by the Memphis Chapter of the National Football Foundation and College Hall of Fame in 2004 with its Contribution to Amateur Football Award and by the All-American Football Foundation in 2001 with the Jim Murray Outstanding Sportswriter Award. Thanks for joining us again, Phil!
The Tigers return 16 starters from last year's squad that finished on a 3-game winning streak. What are the expectations for Memphis in Coach Fuente's 2nd season and their first in the AAC?
I think the expectations are realistic. Fans understand the team is taking a significant leap by going into a Bowl Championship Series conference led by Top 10 Louisville. The teams Memphis beat to end the season had disappointing seasons, including 0-12 Southern Miss. So I think fans realize the team may be better yet finish with a similar or slightly better record than last year's 4-8.
Coach Fuente has said he prefers to run an up-tempo offense and recently named 6'6" redshirt-freshman Paxton Lynch his starter. What is the scouting report on Lynch and the Tiger offense coming out of training camp?
Lynch is a player Tiger coach Justin Fuente envisions as a clear winner in the competition with senior Jacob Karam, who started 12 games a year ago. Lynch has a presence about him, an in-born ability to lead. A strong arm doesn't hurt. He wasn't heavily recruited because of a knee injury his senior year, but did get late attention from Indiana and Florida.
Memphis boasted one of the stronger defenses in C-USA last year, but like the Blue Devils must replace a number of starters in the secondary. How do the Tigers matchup with Duke QB Anthony Boone and his new read-option offense? 
Memphis will be strong in its front seven, which includes the addition of Nebraska transfer NG Chase Rome. The secondary may actually be better than a year ago. It has added speed.
Duke won comfortably a year ago in Durham, but the oddsmakers expect this year to be a closer contest. What do you think will be the key(s) for an upset by the Tigers?
Much like last year, the Tigers must get contributions from their special teams. Last year it was ALL they had as Duke simply overpowered Memphis up front. If the Tigers can hold their own up front - on both sides of the ball - and get some big plays behind Lynch's strong arm, it could an interesting game.