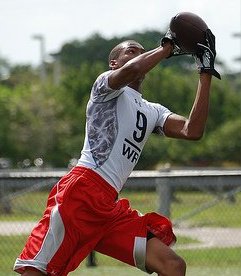 Welcome back to another edition of Friday Night Lights where we strive to keep our faithful readers informed on all the high school action for Duke recruits and recruiting targets. This week's article includes comments from Trevon Lee, Chris Taylor, Nico Pierre, Johnathan Lloyd and Trip McNeill.
Duke is ardently pursuing 4-Star wide receiver Trevon Lee from Cardinal Gibbons HS in Ft. Lauderdale, FL and his performance on Friday night is evidence why. Lee caught seven passes for 163 yards and a touchdown in a 37-15 victory over Everglades HS.
Blue Devil Nation asked Lee for a self assessment of his performance in the game and he stated,[private] "I think I had a great game, but there's always room for improvement. I'm looking forward to continuing my senior year, succeeding and having fun with my team."
Chris Taylor is an impressive South Florida wide receiver who has already committed to Duke. On Saturday, Taylor caught two passes for 65 yards as University defeated Norland 47-12. In describing his performance, Taylor said, "I drew a lot of double coverage in the game. Alas, it was a great win!"
Sticking with receivers, California tight end prospect Davis Koppenhaver caught two touchdown passes as William S. Hart defeated Chaminade 55-54. Chaminade went for a two point conversion and the win in overtime, but failed to convert.
Switching over to quarterbacks, 4-Star commit Nico Pierre was not impressed with his individual performance in Coral Reef's 46-0 shutout over Cooper City. Pierre communicated to Blue Devil Nation, "I have to give my defense a hand because they came to play, but for me it wasn't a good performance so I got to get back to work on Monday."
In the talent hotbed that is South Florida, competition is fierce so great performances will be required later in the year when play-offs come around. Coral Reef's defense created four turnovers, which resulted in 26 points for the Barracudas.
Blue Devil Nation asked talented dual threat quarterback Johnathan Lloyd about his performance as Southern Alamance defeated Eastern Alamance 55-40. Lloyd stated, "I threw the ball well and offensively we were clicking. The offensive line played outstanding giving me lots of time to throw and holes to run through."
Lloyd accounted for over 500 yards of offense in the victory as he threw two touchdown passes and ran for two more scores. Lloyd passed for 317 yards and ran for an additional 195 yards.
When asked about his strengths as a quarterback, Lloyd responded, "Vision and keeping my eyes down field while maneuvering around the pocket, and good feet."
Davie County HS put a check in the win column with a 53-10 win over Lexington. Future Blue Devil Offensive Tackle Trip McNeill commented, "It was different going against skinny fast people compared to people with size."
In Georgia, Collins Hill defeated Dacula 21-13. Future Blue Devil Offensive Tackle Christian Harris plays for the Collins Hill Eagles.
Carrollton HS scored on seven of its eight first half drives and routed Chapel Hill 63-0. Future Duke offensive guard Jake Sanders plays for Carrollton.
In Alabama, running back prospect Ito Smith scored on touchdown runs of two, three and five yards as McGill-Toolen defeated Alma Bryant 44-7. Overall, Smith rushed 14 times for 82 yards (5.8 yards per carry).
Also in Alabama, 4-Star linebacker commit Zavier Carmichael and the St. Paul's Saints defeated Williamson 33-6.
In California, Cosumnes Oaks defeated Sacramento 24-13. Future Blue Devil Offensive Tackle Kameron Schroeder plays for the Cosumnes Oaks Wolfpack.
In Ohio, Coldwater scored 28 unanswered second half points to defeat Bishop Hartley 41-16. Future Blue Devil defensive back Alonzo Saxton plays for Bishop Hartley.
This article discusses the Sycamore Aviators who feature future Duke linebacker Tinashe Bere. The linked article includes a nice picture of Bere sacking a quarterback. Sycamore defeated Ryle 28-0 on Friday night.
Central Catholic scored four second half touchdowns to defeat Southview 35-17. Future Duke center Zack Harmon plays for Central Catholic.
In St. Louis, Christian Brothers HS defeated Eureka 38-7. Future Blue Devil defensive back Zach Muniz plays for Christian Brothers.
That is all for this week's high school report! [/private]