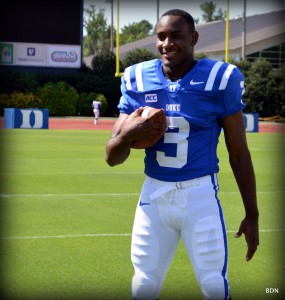 DURHAM - The Blue Devils dropped their second game in a row to fall to 2-2 on the season after a 58 to 55 loss to Pittsburgh in the 2nd highest scoring game in ACC history. The Panthers scored early and often against an inexperienced Duke secondary, while a furious Blue Devil 4th quarter rally fell just a play or two short. In the end, four turnovers were too much for Duke to overcome.
Pittsburgh redshirt-senior QB Tom Savage finished the day with 424 passing yards and 6 touchdowns. The Blue Devil defensive backs had no answer for the dynamic duo of Devin Street and Tyler Boyd. The Panthers' top two receivers finished the day with a combined 313 yards receiving and 5 touchdowns.
After a strong start to the season against NC Central and Memphis, the Blue Devil defense has been exposed in the past two weeks against ACC foes Georgia Tech and Pittsburgh. On Saturday, Jim Knowles' unit allowed a total of 598 yards of offense, an average of 7.4 yards per play. The Blue Devils struggled to pressure Savage and the Panthers all afternoon, finishing with two sacks but no turnovers on the day. A bright spot for the Blue Devils again was special teams, where they blocked a FG for the second straight game, as Sydney Sarmiento got through on a first quarter Chris Blewitt attempt.
From the Duke perspective, there were a number of positives to take from Saturday's contest, despite the disappointing outcome. All-ACC WR Jamison Crowder had yet another strong performance, becoming the first Blue Devil since 1999 to score a receiving, rushing, and return touchdown. His 82-yard punt return TD in the 2nd quarter was his 2nd of the young season. In his second start in place of the injured Anthony Boone, QB Brandon Connette showed significant improvement, finishing 21 of 32 passing for 323 yards with 4 touchdowns and 4 interceptions. After a shaky start that included interceptions on two of his first three throws, Connette was able to develop a rhythm with his WRs and lead the Duke offense to 6 touchdowns on the day. He was also successful on the ground, leading the Blue Devils in rushing with 101 yards on 15 carries with 2 more touchdowns. WRs Brandon Braxton and Max McCaffrey each had their best efforts of the season, totaling 8 combined catches and a touchdown each.
The loss drops the Blue Devils to an 0-2 start in ACC play, and leaves Duke searching for answers on defense as they try to snap a 2-game losing streak. Duke hosts Troy next Saturday at 3:00 PM ET.