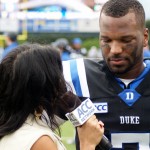 When Anthony Boone arrived at Wallace Wade Stadium on game day he had no reason to think he would start.  When fans arrived for the Duke-Navy game, they certainly had no idea either.
But Anthony Boone took his first snaps since September 7th and Duke rolled over a formidable Navy squad pushing their record to 4-2 on the season.  If you do not realize the significance of the fourth win, it puts Duke two wins shy of bowl eligibility at the half way mark in the season.
The 35-7 win over Navy was a surprise to most where the pundits all looked for a close high scoring game, but the Duke defense seemed to have pushed the right buttons and in the process shut down a Navy team others have struggled with.
Boone showed some rust during the Blue Devils first two possessions but he settled in to hit 31 of his 38 passes which translated into 295 yards and three touchdowns with no turnovers.
Boone hit Issac Blakeney for two of his touchdown tosses and Max McCaffrey pulled in another.  Jamison Crowder added a team high ten receptions for 88 yards as well in a game where Boone spread the ball around to the whole receiving corps.
How stellar of a game was it today for the Blue Devils?  It prompted Coach David Cutcliffe to proclaim it was the most complete game his team has had at Duke and that's pretty darn high praise.
But Cutcliffe also added this was just one game and that there would have to be the same focus moving forward for the Blue Devils to earn another bowl berth.
It was an impressive day for a program still rebuilding and it was clear that the coaches found a way to shut down Navy's talent quarterback Keenan Reynolds who never really got his game going.
It was also clear that the week off proved just what the doctor order for a Duke team that found it's legs again on the defensive side of the ball.
By days end the Blue Devils had a complete 35-7 win over Navy where they never gave up those late easy scores that have spoiled victories in the past.  In short, it was a decisive win where Duke was clearly the most talented and best prepared team on the field.
Duke will next travel to Virginia seeking their first ACC win of the season next week in a game that will kick off at 3:30 on the ACC Network.
Sidebar -  Brandon Connette had an ankle injury which kept him out of the game.  he got tangled up with teammates coming off the field after a recent practice.  Duke scored on five consecutive possessions in the game.  Brandon Braxton caught a season high five passes.  Issac Blakeney caught two touchdown passed for the first time in his career.  Duke limited Navy to 1 of 3 scored in the red zone.  Shaquille Powell scored his first rushing touchdown in a Duke uniform.  Perry Simmons started his 43rd consecutive game.