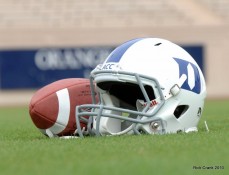 This week's edition sticks to the interview format introduced last week. Blue Devil Nation is very pleased to have had the opportunity to talk with incoming quarterback Johnathan Lloyd. Lloyd plays for Southern Alamance High School who is off to a fast 5-1 start on the season. They had a bye this past Friday night.
Blue Devil Nation: Not to throw a sign on you at the start of the interview; however, as a "dual threat quarterback" (oops there's the sign), what individual strengths or skill sets do you possess, which give you an advantage on the football field?
Johnathan Lloyd: I think that as a dual-threat, my footwork is very important. Also my vision and speed help me.
BDN: Sticking with quarterback skill sets, do you have a preference on working out of the shotgun versus operating from under the center? Why?
JL: I would probably say that shotgun is my preference only because we run majority of our plays out of it. Being under center is not uncomfortable for me though.
BDN: Are you equally comfortable passing out of the pocket and rolling out, or do you prefer one over the other? Why?
JL: As I have progressed and grew as a quarterback, I have become extremely comfortable within the pocket. I am equally comfortable in the pocket as I am outside the pocket.
BDN: Coach Cutcliffe is an innovative guy who has run formations that include two quarterbacks on the field simultaneously. What are your thoughts about lining up as a slot back or wide receiver with the opportunity to run the ball, catch a pass or be involved in some sort of trick play such as a double pass?
JL: Yes he is very innovative and I will do anything to help my team. Trick plays are always fun!
BDN: Speaking of Coach Cutcliffe, a coach who is known as a quarterback guru who has coached Super Bowl MVPs Peyton and Eli Manning, how exciting is it for you to have the opportunity to be tutored by him? What are your thoughts on Coach Cutcliffe and the opportunities available to you as a member of the Duke Blue Devils?
JL: I am very excited to be under the tutelage of Coach Cutt and Coach Roper. My game will elevate to a whole new level and I just look forward to it. I already feel a part of the Duke family and I'm not even on campus yet. The opportunities are endless and the skies the limit.
BDN: Looking at the transition from high school to the college game, what individual skills do you think you need to work on most? Which area will be the toughest adjustment: speed of the game? level of competition? complexity of the play book?
JL: I cannot just pick one thing because I need to improve on all aspects. The college game is totally different so I know I will have to bring it everyday and I look forward to competing.
BDN: How about your measurements? Height, weight, 40 yard dash time? How do you measure out these days?
JL: 6'0, 185lbs, 4.4 forty
BDN: Talking specifics on your senior season of high school, what are your personal and team goals for the season?
JL: My personal goals I prefer not to say aloud, but generally speaking I have started the season off well with a good stat line so I'd like to see if I can reach 3,000 passing and 1,000 rushing by the end of the regular season. But my team is number one with me and my personal stats mean nothing. We are 5-1 and are wanting and working hard for a deep run in the playoffs.
BDN: Final question, outside of football, what are your interests and hobbies. Can you tell Blue Devil Nation readers a little bit about Johnathan Lloyd the person?
JL: I love to sing and I am an active choral student at my school. I like watching nat geo and discovery channel. I love all sports and I love me some pancakes.
BDN: Thank you very much for taking the time for this interview and good luck the rest of the season.
On to the rest of the action:
Coral Reef lead by 4-Star quarterback Nico Pierre shutout Palmetto 23-0. Pierre described the game as follows: "It was a big win for the team, putting us 2 and 0 in the district. Now it is time to get back to work and prepare for our next opponent." Members of the Duke coaching staff were in attendance at the Thursday game.
Chris Taylor caught two passes for 40 yards and a touchdown as University blasted North Broward Prep 63-0. Taylor's performance was in front of Coach Montgomery.
Alonzo Saxton had a monster game as Hartley defeated Watterson 35-21. Saxton, who Duke has recruited as a cornerback, recorded two 4th quarter interceptions in the end zone and recovered an onside kick to complement a 59 yard touchdown run in the victory.
Tripp McNeill discussed Davie County's 41-24 loss to North Davidson by stating, "We need to play as one. I feel the team has not jelled yet, which is hurting us." Davie County falls to 0-2 in their conference and 2-5 overall.
Shaun Wilson rushed for 215 yards and three touchdowns and added a 24 yard touchdown reception, but previously undefeated West Mecklenburg fell to Providence 31-27.