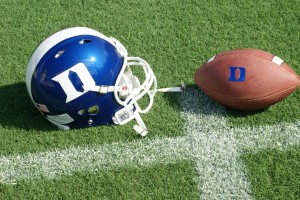 Duke received verbal commitment number 16 this week when Easley, South Carolina defensive tackle Quaven Ferguson (6'2" 300) announced his decision for the Blue Devils. The Easley Green Wave are 3-4 on the season and defeated Westside 30-17 last Friday night.
Shaun Wilson recorded 164 yards rushing and 115 yards receiving to power West Mecklenburg to a 35-10 win over South Mecklenberg. He scored four touchdowns in the victory. West Mecklenburg is the number eight 4A team in North Carolina.
Despite four touchdown passes from Johnathan Lloyd, Southern Alamance fell to Greensboro Grimsley 55-40. Lloyd also rushed for a touchdown. Southern Alamance is now 5-2 on the season and host undefeated Greensboro Dudley this coming Friday evening. Dudley is the number three 4A team in North Carolina.
Sycamore (Tinashe Bere) fell to 5-2 on the season with a 40-22 loss to undefeated Colerain.
Coral Reef (Nico Pierre) defeated previously unbeaten North Miami 17-16 to improve to 5-2 on the season.
Alonzo Saxton scored two touchdowns, one on offense and one on defense as Hartley defeated Luers 49-27.
Hart (Davis Koppenhaver) improved to 6-0 on the season with a 38-24 win over West Ranch.
St. Paul's defeated Faith Academy 35-9. Here is a nice video clip from local television discussing Zavier Carmichael's aspirations to become an orthopedic surgeon.
Cornerback Zach Muniz has four interceptions this season for 6-1 Christian Brothers. CBC is ranked the number five team in St. Louis in the Large School category and defeated De Smet 14-11 in their most recent game.