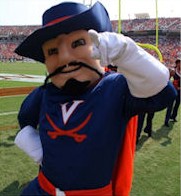 This week, we are honored to have back Jerry Ratcliffe of The Daily Progress in Charlottesville to provide our opponent scouting report. Known to many as simply "Hootie," Ratcliffe came to The Daily Progress in 1982 as sports editor and columnist. He has served as the sports editor of six daily newspapers during his career. His work has been recognized by the Associated Press Sports Editors Association, the College Football Writers Association, the U.S. Basketball Writers Association and the Virginia Press Association as well as the Middle Atlantic PGA (recipient of the Earle Hellen Award in 2007). Ratcliffe has won more than 55 writing awards and has served as president of the Atlantic Coast Sports Media Association. He has penned one book: The University of Virginia Football Vault, a history of the Cavaliers program. He has been named the state of Virginia "Sportswriter of the Year" on four occasions by the National Sportswriters and Sportscasters Association.
Not only an outstanding journalist and editor, Jerry is one of the top authorities on Virginia football. We are so glad to have his help again this week!
After an opening win against a good BYU team, Virginia has dropped 4 of their last 5 games. What went right in the opener and what has gone wrong since?
The Cavaliers caught BYU at the right time and perhaps in the right conditions. BYU had an entirely new offensive staff (although so did UVa) and BYU's QB, Hill, showed a little rust. I think Virginia's new attacking defensive style disrupted BYU's timing just enough to matter and the Cougars committed a crucial turnover late in the game, which iced the upset for Virginia. Later, BYU's new offensive coordinator admitted he gambled late when he shouldn't have, resulting in the turnover.
Also, I think a lengthy storm delay helped Virginia. Being the home team, the Cavaliers were better prepared to handle the delay and intelligently went to great lengths to make sure their players were replenished during the storm. They say rain is the great equalizer and even though they returned to the field after the lightning delay, the teams played the remainder of the game in mostly heavy rain.
I'm not sure that Virginia could beat BYU if the game was played now rather than the season opener.
Since that time, several of UVa's warts have been exposed, a lack of depth in several spots on both sides of the ball, the youth of the club (the Cavaliers have only 7 seniors and only 4 are regular starters). The offensive line has been suspect and looks like it is only now starting to come together after moving the pieces around. Quarterback David Watford has a lot of potential, but he's essentially a first-year starter even though he has been in the program for three years, and has come along perhaps a little slower than expected.
Youth is certainly being served on this Virginia team, with 35 underclassmen on the depth chart. Redshirt-sophomore David Watford has taken over the Cavalier offense after the departures of Michael Rocco and Phillip Sims, and the Wahoos also brought in highly-touted RB recruit Taquan Mizzell. Even with those new additions, Virginia ranks 100th in the nation in scoring; what has been the source of their offensive struggles?
My personal belief is that if Rocco's father had not been so impatient and that Rocco had remained at UVa, the Cavaliers would be no worse than 4-2 right now as opposed to 2-4.
Perhaps it's just the entire "newness" on the offensive side with a new offensive coordinator, new running backs coach, an influence by associate head coach for offense in Tom O'Brien, a new quarterback.
Watford appears to be progressing week-by-week. He played with the most confidence yet in last week's one-point loss at Maryland. He had more zip on the ball and seemed to be reading defenses better, making better decisions. It was his first game this season without a turnover.
The offensive line, which has been a problem in the program for the past couple of years, had difficulty opening lanes for running backs early and had problems protecting Watford. If Watford's inexperience wasn't enough of a challenge for him to overcome, the fact that he was running for his life and forcing throws, making bad decisions because of the lack of protection, complicated the issue even more.
Combine those issues with the fact that Virginia's receiving corps has been a failure thus far, and it's easy to see why the Cavaliers have struggled to score touchdowns in the Red Zone. Last week at Maryland, UVa was 6-for-6 in the Red Zone, but four of those were field goals.
Virginia fans have been frustrated by the conservative offense, particularly in the Red Zone, but we're not sure if part of that is because the only reliable receiver that has emerged has been tight end Jake McGee. Or, that new OC Steve Fairchild is slowly spoon-feeding Watford more parts of the offense as the young QB can show that he can be trusted with certain things.
Still, the fact that there are three former head coaches on the offensive staff and the team continues to struggle to score TDs, has been very frustrating amongst the fan base and with the players themselves.
Coach London's teams have been known for their physical defense. This year's unit is no exception and has been solid on third down. Who are the key playmakers for this defense?
This is the most aggressive defense Virginia has put on the field in three decades. Jon Tenuta's squad has followed suit in three-and-outs and third down defense just as former defensive coordinator Jim Reid's unit was a year ago. Tenuta was brought on board to create more havoc and put more heat on opposing quarterbacks. That has been the case, forcing nine turnovers (as compared to only 12 all of last season), and already equaling last year's entire QB sacks total of 17. However, with such an aggressive, gambling defense, the Cavaliers have also given up too many big plays.
One of UVa's top playmakers on defense is out for the Duke game, senior defensive tackle Brent Urban, who was injured at Maryland. Urban leads the nation's defensive linemen in passes defended, and is No. 2 in the nation in passes defended by a non-defensive back. Urban has batted down eight passes at the line of scrimmage. He will be replaced with promising true freshman Donte Wilkins.
The Cavaliers' front four has earned the praise of most opponents this season. Jake Snyder and Eli Harold (pass rushing end) anchor the 4-3 alignment with David Dean and now Wilkins in the middle. Both middle linebacker Henry Coley and weakside backer Daquan Romero have started to elevate their games over the past couple of weeks.
Three-year starter at corner, Demetrius Nicholson, is also out for the Duke game, leaving freshman Tim Harris at his spot. Harris looks like a lockdown corner but he's a true freshman who lacks experience. Strong safety Anthony Harris is solid, but there are questions about corners DreQuan Hoskey and free safety Brandon Phelps.
The Blue Devils have stolen 4 of the last 5 against UVA. How important is this game for the Cavaliers' season, and what do you expect to be the key match-up?
Virginia is desperate for a win. Many Cavalier fans believe this is UVa's last chance to get into the win column this season, and with many of them screaming for Mike London's job, there's pressure to deliver. In order for that to happen, Virginia will have to be successful with its running game and have to avoid getting burned on big plays, which has been critical in all the losses this season. So, the two key matchups would be UVa's offensive line vs. Duke's front seven; and the Cavaliers' secondary against the Blue Devils' passing game.