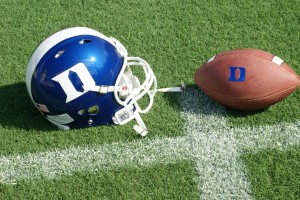 After a one week absence, Friday Night Lights is back with a two week update on all the action involving Duke's Class of 2014 verbal commits. With the play-offs approaching, teams are battling to be included in the pairings so they can continue their journey toward earning a championship. This week's update starts in the Old North State.
Johnathan Lloyd and the Southern Alamance Patriots ended a three game losing streak with a 56-41 victory over Greensboro Smith. Lloyd completed 17 of 21 passes for 318 yards including touchdown completions which covered 61 and 29 yards.
Blue Devil Nation asked Lloyd to describe the team's reaction to breaking the losing streak and he stated, "Just glad to win on senior night and go out on top. It also helped us to try to get a play-off spot." In discussing his individual performance Lloyd commented, "I am only 171 yards away from 3,000 passing yards in the regular season."
Southern Alamance improves to 6-4 on the season and will travel to Greensboro Page for their regular season finale next Friday night.
Davie County, with future Blue Devil offensive tackle Trip McNeill, traveled to Winston-Salem and improved to 4-6 on the season with a 38-13 victory at R.J. Reynolds. When asked about the victory, McNeill stated, "We played as a team and played expecting to win every rep together."
McNeill will finish his high school career next Friday night at home versus Mount Tabor.
Shaun Wilson did not play in West Mecklenburg's 33-13 win over Berry. Wilson suffered an injury on October 25, in a 29-13 loss to Charlotte Catholic.
In Miami, Nico Pierre and Coral Reef fell to 5-4 on the season with a 19-3 loss to South Dade. When asked what factors are contributing to his offense struggling, Pierre responded, "Not finishing drives when we have momentum."
Last week, heavily favored Coral Reef stumbled in a 12-10 upset at the hands of Southridge.
Chris Taylor and University School rebounded from their first loss of the season to defeat Island Coast 49-7 improving to 8-1 on the season. Taylor scored a touchdown on a 43 yard pass reception. Taylor described the play as follows: "My touchdown was on a go route, the first play from scrimmage of the second half. I told coach to throw it up to me and we scored."
University School was upset last week dropping a 28-24 decision to Manatee. Taylor described the team's response to the loss by saying, "We were extremely focused. That loss woke us up and showed us that we weren't untouchable." University School had won 19 straight games before the loss to Manatee.
Alonzo Saxton and Hartley won the Central Catholic League Gold title with a 21-14 overtime win against Ready. Hartley heads into next week's play-offs with a 9-1 record.
Last week, Saxton recorded 114 yards receiving including touchdown receptions of 67 and 44 yards. Saxton, who has been recruited by Duke as a defensive back, is having a monster senior season.
Tinashe Bere and the Sycamore Aves finished their season at 6-4 on the strength of a 35-28 overtime victory over Mason. Last week, the Aves lost to Lakota East 28-21.
Davis Koppenhaver and the Hart Indians' bid for an undefeated season failed on Friday night with a 24-19 loss to nemesis Valencia Vikings. Hart has defeated Valencia only one time since 2006. Hart is now 8-1 on the season.
Last week, Koppenhaver caught eight passes for 122 yards and two touchdowns as Hart defeated Saugus 38-3.
Zavier Carmichael and St. Paul's completed the regular season at 8-2 with their fourth consecutive victory, a 28-0 shutout of UMS-Wright. Last week, they defeated LeFlore 42-14.
Zach Muniz and Christian Brothers improved to 8-2 with a 29-7 victory over Hazelwood West in the 1st Round of the Missouri Class 6 District play-offs.