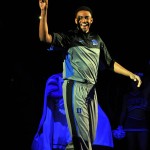 DURHAM, N.C. – Duke's Jabari Parker was named ACC Co-Player of the Week as well as ACC Rookie of the Week Monday as selected by members of the league's media and announced by the conference office. The freshman forward shared Player of the Week accolades with Boston College's Olivier Hanlan while claiming Rookie of the Week honors for the second straight week.
Parker averaged 24.5 points, 9.5 rebounds, 2.0 assists, 1.0 blocks and 2.0 steals per game as Duke split games against No. 5 Kansas (L, 94-83) and Florida Atlantic (W, 97-64). The Chicago native went 16-of-31 (.516) from the field, including 8-of-13 (.615) from three-point range and 8-of-11 (.727) from the foul line in the two contests. He paced the Blue Devils in the loss to No. 5 Kansas with 28 points, nine rebounds and two steals, while going 9-of-18 from the field, including 4-of-7 from three-point range, and 5-of-5 from the free throw line. Parker scored 19 points, knocked down four three-point field goals and was 6-of-10 from the field in staking Duke to a 42-40 halftime lead at the United Center in Chicago.
Duke closed the week with a 97-64 win over Florida Atlantic as Parker recorded a double-double with 21 points and 10 rebounds. He also added three assists and two steals while making four three-point field goals in the win. Parker also became the first freshman in Duke history to score 20-or-more points in each of the first three games on the season.