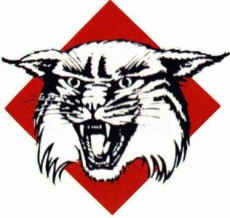 The 2013-14 edition of the Duke Blue Devils opens its regular season on Friday night (Friday??) in Cameron against the Davidson Wildcats. This will be the first opportunity for many fans to see the team in action, as not everyone could see the Blue-White game or the two recent exhibition victories.
This is going to be a very different Blue Devils team than we saw last year. Gone are three key senior starters and leaders in Mason Plumlee, Seth Curry, and Ryan Kelly, all of whom brought critical skills to the table. No longer will the Devils be able to play through a mature, high quality center like Mason. Having an experienced true "stretch 4" that can shoot with accuracy from long range but also play with a very high basketball IQ like Ryan Kelly had, is a rare weapon. Few Blue Devils in recent memory have shot the ball with the accuracy of Seth Curry, and did so in the clutch as often as he did, in particular while injured.
This team's makeup is completely different. It is going to be a team that plays much faster than in recent years, partly out of necessity, and partly because that style fits the skills of the players on this year's team. The team is going to be much more aggressive defensively, with ball-hawking perimeter players making it very difficult for opposing ballhandlers and passers to establish offense. The Blue Devils appear to be as deep as they have ever been, and this just may be the year that Coach K goes a little bit deeper into that bench a little more frequently.
The two most important newcomers are 6'8" forward Jabari Parker, everybody's high school All-American out of Chicago, and 6'8" redshirt sophomore Rodney Hood, who transferred to Duke after an excellent freshman season at Mississippi State and sat out last year. Parker is a supremely versatile and smart player, who can play inside or out, rebounds the ball, ignites the break, passes willingly and skillfully, and is a joy for the other guys to play with. And make no mistake about it – he is a big dude.
Hood is a slithery wing man who everyone who sees him play describes as "smooth." He gets into the lane with ease, and then rises above his defender for simple midrange jumpers, or willingly dishes to the open man. And he shoots the three. He can man up on defense as well, and be very disruptive on the wing. The Devils are going to run a lot more this year, and one reason is because guys like Hood are going to force turnovers on the wing, force bad shots to be taken, and get the other team out of its offense. This kid can get out in transition with the best of them, and help provide easy buckets – which the Blue Devils have not had enough of in the last couple of years. Hood has the right stuff above the neck too, as evidenced by his being named a team captain before he ever set foot on the Cameron floor for a regular season game. That is rare indeed.
Sophomore Amile Jefferson has earned a starting role in the frontcourt. Amile filled in admirably when Ryan Kelly went down with a broken foot last year, and he continued to expand his game over the summer. While he did not put on the kind of weight that some had hoped for, nevertheless he has shown the ability to operate in the paint against bigger players. He works hard on the boards, and is very crafty and opportunistic around the basket, finding ways to score even when the shots appear to have a high degree of difficulty. Jefferson hasn't shown much of a face-up offensive game yet, but that may be coming. He holds his own on D against all but the biggest and most physical players, and Coach K has gone out of his way to praise his continued development, his work ethic, and to stress how much he loves him as a player.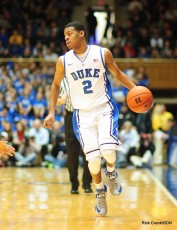 Junior Quinn Cook will man the point. Cook is a kid who had moments of brilliance last year, his first as a starter, and some moments where he displayed some immaturity and lost his focus when things didn't go well. He is very skilled with the ball, he can really dish, and he can hit the three. Perhaps the most encouraging observation about Cook in the pre-season is that his defense appears to be at another level. He drove Tyler Thornton nuts in the Blue-White game, as Ty could barely get the ball upcourt against him. If Cook can apply that kind of ball pressure to opposing point guards this year, Duke's defense will be very, very tough.
What about the 2-guard? Well, everyone assumed last year's star freshman Rasheed Sulaimon, coming off an excellent summer including strong play with Team USA, would be a lock for that position. Afterall, he started last year, so of course he's a starter this year, right?
Well, maybe. It was assumed that Rasheed would start and fifth year senior sharpshooter Andre Dawkins, back after taking a year off for personal reasons, would back him up and just maybe push him for minutes. Well guess what? In scrimmages and exhibitions, Rasheed has not been particularly effective(and then he got sick), Dawkins has not played much at all, and all of a sudden freshman Matt Jones out of Texas has stepped in and played very well, and appears to be challenging for major minutes, perhaps even starter's minutes. Wow!
Now, minutes distribution in scrimmages and exhibitions does not always translate into regular season PT, so perhaps Rasheed will be the starter and get the 30 minutes everyone assumed he would, once they jump it up for real. But Jones, thought to be primarily just a perimeter shooter who would need time to develop the rest of his game and therefore not see much PT this year, has shown he may in fact be ready. The big reason is that his defense is much, much better than expected. He is aggressive on offense, but not forcing shots. He is a ballhawk on defense. He is smart. The thinking may be that he and Dawkins are both shooters, but if Jones' defense is superior to Andre's, then he may just get more minutes than the veteran Dawkins. We shall see. I firmly believe that Sulaimon is going to re-establish himself as the starter and will get the lion's share of the minutes at the 2, but it sure is nice to have some very viable options there.
Co-captain Tyler Thornton is sure to see important minutes at guard, and bring his leadership, his hard-nosed defense and his corner 3-point shooting to the table. Fellow senior Josh Hairston will also likely see time in the frontcourt, as he knows the system, knows what Coach K wants, plays very physically, and (word is) has developed a little more reliable jumpshot to boot.
The question marks in terms of minutes are forward Alex Murphy, he of the tantalizing talent but up-and-down performance, freshman Semi Ojeleye, and center Marshall Plumlee. The 6'6" Ojeleye is built like an absolute tank, and is a fabulous athlete, but there just may be too many guys ahead of him to see much time this year. Plumlee, apparently healthy (finally) is likely to see spot duty when needed to defend against very large men, or to provide a burst of energy in the frontcourt.
OK so what about the first opponent, the Davidson Wildcats? This is Davidson's last year as a member of the Southern Conference, as they are slated to move next year to the Atlantic 10. As always, the first thing to be reminded of with Davidson is that they are coached by Bob McKillop, one of the best in the business, as well as a close friend of Coach K. McKillop regularly fields an outstanding, well-coached team, and they have given Duke trouble at times over the years, though it has been a very long time since they've actually completed the upset. This game, with Duke having so many new pieces still to fit together, is by no means a gimme.
Last year's Wilcats went 26-8 overall, including a 17-1 romp through the Southern Conference. The only regular season game they lost after the 67-50 loss they suffered at the hands of Duke was to Georgia Southern. They went 19-1 after that, and most of them weren't close. They got the bid to the NCAA Tournament, where they lost a one-point heartbreaker to Marquette on a last-second shot.
Some may look at that 17 point victory that Duke enjoyed over Davidson and smugly say "easy win." Uh, no it wasn't. The game was tied at the half. Duke broke it open early in the second half, with key shots by Plumlee, Cook, and Kelly, but it was really the defense that clamped down on Davidson and the team's shutting down Davidson's ability to get to the offensive boards that made the difference. Jake Cohen led Davidson with 19 points and 8 rebounds and De'Mon Brooks also had 12 boards. Kelly led Duke with 18, and Cook had 15.
The rugged Brooks is back, now a senior, at 6'7" and 235 pounds. The two-time first team All-Southern Conference player, and last year's conference tournament MVP, averaged 14 points and 6 boards last year, and those numbers should go up in the absence of Cohen, as Brooks will be the team's #1 option. He is very strong inside, and is going to be a challenge for Duke's interior to contain. 6'7" Swedish wing Chris Czerapowicz is the other returning starter, but the Wildcats lost Cohen, guard Nik Cochran, and guard JP Kuhlman, so they have had to rebuild.
Senior Tom Droney will step in at the point, and Tyler Kalinoski, who like Droney played meaningful minutes off the bench last year, should start at the 2-guard. Both can really shoot it. Another factor in the backcourt could be Miami (Ohio) transfer Brian Sullivan, who was All-MAC Freshman. But the big problem the Wildcats face is replacing big man Cohen. Several guys who didn't play much last year, plus a couple of freshmen, all are candidates for minutes, but it's not clear who's going to get them. The result could be Davidson going small quite a bit, using only Brooks underneath.
But even though the Wildcats' roster doesn't appear to be as talented or deep as was last year's, McKillop will have them competing. Every team is a work-in-progress in November, but this year, rather than being almost an exception to that rule, Duke is very much in that category as well. Unlike prior years, when Duke's rotation was set, its leaders in place, its roles established, its style of play clear, there is an awful lot still to be worked out in Durham. Because Duke's usually veteran-filled team has often consisted of many more "knowns" than its early opponents, the Devils have frequently come out of the gate very quickly, and then seen other teams catch up as the season has worn on.
I have a feeling this year is going to be different. Duke is likely to struggle more than usual early in this season. I'm not predicting a loss to Davidson, but I do predict a fair amount of growing pains with this group early on. But the good news is that teams like Duke's that may take awhile to find their bearings, get stronger as the season wears on, and often play their best basketball in March (and April?) rather than in November and December. One can hope. But first things first, and that is to keep our eye on the team directly in front of us. No looking forward to the next game, easy as that might be to do given the next opponent, because McKillop will make you pay. Duke has to play hard and play smart and play together to beat this team. Hopefully along the way to doing so they can learn something about themselves and how they're going to play together this season.