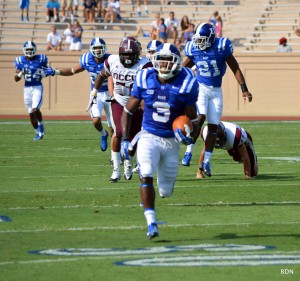 N.C. State at Duke
4:00 PM ET
Saturday, November 9
Wallace Wade Stadium
Durham, NC
TV: ESPNU
Radio: Blue Devil IMG Sports Network
Duke in 2013: 6-2 (Defeated Virginia Tech 13-10 last time out)
N.C. State in 2013: 3-5 (Lost to North Carolina 26-19 last time out)
DUKE INJURIES
QUESTIONABLE – Ross Cockrell (CB), Brandon Braxton (WR), Jordan DeWalt-Ondijo (DE), Dwayne Norman (S)
OUT – Jared Boyd (CB), Thomas Sirk (QB)
OUT FOR SEASON – Tanner Stone (OT), Jamal Wallace (DT)
N.C. STATE INJURIES
DOUBTFUL – A.J Ferguson (DT), Forrest West (DE)
OUT FOR THE SEASON – Jarvis Byrd (S), Kenton Gibbs (DT), Logan Winkles (FB), Rob Crisp (OT), Bryan Underwood (WR), Jon Alston (WR)
With Duke on a four game winning streak and coming of a big victory over Virginia Tech in Blacksburg, and N.C. State having lost four straight games, the first thing which popped into my mind when I sat down to write this preview was a visual flashback to the Saturday Night Live skits "Da Bears" with Bill Swerski's Superfans. Seeing as I will not be predicting the Bears 96, Lions 14 at the half, it is probably wise to move past my visual flashback and proceed with a balanced preview of what should be a competitive ball game.
HOW DUKE CAN WIN
Two key ingredients in the formula for a Blue Devils victory include the continuation of strong defensive performance and maintaining balance on offense.
Duke has allowed opponents to score 17.5 points per game during their current four game winning streak with only five points per game being scored in the second half. This defense looks completely transformed from the unit that was scorched for 58 points by Pittsburgh way back on September 21. The Blue Devils will need to continue their stingy ways this Saturday in order to stretch the winning streak to five games.
On offense, balance is central to success. Over the past four games, Duke has scored 15 touchdowns with nine coming on passes and six on runs; 80 1st downs converted with 41 via the pass and 36 on running plays (remaining three were on penalties); 1,619 yards of total offense with 1,024 through the air and 595 on the ground. The ability to successfully run and pass the ball keeps the opponent's defense guessing.
HOW DUKE CAN LOSE
One word -- overconfidence! The staff and the senior leaders are saying all the right things, but when Duke takes the field on Saturday, that Virginia Tech victory better be so far in the past it cannot be seen in the rear view mirror. If Duke is not 100 percent focused on taking care of business against State, on the gridiron, the Wolfpack will turn it into a long evening for the Blue Devils.
N.C. State has a very strong defensive line so Duke's offensive line must counter that strength with a solid performance if Duke is going to achieve success moving the football and dictating the pace of the game. N.C. State is a bit banged up with A.J. Ferguson and Forrest West listed as doubtful; however, slowing down or stopping Duke's running game will be a Wolfpack priority.
WHY DUKE WILL WIN
Duke has too much offensive firepower due to the presence of multiple playmakers at multiple skill positions: Boone and Connette at quarterback; Crowder, Deaver, McCaffrey and Blakeney at receiver; Duncan, Snead and Powell at running back. That's a lot of talent for N.C. State to keep track of for 60 minutes. Most important, with the exception of wide receiver Brandon Braxton, questionable with a shoulder injury, Duke's offense is a very healthy unit.
N.C. STATE POSITION TO WATCH: Quarterback
The seeds of controversy could have been planted during the Carolina game when Head Coach Dave Doeren pulled Brandon Mitchell; after he threw two second half interceptions, in favor of Pete Thomas. So who gets the call to start against Duke? And how short a leash will that starter be on?
DUKE POSITION TO WATCH: Linebacker
Perceived as a big unknown in the preseason, primarily because Kelby Brown was out for the season in 2012, and no one knew how that would affect his play, linebacker has turned into a position of strength for the Blue Devils. Kelby Brown was a national player of the week after the Virginia Tech game, while David Helton led the team with 19 tackles. Juwan Thompson got into the act, moving over to linebacker from offense, due to his speed, strength and athleticism. If Duke's defense executes a game changing play, do not be surprised when a linebacker is right in the middle of the action.
BOTTOM LINE
The Wolfpack will keep it close to the tune of a 17-17 tie, at the end of the 3rd Quarter; however, the Blue Devils' depth will tip the scales in Duke's favor during the pivotal 4th Quarter.
Duke 30, N.C. State 17