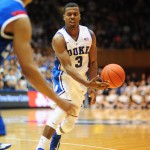 The Duke Blue Devils closed out their exhibition season by defeating Drury 81-65 in Cameron Indoor Stadium. Duke was led Rodney Hood who tallied 21 points and 9 rebounds and they got a double-double from Amile Jefferson who had 13 points and 16 rebounds.
It was a sluggish afternoon for Duke, who finally broke the game open midway through the second half and the game was a reminder for many that the team is still young.
A lot of people would make big deal out of such an effort, but having been through these early season games past, all I can say is the worry will only last a day.
What folks do not realize is that Duke did not scout Drury as closely as they would Davidson who they open the season with. They were also probably caught looking beyond the moment which happens.
Take nothing away from Drury though, for they ran their system and were never intimidated by the Cameron atmosphere. They found a way to cut down on good open looks for Duke and film will certainly correct that.
In a sense, it was the perfect time for a bit of a wake up call in that it will allow Kryzewski to have his teams undivided attention in practice this week. It shows the team that they have to find a way to get through adversity when it finds them and that they cannot take any team lightly. (continued below video)
The more athletic Duke team struggled getting good looks on offense but the biggest culprit which kept killing momentum was the fact they went just 15 of 28 from the free throw line.
The bottom line is that this is still a team learning to play together, a new team, as Krzyzewski called them in his press conference which started before the media even talked to the players. There were some messages sent in the locker room and only the team and Krzyzewski knows what that was.
There are more lessons on the horizon as Duke takes on Davidson at home before facing Kansas in what will be a massively hyped game in Chicago. But on this day, most here were stunned that it took Duke as long as it did to settle into the game and find their mettle.
It was a day when the first half was majorly forgettable, but the second half showed the adjustments we have come to expect and a 20 point bulge. It was a much tougher game than it should have been but one people will quickly forget moving forward.