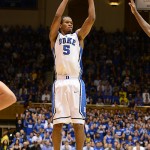 The best, most aggressive man-to-man defense played by Duke this season shut down Michigan for much of the evening, and Quinn Cook dominated the game from the point guard position, scoring all 24 of his points in the second half, leading the Blue Devils to a ten-point win over the Wolverines tonight in the Big 10/ACC Challenge game in Cameron Indoor Stadium.  Other than the Davidson game, where the opponent was not nearly as talented as is Michigan, this was Duke's most complete performance of the year, as lots of guys contributed to beating a talented, well-coached, and athletic Wolverine team in convincing fashion.
Offensively, it was Rodney Hood early, Andre Dawkins middle, and Cook late, along with Jabari Parker throughout, who led the way.  Things were a bit sluggish early, which prevented the Blue Devils from opening an even bigger lead than they did, as Michigan struggled mightily to put the ball in the hole over the first  16 minutes of the game, scoring only 11 points.  They finished the half with only 20.  Hood nailed a number of jump shots to get Duke going, Amile Jefferson came alive on the interior, and Tyler Thornton banged home two three's in the first half, though one should have been disallowed as it was after the shot clock had expired.
But the story in the first half, and indeed for much of the game, was Duke's defense.  It suffocated Michigan for most of the evening.  Leading scorer Nik Stauskas scored a grand total of zero baskets on the night, on just two field goal attempts, just getting a few free throws to avoid the goose-egg.  He was harassed all night by Thornton, Matt Jones, and Hood, and didn't get a good look at the basket in the entire game.  Glenn Robinson III, who was supposed to be the star of this year's Michigan team, was invisible for much of the night, and had essentially no impact on the game.  He finished with just 8 points and 3 rebounds.  Seems like he kind of misses Trey Burke.  Big man Mitch McGary was effective, but far from dominant.  He plays from the high post, and because of that he doesn't take full advantage of his size and strength -- something that could have been a big plus against either Josh Hairston or Amile Jefferson on the interior.  McGary is active, though, and he ended up with pretty good numbers -- 15 points and 14 boards, though it must be said that he got 8 of his points (and 3 of his rebounds) in the last two minutes of the game, when Michigan was already down 18 and it was gobbage time.  Michigan's best player tonight was sophomore swingman Caris LeVert, who drove effectively all night and made tough, contested shots.  LeVert finished with 24.  He's a keeper.
Duke led by 10 at the half, but couldn't put Michigan away early in the second.  The Wolverines cut the lead to six at the nine minute mark before Dawkins came in stone cold and banged home consecutive three-pointers.  After LeVert hit a couple of free throws, Cook nailed a three and Dawkins then hit a driving layup to put the Devils up by 15 with under 7 to go.  Time out, Michigan.  Game over.
But it was Quinn Cook who really controlled this game.  He handled the ball well, with only two turnovers -- and one of those was dribbling the ball off his foot without being pressured, resulting in a backcourt violation.  He didn't force anything.  He dished to the open man, he got his teammates involved, he swished his open three pointers, and most importantly he kept his head in the game, remaining positive even during the team's dry stretches.  Sure, he picked up a T for throwing the ball at Michigan big man Jon Horford after Horford shoved him out of bounds unnecessarily, but Cook didn't get flustered by that either.  Quinn Cook was a leader tonight.  When Cook plays like this, there are very few lead guards in the country better, and it just brings the entire Duke team to a whole 'nother level.
It was also great to see Duke get contributions from so many players.  Of course, Jabari Parker was the anchor down low offensively, and he scored his 15 points in a variety of ways:  turnaround J's, post-ups, reverses, and one stunning coast-to-coast take where it was clear from about 60' away that he was going all the way to the hoop and nobody was stopping him.  As noted earlier, Hood shot the ball pretty well in the first half.  Matt Jones provided solid defense on Stauskas, as did Thornton.  In addition to his work in the lane on the offensive end, Amile Jefferson was very active on the boards -- which he has not always been this year -- grabbing six in only 17 minutes.  Good sign.  And lo and behold, Marshall Plumlee not only made a couple of appearances, he had real positive impact on this game.  He blocked a shot, displaying excellent timing in doing so.  He took a pass from Cook at an awkward spot under the backboard and contorted his body in a way so he could get the shot off smoothly, and he banked it in.  Athletic play.  He only fouled once, while grabbing three boards in six minutes of action.  Undoubtedly, Coach K will still play him situationally, depending on opponent, score, and foul status of Jefferson and Hairston, but still, nobody should be surprised if Marshall gets a little more run going forward.  He may have earned a little trust tonight.
All in all, this was a very solid performance from the Blue Devils all around.  The home winning streak against non-conference opponents is intact.  But much more importantly, the team appeared to take a big stride forward here.  I know they're young and still finding their way without Burke and Tim Hardaway, Jr., but Michigan is a quality opponent with a lot of weapons.  Yet this Duke team, which gave up 90 points very recently to Vermont, essentially neutered the Michigan offense for most of the night, and got contributions from nine guys (although not Rasheed Sulaimon, who very curiously got a DNP-CD) in doing so.
It was said by many that this year's team, rather than being fully formed from the beginning as was, say, last year's squad, will be a work-in-progress.  Many said, correctly, that K will need to do some heavy lifting here to figure out how to make these pieces fit, to teach the team to play the kind of defense he demands, to figure out what combinations can best do that, to determine how to integrate two (or more) outstanding newcomers into the mix, all against a very difficult early season schedule, and all in the glare of a heavy media spotlight.  Work-in-progress?  Yes, but consider tonight as progress.