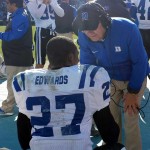 No matter what happens when Duke Football takes on the nation's number one team, the Florida State Seminoles tomorrow, the program has already won.
The Blue Devils are not expected to win tomorrow and they are in fact 30 plus point underdogs, but just getting to the ACC Championship Game comes with plenty of dividends.
Duke is certainly getting their fair due of press of late, especially with Coach David Cutcliffe securing the first of what could be many honors, that being the Walter Camp National Coach of the Year.
But the Seminoles are the most talked about team in college football, ranked number one and dominating all comers.
Just being a part of this game puts Duke Football in a major spotlight and they have nothing to lose and everything to gain.
Prospects from all over the country will be beamed into what happens on Saturday and Duke has continually improved their recruiting each season in the Cutcliffe era.
Just imagine, how much this game will help. The most talked about team against the newcomer and more importantly a team that has clearly won without the cheating that permeates the game of late.
Duke which has traditionally recruited kids early, could well be in the mix for those high major star-studded prospects waiting to make the big decisions late moving forward.
While Duke Coach David Cutliffe has exclaimed Duke to be a developmental program with concern to recruits, adding a few faster growing seeds open up new possibilities.
Duke is one of 19 major college programs to have ten wins at this time and that is pretty amazing. Those ten wins which are considered a fabulous season by all are going nowhere.
The Blue Devils also stand to reap the benefits of the money involved with the bowl pay outs. Duke has positioned itself to play in a very good bowl.
That translates into money for the program which is in the process of several facilities upgrades, not to mention on the field success helps to open the pockets from needed donations which are key to the process.
Duke is not a school that will go into debt with facility upgrades as Maryland most recently did. So, this seasons success could set up another drive for the private institution.
And then there is the confidence and hunger factor which comes into play. Once you taste winning, you like it and you want more of it.
Right now, the Duke Administration is seeing their re-commitment paying off as the interest in Duke Football is showing considerable improvement.
In fact, look for a much easier push to gain season ticket holders next season for Duke Football is once again cool.
"We're here to stay," said Cutcliffe. And I for one, believe him.
Nobody wants to look ahead right now. In fact, Cutcliffe has encouraged all involved to revel in the present and live and breathe each and every moment.
But when the time does comes time to talk Duke Football for 2013-14, one will realize that a major portions of the current roster is back.
So, yes. Duke has already won and they now have an opportunity to put some icing on the cake in their next two games.
A spirited performance against Florida State would work wonders for Duke, but a loss will in no way tarnish the accomplishments to date.
Duke Football is a feel good story this season. And it's already officially been a special season.
It's been a season where all involved do not want it to end and it's been one in which many long time supporters sometimes have to pinch themselves to make sure it's real for it has been a process.
Duke Football has suffered in the past for sure but that trend no longer seems to be in play with Cutcliffe and company at the helm.
But perhaps the most satisfying thing, is that again, this team has done it without cheating or short cuts.
They are a disciplined bunch who plays together and truly like each other.
All fans of character should enjoy the success for the program is all about that.
And now? The program is about winning too.