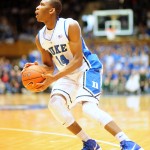 The Duke Blue Devils Men's Basketball team is right on track after a solid win over UCLA.
Duke fans nor the staff are accustomed to having two early season losses going into the ACC season, but the lessons will pay off for a young team and the win over the Bruins give one an idea of what is to come.
Many were set to judge the Blue Devils after a mildly sub standard performance in their win over Garner Webb but that game came after a long break and exams. At that time, they looked to be in the same mode of inconsistent play.
The Blue Devils then travelled to New York City where they bested traditional power UCLA and in doing so, the team had that look we're all accustomed to by games end where they throttled the Bruins late.
By now, everybody knows that Duke has two main go-to guys in sensational freshman Jabari Parker and the long and lean Rodney Hood. What had been missing was for the rest of the roster to blend in around them in a consistent manner
What Krzyzewski has been looking for was for players to step up their games and blend in with its top stars and that happened in a big way.
Amile Jefferson gave his team some serious stat stuffing minutes and then their was Rasheed Sulaimon who came out of an early season funk with his play.
The play of Jefferson is vital to Duke in that his length simply cannot be taught. And Sulaimon? Many felt he'd be the third wheel just behind the big two this season and he may yet still reach said speculation.
But the core for success against the Bruins may have come from the play of point guard Quinn Cook who in my opinion played his best floor game of the season.
Now, the Blue Devils will seek to build on their most recent performance with games against Eastern Michigan and Elon after the Christmas break.
What you'll want to look for in their last two non conference games before the ACC season begins is furthered consistency.
There will be games this season where the Blue Devils get beat on the boards and or struggle with some low post players, but there is reason to believe that they can off set that with match up problems of their own.
Duke has proven that they can run with most anyone early on, but four games ago, Krzyzewski got back to his old defensive ways and the team toughened up on that end.
Now, the goal is to have the offense return to its most efficient ways to go with much improved defensive play and that is what we saw late in the win over the Bruins. In other words, you caught a glimpse of how good this team can be when clicking.
There will be some more growing pains along the way for the ACC indeed has some solid contenders, but as always, we are reminded that the college basketball season is a long one.
Duke has had a lot of new parts to fit together this season and they now appear to be ready to show off a bit.
The win over UCLA was just what the doctor order for the Blue Devils heading into the Holidays. It was the kind of game that could jump-start players who need to bring their A game moving forward and I personally, think we'll start to see that.
Trust me, early season losses sting the soul for spoiled Duke fans, but winning in March has always been the goal of this team.
Duke seeks to gradually get better and peak then and not in the early season. That has always been their goal and we are simply watching the process.