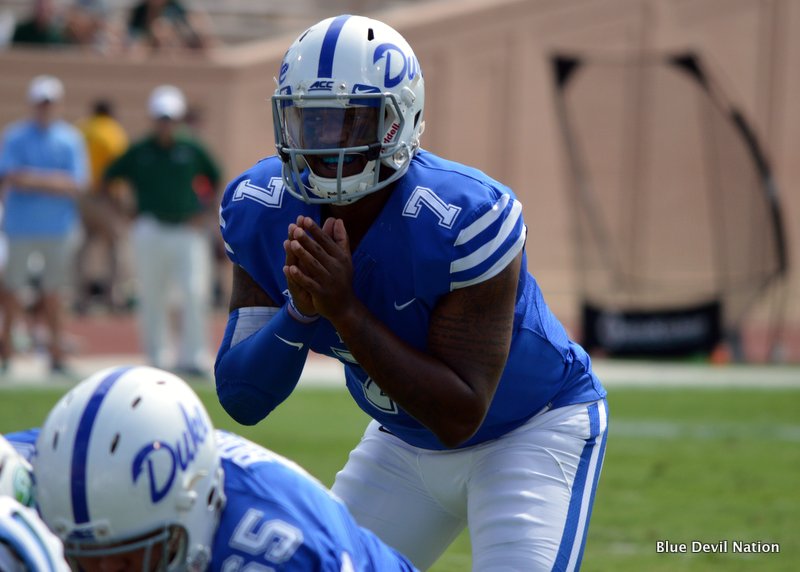 Duke at Pitt
12:30 PM ET
Saturday, November 1
Pittsburgh, PA
TV: ESPNU
Radio: Blue Devil IMG Sports Network, Sirius Ch 92 and XM Ch 194
Duke in 2014: 6-1
Pitt in 2014: 4-4
DUKE INJURIES
PROBABLE – Jamal Wallace (DT)
OUT – Johnathan Lloyd (CB), Trip McNeill (OL)
OUT FOR SEASON – Kelby Brown (LB), Braxton Deaver (TE), Taariq Shabazz (DE)
PITT INJURIES
QUESTIONABLE – Aaron Reese (OL), Luke MacLean (DL), Terrish Webb (DB), Tyrique Jarrett (DL)
OUT FOR SEASON – Artie Rowell (OL), Ejuan Price (DL), Zach Poker (LB)
Duke and Pitt last faced each other on September 21, 2014 in a game Pitt won 58-55 at Wallace Wade Stadium. In their last game out, two weeks ago, Duke beat Virginia 20-13, while Pitt lost to Georgia Tech 56-28 last Saturday afternoon.
HOW DUKE CAN WIN
Duke must contain the Pitt running game and force the Panthers to throw the ball. Running back James Conner is the ACC's leading rusher at 135 yards per game. Quarterback Chad Voytik has rushed for over 100 yards in a game twice this season gaining 114 in a victory over Florida International and 118 in a victory over Virginia Tech.
Pitt is a less effective football team when forced to pass. Voytik has thrown six interceptions and been sacked 15 times this season. He appears uncomfortable in the pocket. The more he has to throw, the better for Duke; however, Pitt wide receiver Tyler Boyd is an All ACC quality talent so the defense must know where Boyd is at all times.
When Pitt's offense is in passing situations, look for Defensive Coordinator Jim Knowles to dial up the heat by bringing a linebacker or safety on a blitz. The key to the game will be Duke's ability to contain the Panther rushing game to force those obvious passing situations. It is imperative Duke's defensive line hold their own along the line of scrimmage.
Establishing a lead is another path to forcing Pitt to throw the ball more than they desire.
Establishing better field position than your opponent is often a game within the game with Duke Head Coach David Cutcliffe leaning hard on Punter Will Monday and Kick-off specialist Jack Willoughby to pin the opponent deep in their own territory. Forcing Pitt to play on a longer field than Duke plays on will be another factor in a Blue Devil victory.
Finally, on offense, Duke will need to establish the running game to open up the play action pass. Maintaining balance has served Duke well so far in 2014 and it will be important again this Saturday in Pittsburgh. In two conference victories, Duke ran an average of 39 running plays and 32 pass plays. In the Miami loss, Duke threw the ball 51 times, while rushing 25 times.
This is definitely a new era in Duke football. In a game preview, offense was discussed last after both defense and special teams. The days of having to outscore the opponent in order to have a chance to win are in the rear view mirror.
HOW DUKE CAN LOSE
Turnovers and penalties are events all football teams must avoid each and every week. Everyone saw turnovers destroy Pittsburgh last week against Georgia Tech. Duke leads the ACC with a +8 Turnover Margin and is also ranked number one in Opponent Penalties at 66 yards per game. Facing a tough Pitt team on the road, this is not the week to regress toward the mean. If Duke does not perform strongly in these two areas on Saturday, the Blue Devils will lose.
Failure to get off the field on 3rd down is another concern. Pitt is fifth in the ACC in 3rd Down Conversions being successful 44.4 percent of the time. When the Panthers go for it on 4th down, their success rate increases to 62.5 percent. The ability to hand the ball to a talented, 250 pound running back propels Pitt to success in these situations. If Duke's defense fails to consistently stop Pitt on 3rd and 4th down, the Blue Devils will lose.
With weather conditions predicted to be cold with a 70 percent chance of rain, valuing the football will be paramount to victory.
WHY DUKE WILL WIN
Duke will win by because they are a more consistent team and a more explosive team. Consistency will come via ball security and discipline; explosiveness via playmakers such as Jamison Crowder and Jeremy Cash. This will be a hard fought football game, but in the end Duke will prove to be more than Pitt can handle.
BOTTOM LINE
This game will be won by the team which plays better on the defensive side of the ball. Duke's defense will stop Pitt's offense more times than Pitt's defense will stop Duke's offense.
Duke 34, Pitt 20