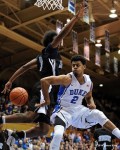 As far as big early season games go, Duke had a very nice win against a scrappy Michigan State team.  In the process, the team and talented freshman learned a lot about themselves.  When the dust cleared Duke defeated the Michigan State Spartans 81-71 and they overcame adversity and some Spartan runs to do so.
When Jahlil Okafor went to the bench with four fouls, Duke did not whither.  In fact, they flourished.   Okafor's  roommate  Tyus Jones came alive and took over the game.  It all started with a four point play and Jones finished the game with 17 points, including going 7 of 7 from the free throw stripe.
Okafor added 17 points for Duke on an efficient 8 for 10 from the field.  Duke Coach Mike Krzyzewski said Okafor might be the best post player to ever wear the Duke uniform in his post game press conference and many will surely agree with him.
But the player who was steady all night long, was a senior.  Quinn Cook tallied 19 points and led the team with 6 assists.  When Duke needed a key bucket, Cook was there for a three pointer or a slash to the rim for a deuce.
The backcourt combination of Cook and Jones were really good together.  Neither of the guards committed a turnover against and aggressive Michigan State team.
Justise Winslow chipped in with 17 points and 5 rebounds as well.  Winslow got better as the game went on after a sluggish start by taking advantage of the opportunities when they were presented.
All in all, this was a good learning experience game for Duke who moves to 3-0 this season.  They faced various forms of adversity and they answered the bell.  What that means in time is that they will be better from the experience.
Time after time when it looked as if Duke might crack under pressure, they found ways to recover and that is something which surely pleased the staff.
Every player on the team can take something from this game.  Okafor has to learn that he can get fouls called on him quickly on either end of the court.  The team should have learned that taking good shots is always important for they could have probably had a bigger lead going into the half had this happened.
When Duke did take a bad shot, their transition defense suffered, so that too will be a lesson learned.  But on this early season night, Duke did more things right than wrong and they earned a win against a pesky ranked opponent.
Michigan State is not the kind of team that folds up the tent when they are down.  And against a very tough upcoming  ACC schedule where there are several solid teams, the experience of winning a game like this will help.
The Blue Devils will enjoy this win for an evening, but Krzyzewski will not allow them too much celebration time.  With two more tough games coming up against good competition, the Blue Devils next lesson is to put a game behind them and prepare for the next play.
Duke was far from a well oiled machine at times tonight, but the potential was clearly there as was toughness.  For this team to have so many young components, the win over Michigan State is a sweet one.