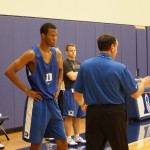 After a solid home victory over Florida State on Saturday, the Duke Blue Devils travel to Pittsburgh tonight to take on a hot Panthers team. Tip is at 7 PM.
Make no mistake, this will be one of the toughest games of the season for Duke, and to win on the road at Pitt will be a tall task.The good news is that the Blue Devils enter the game playing solid basketball, but the bad news is the Panthers have about as strong a home court advantage as there is in the league. The student section is called the "Zoo," and they'll do their best to make the more youthful Duke players uncomfortable.
I have told anyone who would listen that the Panthers are one of the most underrated teams in the poll, even before the new one is released later today. Pitt is 18-2, but many feel their schedule has been soft. However, the Panthers have handled every team easily, save losses to Cincinnati and Syracuse. But while the Panthers have not played the schedule Duke has to date, they will certainly have their ears pinned back for this one.
That's because moving forward, they have only two truly tough games left, those being tonight's game with Duke and then the rematch, at home, with Syracuse.  Those are the only two ranked teams remaining on their schedule. So again the unbalanced schedule may play a role in the outcome of the conference race. The long and short of it is that a win tonight could well put them in the driver's seat for the regular season ACC title, and that would earn them a favorable ACC Tournament draw in their first year in the league.
The Panthers are a tough bunch that take after their confident coach Jamie Dixon. They are led by senior Lamar Patterson, a 6-5 guard who has the skill set that Duke has struggled with in the past. Patterson scored 28 points to lead the Panthers to a road win over Maryland on Saturday.
Speaking of Saturday, both teams face an equally quick turnaround to tonight's matchup. But at least Pitt is at home, while Duke had to cut short its preparation in order to board their flight to the Steel City.
If you are figuring out that I think this game will a foreboding task, then you are accurate in that assessment. I actually think this could prove to be a tougher road game than the one this Saturday where Duke takes on undefeated Syracuse.
But the Blue Devils are playing solid basketball right now, and they've improved. This will be a window showing just how far this team has come. But it'll take some mental toughness to win this game. It will also take a solid team effort and the ability to shut out a hostile crowd in yet another game that the opponent has marked on their calendar since the schedule was announced. To say this game is huge for Pitt is an understatement, and their fans will be ready.
But this game is big for Duke too, and with Mike Krzyzewski at the helm, they'll be ready.
Chances are that we'll see a grinder of a game; according to Las Vegas, Duke is a 4 point underdog.
This will be a tall task and if Duke wins, it'll be a huge one.  The Blue Devils still have two games left with Syracuse and their annual battles with UNC, among other challenges, so this is a majorly important game in the conference standings.
I'm expecting a hard-fought game that will go down to the wire, one that could come down to the last possession.  Make no mistake, the Blue Devils will have to bring their "A" game and fight off a lot of intangibles to stay in this one and come out with a win.
The fact that the team is an underdog would make a victory all that much sweeter.  These are the kind of tense games we all love, whether we are fans for media.  We're in store for some nerve-racking fun.