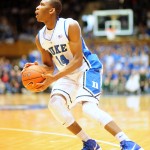 Duke travels north to take on Boston College this Saturday in their next ACC game and the Blue Devils do so at a time when they're playing good basketball.
Boston College has struggled mightily this season and are probably the ACC's most disappointing team considering they were picked to finish much better in the pre season media voting.  But like all other comers, when Duke comes to town, they'll bring their best effort knowing a win over the Blue Devils would make their season.
That simply means is that the Blue Devils will have to be grounded and prepared for the challenge and there is good reason to think that happens.  As I stated earlier, the Blue Devils are getting better. They're coming together as a team and doing so as the games start to really count.
Duke has been led by their talented freshman Jabari Parker, but he's had plenty of help of late be it seniors Andre Dawkins and Tyler Thornton or the resurgent play of Rasheed Sulaimon.  The point guard spot was manned by Sulaimon in the last outing and it looks as if that will happen again going into this game.
Some say that Quinn Cook is out of the line up per struggles with his play, others say he's hobbled by some ankle issues.  The truth is a bit of both are playing a role, so this will be something to keep an eye on.  Cook of course, has been the starter and any who follow Duke Basketball closely, knows they do not share any injury news past whether a player will be active or not.
A key for Duke not only in this game but moving forward is consistency. While some players are solidifying their roles, others have struggled to maintain a consistent level of play and that could be the last door to knock down for success as we approach March.
That said, I seriously doubt if we'll witness anything other than an all business trip for Duke where they'll have plenty of focus on gaining a key ACC win.  And ACC wins are oh-so important for a Duke team that as always has an upper tier schedule in conference play.
It could take Duke a half to gather themselves or they could try to deliver a quick knockout punch. Either way. I envision a win in this game.
I would expect Duke to try to push the ball if you will in this contest and use their depth which has been huge since Krzyzewski starting playing more players. In doing so, this has infused the team and made for a livelier bunch. It's also showed that Duke has players who can step up when needed.
The Eagles are led by a familiar name in Oliver Hanlan and they have some experience and the ability to rise to a higher level of play. But they are also 2-8 in their last ten outings and a mere 6-16 overall. They also sport two ACC wins but both came against the Hokies who are in the conference cellar.
Meanwhile, Duke comes into the game standing 18-5 record to go with a 7-3 ACC record, but with a team that has the air of one quickly heading up the polls to take a place with the nations best team.
I think Duke Coach Mike Krzyzewski will have his Blue Devils in a mode of respect for the struggling Eagles which means don't look for a let down here.
And this is a game where Krzyzewski could be able to tinker a bit with varying lineups if he chooses. Anyhow, what the Blue Devils want to do here is get in and out of Boston with win and no injuries.  In other words, win, play pretty well in doing so and get back to the Triangle area when the mission is accomplished
There is obviously a possibility that they could look ahead to the North Carolina game. But while fans are apt to do that and the team to an extent, I expect the staff to have their guys ready and for Duke to head into the UNC game with added momentum.