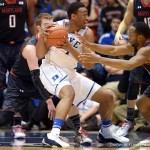 Duke rode a suffocating defensive effort to a 68-51 win over Georgia Tech and in the process gained their 21st win of the season. The streaking Blue Devils are now 9-1 in their last ten outings and they are currently one of the nations hottest teams and ranked fifth in the country.
It was all business for Duke from the start as they took control and were never threatened. This allowed Duke Coach Mike Krzyzewski to play his bench early and often as his team cruised to a win behind another double-double from its star freshman Jabari Parker.
Parker ended the game with 16 points and 14 rebounds and in one of the more baffling cheer moments in the ACC this season, Georgia Tech fans chanted "overrated," as Parker was at the free throw stripe with a stat stuffing stat line in play.
The Blue Devils were the recipient of a solid effort from Tyler Thornton who dished four early assists in the first half and played a solid overall floor game. Thornton also played solid defense and helped set the pace of the game to the Blue Devils liking.
And then there was Rodney Hood who nailed a bushel of three pointers to practically deliver a TKO in the first half. Hood ended the contest with 14 points while Rasheed Sulaimon added 11 points and with Parker were the only Duke players in double figures.
Duke held Robert Carter Jr. in check and he's a player who has had success in the past against the Blue Devils. His return did little to spark the Yellow Jackets, but he ended the game as their top scorer with 13 points.
The Blue Devils defense held the Yellow Jackets to 35% shooting for the game. The 51 points Duke allowed was the second lowest total of the season, with Elon last December 31st being the lowest points allowed at 48 points.
Duke went into Atlanta and jumped on the Yellow Jackets before they settled in and this allowed them to cruise down the stretch. So mission accomplished
The Blue Devils will now return to Durham in the early morning and have less than 48 hours to prepare for their trip to Chapel Hill where they will take on another hot team in their arch rival North Carolina.